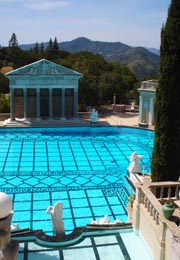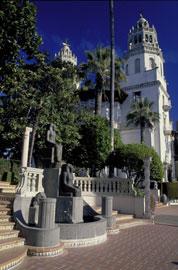 California's only castle is offering a new creative way to experience the wonders of Hears Castle this summer. Starting in June you will have the chance to take one of three new self-guided tours around the castle and the surrounding grounds.
The first new tour is:
The Grand Rooms Tour, this tour will take you through the ground floor of Casa Grande including the Assembly Room, Refractory and Billiard Room.
The second new tour is:
The Upstairs Suites Tour, this tour will guide you into Mr. Hearst's private suite as well as the Library and Guest Suites.
The Third new tour is:
The Cottages and Kitchen Tour, in this tour you will experience the wine cellar, kitchen and two guest houses.
At the conclusion of each tour, visitors will be able to stroll the gardens and terraces at their leisure, view the iconic Neptune and Roman Pools, and enjoy the views of the surrounding coast and mountains just as Mr. Hearst's guests did. This way you get a taste of Hearst Castle but you still get to explore a little on your own and put yourself in the shoes of an actual guest at the castle while it was still an active house.
The cost of the new tours is $25 per adult and $12 per child 5-12 years old. Children under 5 are free. All tours will also include the large format film, "Building the Dream," at the Hearst Castle Theater with show times beginning at 8:15 each morning. This is a great opportunity to learn about the history of California and how Hearst Castle came to be what it is today. So start planning your trip and book your tour for Hearst Castle, you won't want to miss it!
Reservations can be made through www.hearstcastle.com or by calling 1-800-444-4445. Hearst Castle operates from 9:00am to 7:00pm throughout the summer.