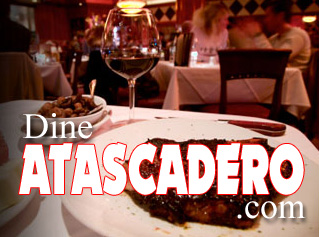 Visitors to Atascadero have a new travel tool to make the dining component of their visits more convenient and enjoyable. DineAtascadero.com is up and running and, as of this date, more than three dozen restaurants are listed on the site.
The site opens with a logo page that displays the business images of all participating restaurants. If restaurants have their own websites, these logs are linked directly to those sites. If a restaurant doesn't have a website, its logo is linked to a Google map that shows diners how to locate the restaurant.
Each participating restaurant also has its own "jump page" on the DineAtascadero.com website. That page is reserved for materials submitted by the restaurants, typically menus and pictures. If a restaurant chooses not to submit menus and pictures, the page contains basic contact information and links.
DineAtascadero.com also links to a calendar that features "dining deals" offered by participating restaurants. Restaurant operators can sign onto the site and post as many special offers as they like. Those offers are transferred to a Google calendar that is available to the public. Web visitors may click to the calendar and see a day-by-day listing of dining specials offered by participating restaurants.
Finally, DineAtascadero.com offers links to City of Atascadero's tourism website, VisitAtascadero.com to alert visitors to other features of interest within the city.
DineAtascadero.com provides residents and visitors with a convenient online location to locate our restaurants and learn a little bit more about what they have to offer.
Happy dining in Atascadero!
Take a minute to check it out.