Happy Goats Come from Stepladder Creamery
How do you feel about adorable goats, creamy cheeses, ripe avocados and stunning views of the Pacific Ocean? If this sounds like one heavenly dreamscape that couldn't possibly exist in real daily life, we get it. You'll soon find that SLO CAL is filled with hidden gems and incredible tucked-away havens, and Stepladder Creamery is one of the most remarkable.
Nestled high atop lush, green mountains in coastal Cambria, this unique avocado farm and artisan creamery rivals some of the most gorgeous destinations on the West Coast. Book a tour today and experience the dream for yourself.
Your day might include saying hello to a herd of happy goats, nibbling on freshly made goat cheeses or sampling honey made onsite, drizzled over farm fresh passion fruit (the bees truly love all the avocado blossoms, especially in spring).
No need to pinch yourself. This is real life in SLO CAL.
Meet the Cheesemakers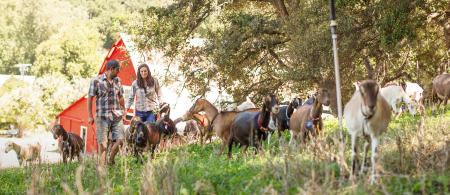 At Stepladder Creamery, everyone is focused on one goal: to make the finest cheeses possible, the old-fashioned way. This small, farmstead dairy and creamery situated along San Simeon Creek is known across the West Coast for its incredible offerings—just ask farmers market shoppers from San Francisco to Los Angeles. The team specializes in crafting small-scale, handmade cheeses with milk from Stepladder's pasture-raised herd of very well-loved Lamancha goats. Owners Jack and Michelle Rudolph also make artisan cow's milk and mixed milk cheeses using milk exclusively from two local, family-owned dairies. Of course, a tour isn't incomplete without a pairing with local white wine. Yes, you may never want to leave.
Discover the history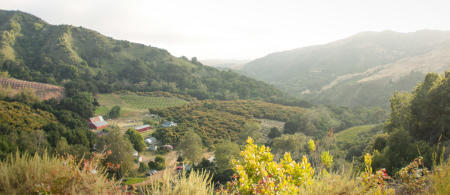 Stepladder is an old idea, reimagined. A century later, the land looks very much the same way it did when Swiss and Italian dairy farmers first settled in the region. The historic creamery and dairy are located inside a stunning barn, built in 1915. It's the first thing you'll notice after driving up the winding hillside, which, itself, is flanked with avocado trees, passion fruit vines and green coastal foliage. With its traditional red and white paint job, the Stepladder barn looks like something out of an old California postcard come to life. Step inside this vibrant history and see just how the team has converted the barn into a cutting-edge creamy. An old Danish barn builder is said to have first created the structure, which boasts unique laminated tresses bent and nailed together overhead. Legend has it he used horses to bend the material around trees!
Enter the Cheese Room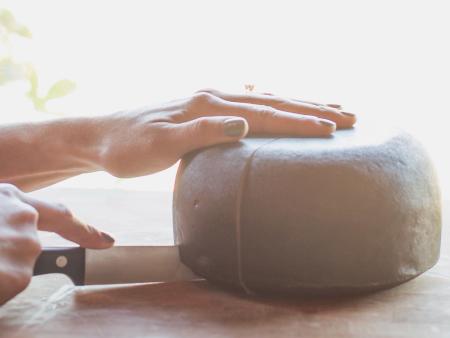 There's nothing like stepping into Stepladder's cheese room, stacked high with pungent wheels aging from months to years. Ceiling-high racks are filled with precious mounds of cow, goat, and mixed-milk cheeses. Some are destined to become soft and spreadable, while others will mature into tangy, crystalline blocks shimmering with coveted "cheese pearls." The moldy, briny smell is overwhelming and exhilarating, a combination of standing in an earthen forest and walking along the ocean. In fact, making cheese is a little like winemaking—although the folks at Stepladder will tell you "Well, it is like winemaking if harvest happened every day." Did we mention everything is done by hand around here? From milking to the pasteurization to adding bacterial cultures and rennet. 
Get your Goat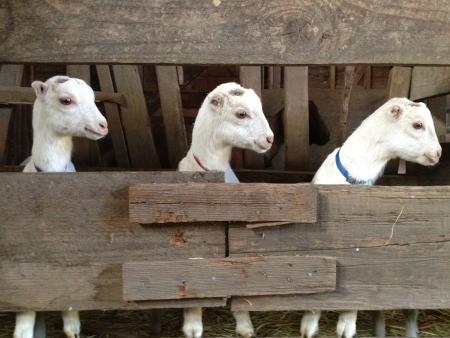 At Stepladder, it's all about the goats. They have personality and panache to spare, and each is a little different than the next. You'll meet milkers and old maids and, quite possibly... spring babies! These goats are some of the happiest on the Central Coast, and it's quite easy to see why. As a farmstead creamery,  Stepladder is able to manage every aspect of gentle and humane cheese production. This well-fed herd of 35 goats graze on three acres of open pastures and oak woodlands and are protected by the farm's dedicated Anatolian Shepherd, Lily. Known for their tiny ears, Lamanchas are the only breed of goat developed in the United States and they are truly full of the joy of living. 
Book your tour today! (805) 395-3015