Nipomo Grilled Tri Tip
By Wine Coast Country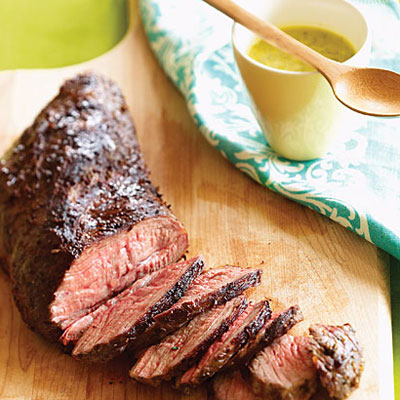 Nipomo - On the southern most tip of the Discovery Route, the quaint town of Nipomo offers scenic views of orchards, ocean side sand dunes, stately eucalyptus trees, beautiful oaks, a loofah farm and kiwi fruit! Mallard Lake Ranch produces more than 65,000 pounds of kiwi fruit each year to be sold at local SLO county Farmer's Markets. Local activities include untouched beaches, golf, wineries, spas, horseback riding, kayaking, whale watching, fishing, bird & butterfly watching, hiking, biking, antiquing, scenic drives. Nipomo retains that authentic rural feel with a deep sense of history from the original Spanish land grant of 1832 and building of the Dana Adobe, to the iconic depression era photos by Dorothea Lange. Nipomo is the home of the famous Jocko's Steakhouse.

Grilled Tri Tip
Marianne Buckmeyer
Author of cooking column The Pot Stops Here - printed biweekly in the Adobe Press

There is nothing more "Nipomo" than Tri Tip. It is literally cooked on every business street corner during summer fundraisers and served up in several of the local dining establishments all year long. It served with salsa on the side as well as with garlic bread, salad and pinquito beans. It is typically cooked on huge grills over oak wood but for the backyard chef you can grill it as follows:

Two - one and one half pound tri-tip steaks (about 2″ thick) or the brisket which is one and one half to two pounds.

One and one half tsp each: salt, fresh ground pepper, chili powder and garlic powder mixed together OR any dry beef seasonings of your choice.

Sprinkle tri-tip with your dry seasoning and massage into meat. If using the brisket, trim most of the fat off before seasoning. Bring to room temperature before grilling.
For the steaks: Build a two-zone fire in a charcoal grill, or preheat a gas grill to medium-high. Cook 3-4 minutes per side over direct heat until nicely charred. Transfer to low-heat side (or lower gas grill heat to medium) and cook an additional 6-8 minutes per side or until an instant-read thermometer registers 120°F for rare (steak will carry over to 125°F, or medium-rare, as it rests).

For the brisket: prepare grill as above. Set fat side up and grill for 30 to 35 minutes or until the doneness you prefer. Flip once during the grilling. You want a crust on the outside. Transfer meat to a carving board; let rest for 10 minutes. Thinly slice against the grain.