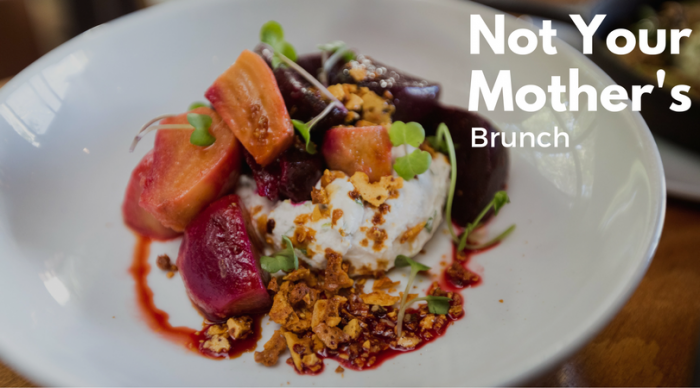 From trendy avocado toast and zesty chilaquiles topped with runny egg, to breakfast salads of kale, local quinoa and pickled beets, brunch has never been better (or bolder) in SLO County. Swap your average mimosa for a bright Edna Valley or Paso Robles rosé, a retro sparkling wine cocktail made with local spirits or a Bloody Mary bolstered with homegrown accouterments. Don't forget to wash it all down with the region's finest third wave coffees, distinctly roasted for a palate-pleasing awakening. Check out these restaurants in San Luis Obispo County for all your brunch needs:
Sunday's from 10 a.m. - 3 p.m.
Nothing says brunch like Eggs Benedict Granada Style (cornbread, bacon and chipotle hollandaise), Brioche French Toast with caramelized banana, candied walnuts, whipped cream and maple syrup, and a delicious mimosa to wash it all down.
View their full menu here.
Sunday's from 10 a.m. - 3 p.m.
Start your morning with Citrus Marinated Beets with spicy micro greens, blood orange emulsion, macerated onion, fennel, smoked pistachio, gremolata and goat cheese, Chilaquiles with carnitas, sungold cherry tomatoes, fried egg, chevre, cilantro and topped with crema, and a bottle of crisp Bristol's Hard Cider made locally in Atascadero.
View the full menu here.
Saturday, Sunday and Monday from 8 a.m. - 2 p.m.
Choose your starter, like three Pacific Gold Oysters, salivate over your entree, like Creme Brulee French Toast, and top it all off with a dessert like their Seasonal Bread Pudding. This three-course menu for $39 also includes - wait for it - Bottomless Mimosas!
View the full menu here.
Sunday's from 8 a.m. - 2 p.m.
Hop in line and make your way through Marisol's Brunch Buffet! From an Omelet & Waffle Station to a Taco Market and down to the Pastry & Dessert Buffet, you'll leave happy and full.
View the full menu here.
Sunday's from 8 a.m. - 2 p.m.
Start light with a Yogurt Parfait with muesli, strawberries, whipped cream and almonds, then make your way into the Steak and Eggs or Chicken and Waffles and a deliciously vibrant mimosa.
View the full menu here.
Saturday and Sunday from 9 a.m. - 2 p.m.
Try Luna Red's seasonally changing menu with items like the Fried Egg Sando with bacon, whipped avocado, tomato, fried onions, sambal aioli, crispy potatoes on a house made roll, Red Quinoa Waffles topped with strawberries, whipped cream, powdered sugar and maple syrup, or the Chilaquiles with guajillo tomato sauce, queso fresco, onion, radish, cilantro and sunny up eggs.
View the full menu here.
Sunday's from 11 a.m. - 2:45 a.m.
Take a jaunt out to the quaint town of Cambria and head over to Robin's for their seussical Green Eggs and Ham, beer battered, local rock cod fish tacos or go big and get their beef burger with grilled sweet onions, white cheddar, house sweet pickles, aioli on a brioche bun.
View their full menu here.
Sundays from 9 a.m. - 2 p.m.
Dine like a local under the veranda overlooking beautiful Hunter Ranch Golf Course. You'll come for the brunch buffet complete with made-to-order omelets, homemade quiche and all the breakfast favorites, but you'll leave dreaming about Kelly's famous bacon. Did we mention bottomless mimosas are involved?
View their full menu here.
Marston's 101
Sunday's 10 a.m. - 3 p.m.
Head over to one of the newest restaurants in Atascadero and you'll find delicious Short Rib Tacos, Wood Fired Flatbread Pizzas, and a Chorizo Torta made with housemade sausage, grilled onions, cheddar cheese, a fried egg, guacamole and served with french fries.
View their full menu here.
Don't forget to try all of these restaurants and more during SLO County Restaurant Month January 2-31, 2017.