Bring Novo Restaurant & Lounge home with you by making their delicious and fresh Avocado-Shrimp Spring Rolls. Check out the recipe below and then try them for yourself during Restaurant Month January 2017.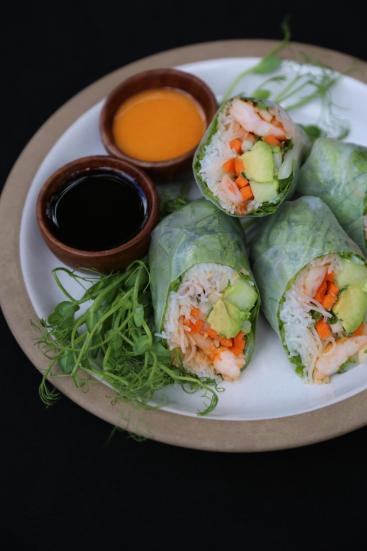 (Photo by Kendra Aronson from the SLO Farmer's Market Cookbook)
Shrimp for Spring Rolls
41-50 Shrimp
14 ounces Sriracha
1/2 tsp Salt
1 tsp Pepper
Saute the shrimp in canola oil.

When halfway cooked, drain the excess liquid.
Add Sriracha, salt and pepper and finish cooking
Turn onto sheet pan and transfer to the refrigerator to cool
Spring Roll
(Recipe as follows for 1 spring roll)
1 Rice Paper
1/4 Bean Thread Noodle
1 Lettuce, Red Leaf
5 Shrimp (previously cooked)
1 Avocado, sliced into 8 pieces per avocado
1 Cucumber (peeled, seeded and sliced)
5 sticks Carrot, julienned
5 sticks Daikon, julienned
1 tsp Mint, chopped
1 tsp Cilantro, chopped
Place bean thread noodle in boiled water and cook like pasta,
Stir frequently for 3-4 minutes, until soft but not mush
Strain and rinse with cold water. Once cooled, coat with sesame oil so they won't stick together.
Dip rice paper briefly in hot water and pat dry
Place one leaf of lettuce in center
Spread noodles on lettuce leaf and place shrimp evenly
Continue with res of ingredients so all are evenly dispersed and only resting on the lettuce
Roll gently like a burrito, if not serving immediately
Wrap in plastic wrap and refrigerate
Will hold for no more than two hours in refrigerator.
Enjoy!