One of the interesting factoids for San Luis Obispo County is that there is almost exactly one professional artist for every thousand residents. The annual "Open Studios" event, held every October, is the month for them to shine. This event allows you to visit the homes / studios of the artists, see their latest creations, chat with them, enjoy the snacks provided, and perhaps see and buy a piece of art that really appeals to you.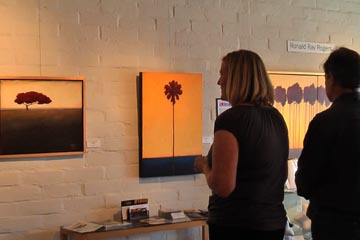 On Saturday and Sunday, October 9 and 10, enjoy the opening weekend by getting in your car and checking out some of the participating 126 "north county" artists. The downloadable book and maps provided by the SLO Arts Council give you a flavor of each artist's style and media. You can also pick up printed versions at many locations in the county. (Especially helpful for the maps.)

I have enjoyed "Open Studios" for the past several years. I make it a point to visits some artists I've never visited before, and re-visit some of my favorites. And I always see a road sign posted by an artist I wasn't even thinking about, and making a great fun discovery. This is a great way to find Christmas and birthday presents for the art lovers in your family.

In North County, some of my favorite artists include Roger Combs (wood furniture; Atascadero), Earthsea Pottery (Cambria), Glynnis Chaffin-Tinglof (painting; Baywood Park) and Sara Heinrichs-Popp (Photography, Los Osos). However, this is a great time to make your own discoveries, based on your own tastes and interests.  You can see a brief clip of another favorite - Juxtapose Art + Garden - in this YouTube video. Look for a 5-foot high  sculpture that looks like a Venus flytrap, made of rebar and colored concrete.

Housekeeping details: Do bring the guide along, and you might want to bring a good map of the county, or plan your route beforehand and print up a series of maps to help you find your way. Not all artists can take credit cards, but most artists do take checks, so bring your checkbook.

And remember, if you don't get to visit them as planned this weekend, most will participate in the "encore weekend" Oct 23-24. Also - for the sake of family peace -  if your significant other is not able to accompany you, please work out the budget beforehand. Usually, in my case, my wife tells me "Don't buy anything, we already have too much. And when you do, keep it under $200 total." You get the picture...