Pairings in Paso
By Jennifer Knoll

With Concerts in the Park beginning this month, both in Paso and Templeton, I would like to showcase my favorite wine, for one of my most special events.
Rosé is the perfect accompaniment to any trip to a Concert, and it's no secret to anyone who knows me that my infatuation with the pink stuff runs deep. However, it's more than the flirty sensual color that appeals to me, but more its diverse, underrated personality. Rosé is an entity in and of itself. It harkens to red, but only enough to turn it "pink", depending on the grapes used and the production technique. Its color/gender-busting ability takes it away from white and into a spectral range from pale orange to a vivid, near-purple. It's crisp, lively, affordable, and pairs well with all food, especially summer fare and barbecue. The British rock band, The Feeling, in their song all about Rosé(!), serenaded best, "the white to your left/the red to your right/are all that I'd seen/'til I realized the love that I seek/ lies right in between."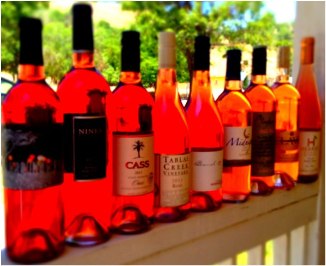 As a consequence of its underlying diversity, choosing just one wineries' Rosé is out of the question. So I have a variety of samples, most of which are new to me, which I feel, reflect the Central Coast wine region. So, from Clavo Cellars' rosy-orange Grenache, to Groundwork's near vivid-purple of the same varietal, we'll explore. But really, what's in a name? A Rosé by any other name, would still taste as sweet.
And as for the food, I've prepared a very simple grilled-vegetable sandwich that travels well, and can hang out at any picnic or potluck.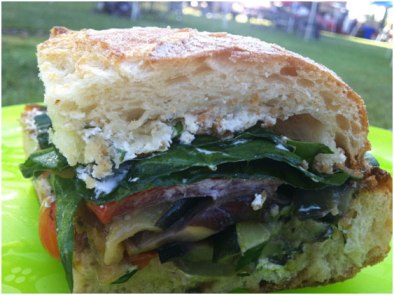 Roasted Vegetable & Herbed Goat Cheese Sandwich
Roasted Veggies
¼ cup extra virgin olive oil
2tsp. salt
1 clove garlic, crushed
1 zucchini, sliced
1 red bell pepper, quartered then sliced
1 Portobello mushroom, quartered then sliced
1 red onion, thinly sliced
Herbed Goat Cheese
4 oz. goat cheese, room temperature
2tsp.salt
Zest of 1 lemon
1Tblsp. Of each chopped: thyme, basil, parsley, chives
Vinaigrette
1Tblsp red wine vinegar
2Tblsp. Lemon juice
2Tblsp. extra virgin olive oil
2 cups (packed) baby spinach leaves
1 large round rustic loaf bread or baguette cut in half lengthwise.
Preparation
Preheat oven to 400 degrees. Arrange veggies on baking sheet, drizzle with olive oil. Sprinkle with salt & garlic. Roast 15 minutes, turn veggies over. Roast another 10 minutes, until lightly browned and tender. Remove from oven.
Place bread in oven and toast lightly.
Combine softened goat cheese, lemon zest & herbs.
Whisk together vinegar, lemon juice & olive oil. Toss spinach with vinaigrette.
Spread each side of bread with herbed goat cheese. Top the bottom half of the bread with the roasted vegetables and spinach. Cover with the top of bread. Slice into quarters or eighths. Pack back into the bread bag. Picnic!
Jennifer Knoll is a lifelong resident of Paso Robles. Growing up in the wine business and being surrounded by farmers she developed her serious fetish for wine and food. She is also the Assitant Tasting Room Manager at Tablas Creek Vineyard