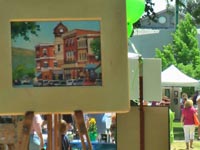 This Saturday of Memorial Day Weekend, Paso Robles is hosting its 2nd annual Art Festival. I attended last year, and it was a lot of fun. One of the highlights for me is to see the painters in the "Quick Draw" paint various scenes within the beautiful city park in just two hours. The paintings are then auctioned with the paint practically still wet.
The nearby large coop gallery (facing the park) also hosts a great open house. This gallery only opened about a year ago and already has a great buzz about it. Many of the top artists in the county have space inside, (I have been told by several that they are very happy with the resulting sales they have enjoyed there.
And needless to say - though I'll say it anyway -  "Paso" (as us local refer to it) has an incredible variety of wonderful restaurants and winery tasting rooms to chose from.