The 14th Annual Paso Robles Rotary Winemakers' Cookoff 
By Don Davis
Don't Miss Paso Robles' Most-Unique Food and Wine Event — the 14th Annual Paso Robles Rotary Winemakers' Cookoff. It's just about as much fun as you can possibly have in three hours.
This casual outdoor evening of food, wine, music and fun at the River Oaks Hot Springs has become a 'must attend' by locals and those in the know. The Cookoff will be held Saturday, August 11, 2011 from 6:00 to 9:00 PM. Come out and meet 26 of the appellation's finest winemakers as they pair their own grilled culinary creations with some of their best wines.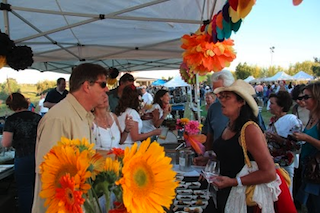 Participating wineries compete for awards in two ways. First, by competing for Judges' and People's Choice awards. A panel of five wine and food industry pros judge the food and wine pairings. And two, the wineries also vie for your votes with 'friendly bribes' to win the coveted People's Choice awards.
It's great fun, great music, great food and, of course, some really fine award-winning wines (all supervised by Paso Robles Wine Country's finest winemakers). Your eating and drinking will be accompanied the live music of 'Julie Beaver and the Bad Dogs.' And, if you enjoy capping off your dining with something sweet, there will be plenty choices for you at the Cookoff.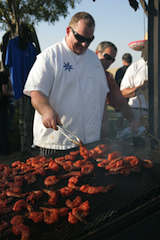 Come join the fun on Saturday, August 11, 2012, 6:00 to 9:00pm at River Oaks Hot Springs, 800 Clubhouse Drive, Paso Robles, CA 93446. It's all for a good cause as all Cookoff proceeds go to the Rotary's Harlow Ford Scholarship Foundation benefiting local high school seniors. Since its inception, the Foundation has provided over $400,000 in local college and vocational scholarships.
Plan to make it a 'Winemakers' Weekend' as wine discounts, extra events and accommodation discount packages will be available for the weekend of August 10-12 to Cookoff attendees.
To purchase tickets or for complete details and information, call (877) 264-6979 or visit the Cookoff website at www.winemakerscookoff.com. 
$75 per person, designated driver tickets $40 each—all attendees must be 21 or older.