Savor Every Sip of February Romance in SLO CAL
Date night is alive and well at Sidecar Cocktail Company in downtown SLO
By: Hayley Thomas Cain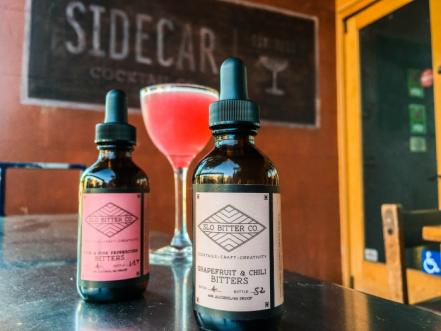 With a touch of sweetness and heaps of floral allure, Sidecar Cocktail Company's Fatal Attraction is the perfect way to keep February romance rolling all month long. Made with rose hibiscus syrup, a dash of SLO Bitter Co. Rose and Pink Peppercorn Bitters, and a sprinkling of flirtatious rose petals, this blush pink cocktail is all about celebrating the sweetheart in your life, whether it be a fiery fling or long term love affair.
Sidecar Mixologist Danielle Golden created the smoldering concoction especially for SLO CAL, adding premium gin, vermouth, and a squeeze of zesty lemon (just to keep things interesting).
"It's easy drinking, but has a little bite to it," Golden said.
"After all, isn't love truly bittersweet?"
Sultry Sundays at Sidecar
Soft, dim lighting, the clink of cocktails, and the heady scent of a savory steak dinner come together to create a sultry date night atmosphere reminiscent of swankier times. Sound swell? Make date night a regular thing with Steak and Martini Sundays at Sidecar in downtown SLO. Imbibe in seven unique martinis—from the classic recipe you love so well to a fizzy egg white variation—for just $8 each when you purchase a steak.
We heart this: The Sunday Filet Special offers up an 8-ounce filet mignon with mashed potatoes and sautéed veggies for $34. And if that's not enough to inspire you to call the baby sitter, don't forget that happy hour unfolds from 4 to 6 p.m. daily with plenty of small plates to nosh on.
Stir in a little Romance
Mix up your own romantic cocktail soiree for two with this Sidecar Fatal Attraction recipe below (the month of February is for lovers—why stop at Valentine's Day?). Be sure to pick up a few bottles of SLO Bitter Co. Bitters, made with a base of neutral spirits sourced from Paso Robles-based Re:Find Distillery, sure to wow your lover's palate. In keeping with SLO CAL's bountiful farmer's market culture, each bottle features only the freshest, local seasonal herbs, botanicals, and spices.
Sidecar Fatal Attraction Cocktail
1.5 ounces St. George Botanivore Gin
½ ounce of Dolin Blanc Vermouth
¼ ounce of Gran Classico bitters
½ ounce Rose Hibiscus Syrup
Squeeze of lemon juice
1 dropper of Slo Bitter Co Rose and Pink Peppercorn Bitters
Shake well and serve chilled in a fluted glass with rose petal garnish
DIY Rose Hibiscus Syrup
1 cup rose and hibiscus petals from Secret Garden Herb Shop in SLO
½ cup sugar
½ cup hot water
Let steep for five minutes
Strain mixture with fine mesh strainer and keep chilled