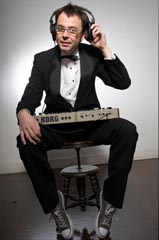 Last year I had the great pleasure to hear Rudolf Budginas at a free outdoor summer concert in Arroyo Grande. I honestly did not know what to expect - all I knew was that he lives locally and that he had appeared in many top local venues.
The concert was WONDERFUL. He takes classical music pieces and plays them VERY well in VERY unclassical ways. As the Executive Director of the local Clark Center said: "It's hard to understand how one person and one piano can fill a theatre with the energy of a big band, a symphony and a rock band all at the same time!"
What the quote doesn't convey is what a great rapport he has with the audience. He obviously has a great sense of humor and is at ease making jokes and talking about himself and his music with the audience. He is NOT one of those performers that walks onto the stage, bows, plays whatever, bows for the applause, and then leaves without saying a word. My wife and I attended many concerts at the Hollywood Bowl in which this was the case. Rudolf is more like the late, great Henry Mancini, whom we also got to see and hear at the Hollywood Bowl - both engaged with the audience between his songs.

So if you're anywhere near Cayucos tonight, grab the opportunity to hear Rudolf Budingas. Luckily, he does appear fairly often in SLO county. Note: he also performs extensively in the USA and rest of the world. Do check out this Lithuanian born, Moscow-trained, naturalized US Citizen that could live anywhere in the world, and choses SLO County.