This upcoming Father's Day weekend, the Pismo Beach Car Show will again take over downtown Pismo Beach. Most of the downtown becomes a pedestiran zone, as all the streets are filled with beautiful old cars, and thousands of people admiring them. Talk about a photo op! Most of them are so shiny that youcould take a picture of your reflection from them. Maybe this is mostly a "guy" thing, but a lot of women attend as well. Take the kids and show them the cars of your childhood!

If my car had a bumper sticker, it would read " I Break for Avantis". I just think the Studebaker Avanti, made in the early 1960's just before they went bankrupt, is one of the most beautiful and interesting cars ever made. (Less than 5,000 ever made, according to Wikipedia article.) Every year I have attended the show, there is one available to see. (See my not-so-great shot below.)  The car always seems to be on the pier, if you want to enjoy its beauty yourself.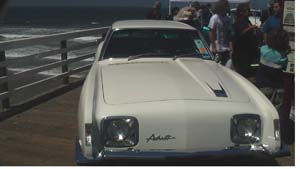 Video of the Pismo Beach Car Show - including this car (of course) - and many others are available on our YouTube channel.