Make plans for your next surf trip in SLO CAL. These shops make getting out on the water easy!
September 20th marks California Surfing Day and surf shops throughout SLO CAL make it easy for you and your crew to celebrate, no matter your experience level. Check out where in SLO CAL you can pick up some gear or book a lesson.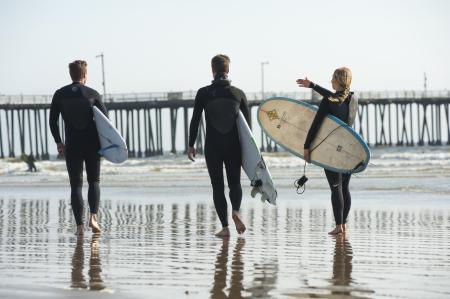 Central Coast Surf School
Pismo Beach
When you book a tour with Central Coast Surf School, there's no need to haul any gear with you - wetsuits and surfboards are included. Grab your buddies or book your lesson solo and enjoy a day surfing in Pismo Beach, one of SLO CAL's most well-known surf spots. No matter your comfort level, the instructors will show you the ropes or bring you out close to the pier, where the barrels really form. If you're less experienced, plan to book your lesson in the early morning, when the waves are calmer.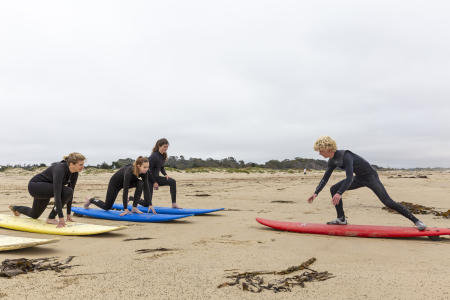 Sandbar Surf School
Pismo Beach
The professional, yet, entertaining instructors at Sandbar Surf School provide you will everything you need to experience a day of surf in Pismo Beach. Geared toward all ages and abilities, Sandbar Surf School specializes in environmental appreciation and specialized coaching. They strive for every student to not only stand on their own but also have the ability to progress to whatever level skill they hope for. Located just a couple of hundred yards south of the Pismo Pier, you can enjoy cruising through downtown Pismo Beach after your lesson. Might we suggest a well-earned drink at The Boardroom Beer Pub? 
 
Van Curaza Surf School
Avila Beach
Paddle out all year long with Van Curaza Surf School in Avila Beach. Packed with fun in the sun you can learn how to surf, explore the Avila caves and make new friends during their summer surf camps. Looking for a little more 1:1 time? Private lessons are available, regardless of your skill level and, depending on current ocean conditions, lessons can be offered in Morro Bay, Shell Beach, Pismo Beach and Cayucos. Following your afternoon on the water, keep the sea theme going by stopping by The Old Custom House and ordering up the fish tacos or Louie salad.
 
Good Clean Fun
Cayucos
Offering both private surf lessons taught by qualified surf instructors, group surf camps and even kayak tours, Good Clean Fun is a one-stop-shop for your water sport adventures in Cayucos. Private surf lessons include a wetsuit, soft-top surfboard and friendly instructors to get you out on the water. Ideal for families, school groups or corporate retreats, booking a surf camp allows you and your group to learn the in's & out's of water safety, surf techniques and water etiquette. While out on the water, keep your eyes peeled for migrating whales or otters floating around. Following your tour, don't miss out on grabbing a well-earned meal at Schooners or treat yourself to a pack of cookies from Brown Butter Cookie Company.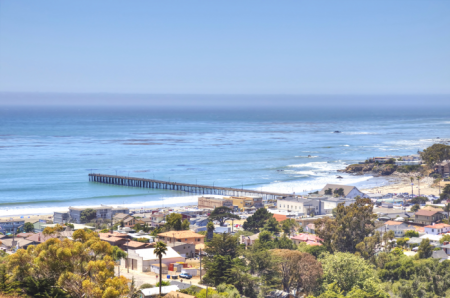 Cayucos Surf Co.
Cayucos
Maybe you're feeling a little more independent or have some experience out on the water. Cayucos Surf Co. allows you to take to the waves on your own. Located in Cayucos, this shop has all your surf rental needs. Maybe some members of your group are looking to do something beyond surfing. Boogie boards and stand up paddleboards are also available, allowing the whole family to take their pick for their next SLO CAL adventure. 
Check out Surf Contests and Events Coming Up in SLO County