Bask in the sunlight, wiggle your toes in the sand and find your favorite (if you can choose just one) beach in San Luis Obispo County (SLO CAL). Experience a quintessentially SLO CAL event at the Thursday Night Downtown SLO Farmers Market, where the sweet smell of barbequed tri-tip lingers in the air. Hit the trail – the wine and distillery trail that is – for a palate-pleasing day in SLO CAL wine country. There's so much to do and see on the Central Coast so let us help you create your best trip itinerary.
Park it on the Beaches of SLO CAL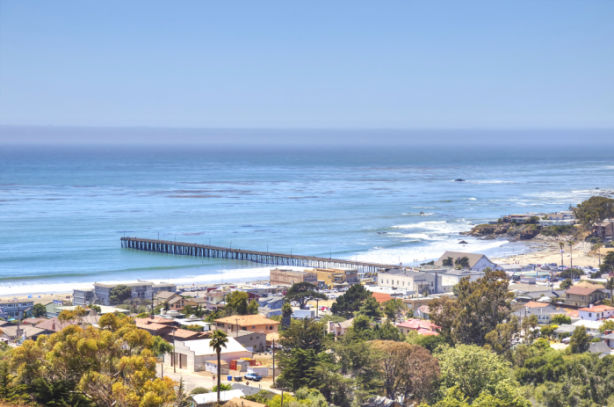 80 miles of beautiful, California coastline are calling your name. The question is, which one will you choose? Whether you want to relax and soak up some sun, catch a wave, ride an ATV across the dunes or watch passing wildlife, SLO CAL has a beach just for you.
Grover Beach – Let the Amtrak Pacific Surfliner drop you off just steps from the sand when you visit Grover Beach. After a day of fun in the sun, gather around a crackling beach bonfire and enjoy a seaside sunset you'll never forget.
Pismo Beach – Enjoy Classic California in a bread bowl filled with clam chowder, by hitting the waves and surfing with some famous goats or renting a beach cruiser and taking a spin along the energetic boardwalk. Or surf a different wave at the Oceano Dunes with its beachside sand dunes perfect for sandboarding, ATVs, and dune buggies.
Avila Beach – Stroll the pier, kayak to the Point San Luis Lighthouse, hit the links then pop into one of the wine-tasting rooms located just steps from the sand. Avila Beach's family-friendly atmosphere and seemingly endless sunny days are just what your relaxed trip is calling for.
Pro-tip: Keep your camera ready during the months of June and July because you may spot a migrating humpback whale lunging out of the water as it feeds in the harbor.
Morro Bay – Choose between deep-sea fishing, standup paddleboarding the bay, surfing the waves near Morro Rock or watching sea otters, sea lions, whales and a variety of birds enjoy life on the Central Coast. Morro Bay is a throwback seaside community with a maritime heritage you can see and taste.
Cayucos – If classic surf culture and a small town are what you're after, look no further than Cayucos. From unique events and festivals held year-round and miles of dog-friendly beach to its classic surf culture and small-town flair, Cayucos is perfect for that slice of California charm you've been searching for.
Cambria – Hunt for moonstones and watch as a passing pod of whales and dolphins meander along the coastline in Cambria. Rent a bike or walk the boardwalk as you enjoy a beautiful morning amongst Monterey pines.
San Simeon – Walk the pier that once brought in shiploads of antiques and collectibles to Hearst Castle, enjoy a short hike along San Simeon Point and be sure to check out the popular Elephant Seal Vista.
FILL YOUR BELLY AND TEMPT YOUR PALATE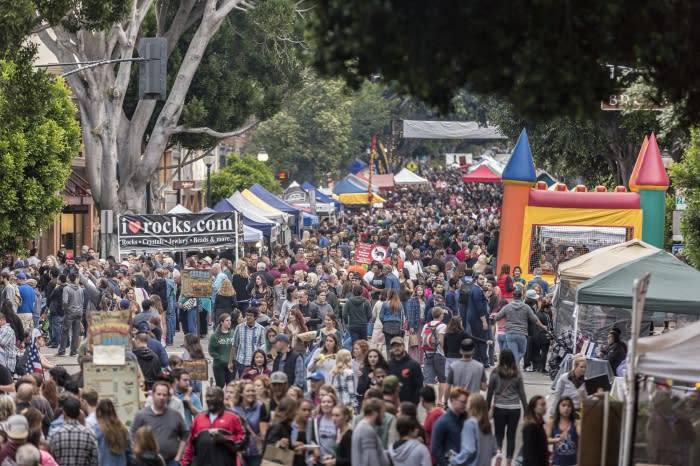 Immerse yourself in local flavor at the Thursday Night Downtown SLO Farmers Market. From 6pm-9pm meander amongst 120+ local produce, meat and artisanal purveyors while listening to a different live music act at every block. Follow your nose and dip your toes into the waters of famous Central Coast bbq, specifically Santa Maria-style BBQ'd tri-tip sandwiches, grilled artichokes, and corn on the cob. The Thursday night Farmer's Market is a sensory experience you won't want to miss.
Buzz with excitement as you follow the SLO CAL wine and distillery trail. With over 250+ wineries and a budding craft distillery movement happening throughout the county, you're sure to have a fun-filled and educational day amongst the vines. Book a wine tour with 101 Wine Tours, Breakaway Tours or Uncorked Wine Tours for a hassle-free day of tasting in Paso Robles and San Luis Obispo wine country.
Pro-tip: Do you have a lust for adventure and a thirst for wine? Indulge both in Santa Margarita, located just 10 miles north of San Luis Obispo. Zip along six thrilling ziplines over vineyards and beautiful SLO CAL backcountry at Margarita Adventures. Then, enjoy a wine tasting experience with wine grown from the vines you just flew over, at their affiliated Ancient Peaks Winery just across the street from the tour office.
Stop and Take a Swing along the SLO CAL Hiking Trails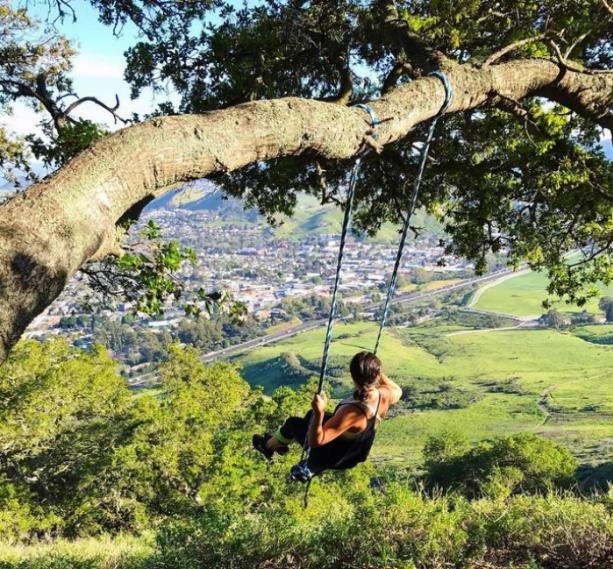 (Photo by @Kacianne)
Nothing goes better with a hike than a swing-sesh and SLO CAL has many hidden amongst it's hiking trails. Our hiking trails are beautiful, unique and full of wonder. Meander along dramatic coastlines, surround yourself with ancient volcanoes (there's nine of them aptly named the Nine Sisters) and rolling green hills to find the real hidden gems – tree swings.
Reservoir Canyon: Roundtrip this hike is five miles, with the last part being the most challenging. However, about halfway up you're rewarded with a tree swing looking out onto the beautiful hills of SLO CAL.
Avila Ridge Trail: While this trail is moderately difficult (and quite steep), you'll be too distracted to even notice as you watch the ocean glisten down below. This three-mile loop has you traversing the hillside above Pirates Cove and Avila Beach where you'll be rewarded with perfect Pacific Ocean views and a swing to boot.
Serenity Swing: Nothing but serene views will greet you when you hike out to this San Luis Obispo staple. Located near Cal Poly's Design Village (another must-see, where architecture projects of days-gone-by are open to explore), this 3.8 mile out-and-back begins quite flat with a steep push at the very end, where you'll be greeted by a lonely oak and a perfectly situated swing.
Broderson Peak Trail: With a perfect view of Morro Rock and a backdrop of Eucalyptus trees this 2.5 mile hike offers premier views and a feeling of calm as you watch the boats move in and out of the bay.
Pro-tip: Reward yourself with a refreshing pint at one of SLO CAL's craft breweries. After all, you deserve it!