This Saturday offers a great free event for art lovers. Starting at 9 AM, fifty (50!) leading USA landscape painters descend on Mission Plaza in downtown SLO and by 11:30 AM, finish a painting of a nearby downtown scene that appeals to them. These paintings are then popped into a frame, and sold at auction right there, with no reserve. This auction starts at noon and goes to about 2:30 PM.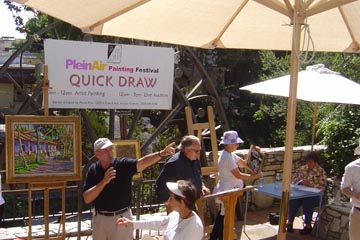 I'm told that many painters hate the pressure, but you wouldn't know it to look at them. The painters - all professionals that apply to participate - are of uniformly high quality. Some paint very detailed scenes, others very large-scale scenes. Some tend to bright colors, others to more natural tones.

You WILL definitely see a painting that appeals to you. The only question is to whether you can afford it. Auction prices starts at about $200 at the low end and go up to many thousands at the high end. (Don't worry, they do take credit cards.)

Do take the time to stroll through the SLO Art Museum, host of the event and also located in Mission Plaza. The Art Museum displays several works each of the same painters, created earlier in the week in various scenic parts of SLO County. These paintings are also available for sale. (All Proceeds are split between the artist and the Art Museum.)    FYI - This is a great event to introduce and interest your kids in art.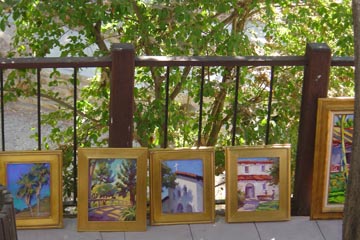 Housekeeping details: Do bring your camera- this is the perfect "Kodak moment" as beautiful paintings are created in a beautiful venue. The line of paintings about to be auctioned is also very pretty to photograph. Bring your credit card if there is ANY chance you might bid. There are many great places to eat nearby, but you might want to buy take-out so that you can enjoy the entire auction.

There is an upscale reception Friday night at the Art Museum: the attendees have "first dibs" on buying the paintings on display at the Art Museum.