Experiencing Restaurant Month at Novo
by Tatum Adair
During Week 2 of Restaurant Month, my husband and I decided to stop in to our beloved Novo for something different than our "usual." What we found was unbelievably great and has since had us craving the same meal day after day.
To start, we had Pork Lumpia, a dish from the Philippines. Before tasting, my husband (6'5 and a big eater) was pleasantly surprised by the portion size of the first course. We had the false impression that these would be small portions (based on the killer deal of 3 courses for $30) but they were not!
These delicious pork rolls came with two different dipping sauces that you can go back and forth between, one was marvelously sweet and one pleasantly sour. It was astonishing how fast this course was devoured and how much we truly enjoyed and appreciated the Philippine flavors. Overall, the first course gave the second two a lot to stand up to, and left us eagerly anticipating round II.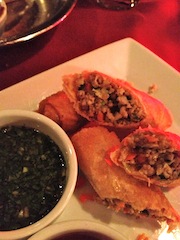 When the second course came to the table we were surprised, yet delighted to be greeted with a comforting looking soup, also from the Philippines. This dish is called Shrimp Sinigang-sour soup. It included large, generous shrimps, rhubarb, and vegetables. Considering how cold it's been (for California) lately, the soup was welcomed by us both. After tasting it however, we were both again pleasantly surprised by the depth of flavor and delicious complexity of this wonderful soup. I don't think a cold day in the last week has gone by without me dreamy of eating this again. Sigh.
Last, and definitely not least, was beef braised in coconut milk and aromatic spices. Talk about a way to end the meal. This dish had us overwhelmed with warmth and great flavors. We ended our meal feeling full, warm, comforted, and well traveled. What fun it is to try new flavors of different cultures! And when you talk about the deal you're getting with Restaurant Month, it makes it even more appealing! 
Overall, hats off to Novo for participating in California Restaurant Month and for taking it and running with it. When fun and inviting programs get embraced by world-class chefs at reasonable prices, that causes for happy diners everywhere. To see Novo's Restaurant Month Menu (which changes weekly) click here.
If you haven't experienced restaurant month already, I strongly encourage you to do so! For the next two weeks these participating restaurants will be serving up some of their best creations, 3 courses, for only $30. Don't miss out on this fantastic opportunity. For more details click here.