San Luis Obispo County Campsites with a View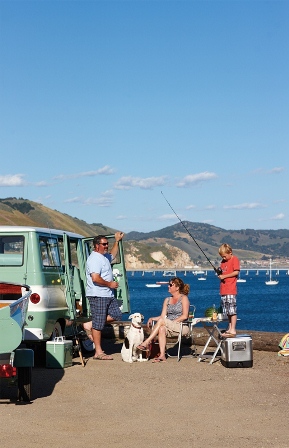 1)  Campsite & Location: Port San Luis Campground, Avila Beach

Type of view offered: Amazing view of the Pacific Ocean as camping is just steps away from the sand. View of the Fishing Pier, Port, and the beautiful Avila Beach. 

Why it's the perfect campsite/experience available: Port San Luis Camping is some of the best camping on the Central Coast of California. You have a chance to experience amazing views of the Pacific Ocean. With services located within walking distance and a free shuttle on the weekends.  All camping in the Port is RV camping. No tent camping is currently allowed. RV Camping is all first come first serve and is no reservations.

There are five areas for camping in Port San Luis: Turnout above Fisherman's Beach (Dry Camping), Nobi Point turnout (Dry Camping), 10 full hook-up sites are available off Babe Lane (Full Hook-ups), Overflow RV Camping (Dry Camping, located up on the hill and has the best view of the whole harbor). In addition, camping is permitted in a portion of the Coastal Gateway trailer boat parking area, when not otherwise needed for vehicles with trailer boats.

2)  Campsite & Location: Oceano Dunes, Oceano Beach

Types of view offered: Spectacular oceanfront views of the Pacific Ocean and endless views of the beautiful sand dunes.

Why it's the perfect campsite/experience available: This 3,600 acre off road area is among the most popular and unique of California State Parks. The 5 ½ miles of beach open for vehicle use and the 1,500 acres of sand dunes available for off highway motor vehicle recreation are attractions for visitors from throughout the United States.

Oceano Dunes is the only California State Park where vehicles may be driven on the beach. Passenger cars can easily drive on the northern portion of the beach.

Four wheel drive vehicles are recommended for driving to the camping and off highway vehicle use areas in the park. Beach wheelchairs are available for loan at the Pier and Grand Avenue entrances to the beach. Features: Surfing, swimming, surf fishing, horseback riding and bird watching are popular activities.

3)  Campsite & Location: Oceano Lagoon Campground, Oceano

Type of view offered: Fresh water lagoon - home to migratory birds

A couple sentences on why it's the perfect campsite/experience available: The campground lies adjacent to a migratory bird habitat that surrounds the fresh-water lagoon. This area is especially popular with birders hoping to spot migrating spring and fall warblers and waterfowl. A wooded nature trail will take you around the lagoon and a short hike will lead you through the dunes to the beach. At the campground entrance is a nature center which links the visitor to the natural environment and cultural history of this state park. Several docent led walks start from the nature center. Also, within the campground, is a native plant garden. A stroll through the beautiful gardens will help you to identify local plants. Benches are provided for enjoying a rest and the scenery.

4)  Campsite & Location: Morro Strand, Morro Bay

Type of view offered: Spectacular views of the ocean and Morro Rock

Why it's the perfect campsite/experience available: This simple yet beautiful site nudges against the dunes and lies just a few yards from the ocean. This is a great place for a surfer to camp. Sunsets are great and it's a perfect place to watch Fourth of July fireworks. If you're not the outdoorsy type, stores and restaurants are close by.

5)  Campsite & Location: Montana de Oro Campsite, Montana de Oro

Type of view offered: 360 degree views of crashing waves and beautiful coves.

Why it's the perfect campsite/experience available: Set in a bowl surrounded by lush hills, this campground features striking views. There are plenty of trees for shade, a fair amount of grass and a vast network of trails for hiking, mountain biking or horseback riding. Because the site is tucked away and there are no busy roads nearby, you'll feel like you're really out in the wilderness. At 1,347 feet, Valencia Peak is relatively easy to climb, and the payoff - great 360-degree views - is well worth it. And there are beautiful coves and crashing waves.

Campsites includes primitive and equestrian campsites.