SAN LUIS OBISPO VINTNERS TEAM UP WITH AVILA BEACH TOURISM ALLIANCE TO PROMOTE REGION

Two organizations with one common goal, working together
to achieve more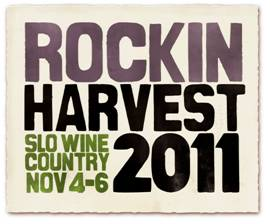 San Luis Obispo Vintners Association announces their 21st Annual Rockin' Harvest Celebration, November 4th - 6th. The Grand Tasting and Auction will take place on Saturday, November 5th from noon - 3 at the beautiful Avila Beach Golf Resort. Over 60 wineries and restaurants from the San Luis Obispo region are featured in the scenic seaside setting of the Avila Beach Golf Resort. Winemakers, local chefs and wine lovers share the fruits of their labor and passion for the art of winemaking. This auction is not your typical run of the mill auction. Be prepared to be entertained by the winemakers as they show off their lifestyle auction lots. Live music will be provided by The Kicks, a local band and favorite among many on the central coast. Back by popular demand, this year's auction will once again open up with a live music set from the Winemaker's Band, 'The Crushtones', a group formed especially for last year's Annual Event. For locals, and those from out of the area, this is a great time to explore San Luis Obispo and discover the culinary treasures of our unique region.
New this year, SLO Vintners has teamed up with the Avila Beach Tourism Alliance to offer an exclusive $20 event ticket discount when you book your stay in Avila Beach. Both organizations share the same goal, to bring people from outside the central coast and get them to stay multiple nights while enjoying all our region has to offer. "What better opportunity to do this, than during the Rockin' Harvest Weekend. The Central Coast will be highlighted at this event in all aspects, from the quaint little beach town of Avila, to the wonderful wines and chefs that this region has to offer, not to mention the entertainment that is part of our lifestyle as well," stated Becky Gray, executive director of the SLO Vintners Association. "The best part is, this event is a multi-day event, bringing people in on Friday as wineries offer an opportunity to dine in an intimate setting with their winemakers, and extending over to Sunday when wineries of the SLO Wine Region open their doors and host guests at the tasting rooms."
General Admission Tickets to the Grand Tasting Event on Saturday are $80, or $60 when you book your stay in Avila Beach. More information on how to redeem this incredible offer is available at, www.slowine.com. Don't miss out on this unforgettable weekend in SLO Wine Country!