As part of our SLO County "staycation", my wife and I went to the free Saturday afternoon concert held on the grounds of the Sea Pines Golf Resort Hotel in Los Osos. Part of the draw was that the band performing - the JD Project - is one of the top groups in the county.  (Check out my video of them at
last year's Concerts in the Plaza in San Luis Obispo
.)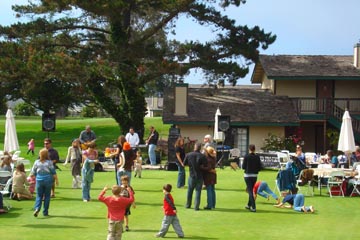 This weekly concert series occurs from 3 - 6 PM during the late spring and early fall, but not during the main part of summer. I will admit the weather was a bit on the cool side(we brought jackets and so were fine)  but the music was of course great. There are many chairs and tables, but some people also sat on blankets on the grassy lawn.
This concert series is interesting in that it the only one in SLO County that I have been to with waiter service. You are not allowed to bring food and wine, but the concert area backs up to the golf course's bar and restaurant.  So you get to groove to the music, while the attentive staff brings you your order. You can also walk up to their outdoor BBQ station and get sliders and hot dogs. My wife and I had the good house chardonnay, really good (warm) chips and salsa, and ended up having their cooked-to-order sliders for our dinner.

The performance area was relatively small and intimate, and there were easily about 100 people enjoying the performance and the very mellow ambiance when we were there. One thing that surprised us was the fact there were so many families with very little kids. (I was told by one regular attendee that this is common.) It was cute to watch them rocking to the music on the dance area, often with or near their parents. The entire area is grassy, so there was no injury if they fell. (It is called "Concerts on the Green" for a reason.)  The area is also so small that parents can easily keep their eyes on them as they run around. (Note: the acoustics are good, so the there was no problem enjoying the music.)
There is one more concert on 4th of July weekend, and then they start up again on Labor Day weekend. Check it out!