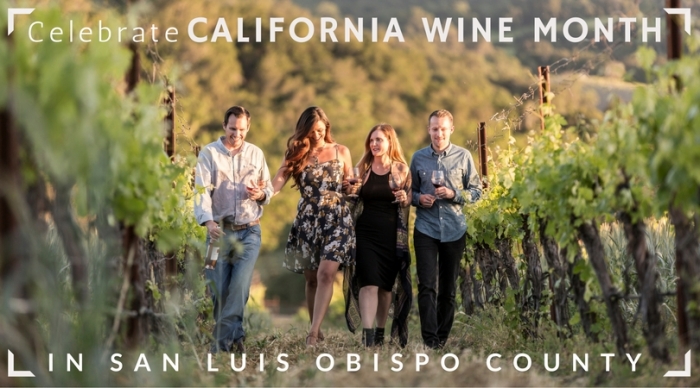 Celebrate September savoring the fruits of San Luis Obispo County wine country's labor. Wineries throughout the state of California will be participating in California Wine Month and we think you should too! Check out these sip-worthy deals and events happening in both San Luis Obispo and Paso Robles Wine Country.
Paso Robles wine country
Vina Robles Winery
For the whole month of September enjoy a proprietary blend derived from Syrah and "cuvée" called Syrée. Come out and try this limited-production blend and pair it with one of these delicious food pairing options:
2010 Syrée-Duck Salami & Manchego Cheese
2011 Syrée-Poached Pear & Mascarpone Cheese
2012 Syrée-Crispy Chocolate Covered Bacon with Almonds
Price: $12 or $10 for Wine Club Members
CA Wine Month Special
Purchase a 3-pack of Syrée for up to 30% off. This package includes on of each vintage: 2010 Syrée (Double-Gold Medal Winner), 2011 Syrée (Gold Medal Winner) and 2012 Syrée.
Price: $108.80 or $95.20 for Wine Club Members (regularly $136)
These offers valid Thursday, September 1 - Friday, September 30. No further discounts apply. Cannot be combined with any other specials.
During the month of September explore the beautiful Halter Ranch Property while sipping some of their wonderful wine on an Excursion Tour, offered every Saturday and Sunday. This three hour excursion begins with a circumnavigation of this historic ranch in a restored 1984 Land Rover Defender 110. You'll see the pond, wildlife corridors, and all 281 acres of vineyards. Take in the view from Lion's Ridge, the highest point in the vineyard; stop under the famed Ancestor Tree where you will taste the current vintage of our Estate Reserve Ancestor. After the property tour, we will continue on to our state-of-the-art, gravity flow winery, where we guide you through the winemaking process. Your final stop is our beautiful Member Lounge where you'll enjoy a private tasting of our current release wines.
To reserve your tour, email tours@halterranch.com or call 805-226-9455 (weekdays) and 805-591-3714 (weekends).
Price: $45 per person or $35 per person for Wine Club Members
Wine Seminars
Cass Winery offers the perfect educational venue to become a more advanced taster and wine aficionado. Katie Bay, Certified Specialist of Wine and Certified Sommelier, guides you through a lively, sensory experience that includes analysis and tasting of wines. Each month through a different stimulating and interactive learning experience, you will cover such topics as the recognition and identification of aromas, practice the various tasting techniques, and broaden your wine vocabulary while deepening your understanding of the language of wine.
September 11& 18- The King of Grapes: Cabernet Sauvignon
Cabernet Sauvignon, successfully grown and produced all over the world, has an extensive flavor profile expressing itself differently depending on its origins. Explore a selection of Cabernets from popular wine regions.
Price: $25
Picture Perfect Sunday in the Garden
Enjoy live music from Nataly Lola and Band in the shade of the olive grove for an afternoon of great music, wine and company. Music goes from 1-4pm and food and wine are available for purchase throughout. It always makes for a truly Picture Perfect Sunday.
Free to attend
Paso Robles Downtown
A Taste of Downtown and Arte de Tiza on September 17
Enjoy the annual walk around downtown to taste the dishes by over 35 local restaurants, wineries, sweet shops and coffee houses. You will not leave hungry!
Price: $25
Breakaway Tours
Book a 1/2 Day Wine Tour through Paso Robles with Breakaway Tours. You'll visit three distinct wineries (requests welcome) and they'll even pick you up at your lodging establishment! This tour is offered every Friday from 2-5 p.m.
Price: $75 per person
*Tasting fees ($5-$15pp) not included but are usually waived with purchase
Beaverstock Music & Arts Festival
Enjoy two days of wine-loving peace and music in the vineyard at Castoro Cellars. Purchase a one or two day pass and listen to music from One Time Spaceman, Tumbleweed Wanderers, The Dustbowl Revival, plus local favorites and headliners Sharon Jones and the Dap Kings and Jackie Greene. When not dancing to the tunes you can enjoy yoga, arts & crafts, wine, beer, a kids area, disc golf and more.
Price: $45 for a one-day pass, $75 for a two-day pass until September 1; $55 for a one-day pass, $85 for a two-day pass after September 1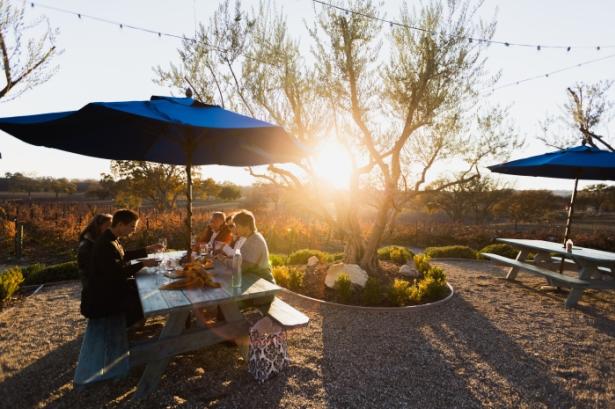 San Luis Obispo Wine Country
Sip a glass of Wolff Vineyards wine in the garden and enjoy live music and a fantastic sunset every Friday throughout September. Food will be available for purchase from local food trucks and purveyors on site.
No fee, no reservation.
Book a 1/2 Day Wine Tour through SLO Wine Country with Breakaway Tours. You'll visit three distinct wineries (requests welcome) and they'll even pick you up at your lodging establishment! This tour is offered every Friday from 2-5 p.m.
Price: $75 per person
*Tasting fees ($5-$15pp) not included but are usually waived with purchase
Niven Family Wine Estates
Watch the sunset and enjoy a glass or bottle of your favorite wine, listening to live music during Wine Down Fridays on September 9 and 16. Or head over for a Sunday Funday with food from the Hurricane Kitchen food truck with local singer-songwriter, Chris Beland on September 25.
Wine and food for purchase, free to attend.
Celebrate California Wine Month every afternoon with live music at Tolosa. Grab a glass and enjoy the tunes from 3:30-5:30 every Friday during September.
Wine for purchase, free to attend.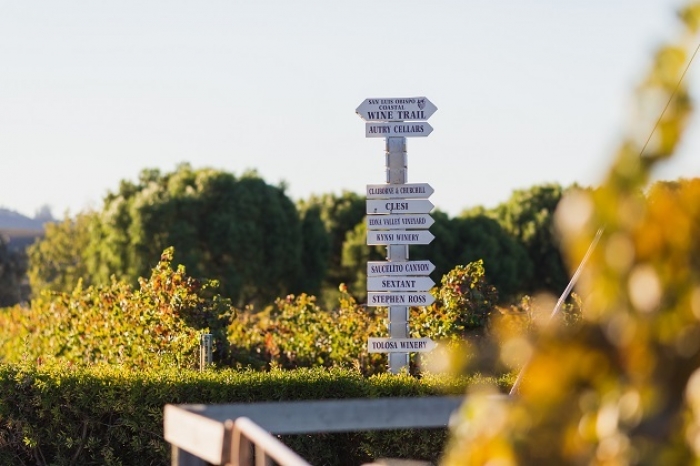 Lodging Deals
The Canyon Villa Bed & Breakfast in Paso Robles
Book three consecutive evenings Monday through Thursday and enjoy our complimentary signature chocolate-hazelnut biscotti and a flute of Prosecco upon your arrival.
Holiday Inn Express & Suites in Paso Robles
Get 20% off their Best Flex Rate applicable for Wine Club Members of ANY Paso Robles winery. This offer is only available through the month of September, just mention the "Paso Robles Wine" discount when making a reservation directly through the Holiday Inn Express & Suites.
Apple Farm Inn in San Luis Obispo
Accommodations for two in a Specialty room at the Apple Farm Inn for two nights, Guided Wine Tour of Paso Robles' Wine Region provided by The Wine Wrangler including transportation to at least 4 wineries and a picnic lunch, $30 Dining Credit for the Apple Farm Restaurant, and Daily Guest Wine Tasting Reception.
Apple Farm Inn in San Luis Obispo
This package includes: Accommodations for two nights in a Specialty room at the Apple Farm Inn, two tickets to one of our Backyard Winemaker Dinners on the following dates August 26th with Derby Wine Estates, September 30th with Tooth & Nail Winery, October 28th with Villa San-Juliette Winery and two complimentary wine tasting passes per person for local wineries.
Midweek Wine Package, includes: 1 bottle of wine each night, two souvenir wine glasses and corkscrew.
Valentina Suites in Pismo Beach
Book any three-night stay through September at Valentina, and receive complimentary wine tasting for 2 and an artisan cheese platter at Tastes of the Valleys, located on the ground floor of the Valentina. Also, a selection of gourmet chocolates waiting for you upon your arrival.
Enjoy a wine tour of Edna Valley, dinner at a local restaurant and a bottle of wine. 2 night stay required. This fantastic package includes two nights in an Oceanfront room and the following:
Half day wine tasting tour in the beautiful Edna Valley at four wineries with lunch and transportation included (2 guests)
A $50 dinner voucher to Rosa's Italian Restaurant or Mclintock's Saloon & Dining House.
A bottle of wine or two beers from San Luis Obispo County & locally crafted chocolates in your room at arrival.
SeaCrest Oceanfront Hotel in Pismo Beach
Package for 2 people includes: Accommodations in an OceanView King or Coastal View 2 Queen guestroom. Transportation to and from the SeaCrest. Tasting at 4 unique wineries in Edna Valley wine country. A delicious gourmet lunch in the most picturesque of settings.
The Cliffs Resort in Pismo Beach
Select dates in September, enjoy a complimentary room upgrade, with partial ocean view rooms starting at $179/night. This special also included wine tasting for two at Tolosa Winery. They're also waiving the corkage fee at local wines and featuring a Chef's tasting menu paired with local wines at their restaurant, Marisol. Guests of the hotel will enjoy a complimentary 1/2 bottle of wine with your purchase of a dinner entree, as well as 10% off local wine purchases. Don't forget to treat your outer body! Experience a Grape Seed Body Scrub or Grape Seed Stem Cell Facial.