It's a tough job, but somebody's gotta do it. For the second weekend in a row, my wife and I attended two play premiers on successive evenings. Thursday night found us enjoying  the opening of the comedy "The Tavern" " at the Great American Melodrama." near Pismo Beach. Friday evening found us enjoying our picnic dinner before seeing the delightful Central Coast Shakespeare Festival comedy "Twelfth Night" in Paso Robles.  
(Malvolio, fooled into thinking Olivia loves him. Check out the
clip on YouTube
.)
Twelfth Night is a classic Shakespeare comedy: women dressing as men, identical twins being mistaken for each other, wise fools, drunk fools, and pompous people having practical jokes played on them. On top of all this, you find the classic love triangle: Orsino is in love with Olivia, but Olivia falls in love with Orsino's servant "Cesario", not realizing that "he" is really a "she": Viola. Viola, naturally has fallen in love with Orsino, but can't let him know. Got it? 
The entire cast did a great job. Many are actually professional actors, or with long local acting resumes. The audience once again had a great time.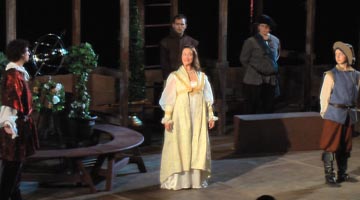 Orsino (left) in love with "Olivia (Center) in love with "Cesario"/Viola (right) in love with Orsino (left)...
Housekeeping details. "Twelfth Night" is now in rotation until August 14  with the updated French Comedy  "The Gamester", about a man who try to give up gambling or lose his fiancé. (reviewed earlier - see
YouTube Clip
). Check the
Central Coast Shakespeare Festival website
to see days and times of both great plays. People are encouraged to bring a picnic: wine and beer are available for purchase. Do bring low-back chairs or blankets to sit. You should also bring jackets or blankets - the evenings can get cool when the sun goes down.