No tricks here—only hauntingly delicious sweets you won't want to share with the kiddos
In SLO CAL, something deliciously decadent lurks around every corner this fall. Reach for ribbons of rich caramel and heaping handfuls of cinnamon, cardamom, maple, and clove. Let the kids keep their candy corn and sour gummy worms. These cozy fall treats are all grown up.
Feeling extra sweet? Dive into Avila Valley Barn's newest creation - the Cider Float. Sip on locally made apple cider with vanilla ice cream and topped with whipped cream, caramel drizzle and cinnamon sugar. The cherry on top is house-made donuts. While you're there, take a stroll through the pumpkin patch and a photo in the field of sunflowers.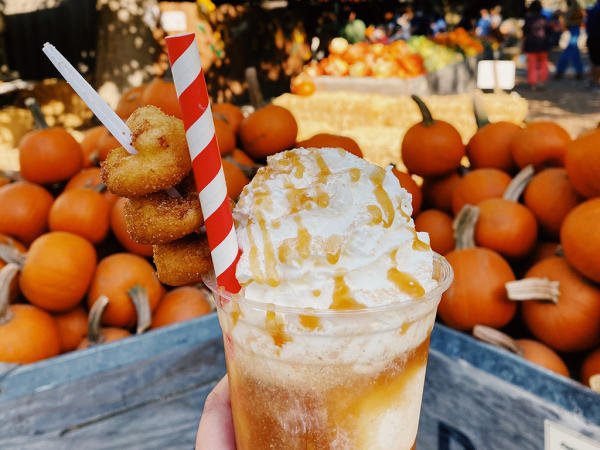 Throw it back to a nostalgic popcorn treat of yesteryear—with a twist! Paso Almonds' Brittle Corn is a combo of two popular fall offerings: fresh-popped popcorn and chewy, almond-studded brittle (two treats your grandparents probably enjoyed while bobbing for apples years ago). It all starts with a big batch of their famous old-fashioned Almonds Brittle, never cloying and always satisfyingly buttery. The caramel-laden recipe is modified to include light, airy popcorn, so you get a satisfying mix of texture in each bite. Made in small batches in San Luis Obispo, this is one treat you'll savor all through the fall season (and perhaps even want to gift later in the year—if you have any left). See why the Los Angeles Times called these morsels "Fresh, perfectly crunchy, addictive and chock full of roasted almonds." Might we add that this brittle does not stick to your teeth? Once you pop, you can't stop!
Follow your nose to Sally Loo's Wholesome Cafe, and you will be handsomely rewarded with pumpkin waffles, sprinkled with pecans and sliced apples. Inside this charming community-loved coffee shop (located in San Luis Obispo's Historic Railroad District), you'll find baristas mixing up the autumnal beverages galore, including hot chocolate, seasonal lattes, and thick milkshakes. We suggest the house-made Chai, made with fresh ginger, cinnamon sticks, black peppercorns, whole cloves, cardamom pods, black tea, and your milk of choice (dairy, almond, soy—there's always something new to discover), it's basically fall in a cup. And best of all, all sales from the pumpkin waffles, butternut squash tacos and apple brie sando, will all go to benefit charity.
Pardon my French, but these cookies are truly the bee's knees. There's just something about fall that makes us want to pile on the cinnamon. It's understandable, right? This traditional warming spice is like a sweater for your tastebuds. Pardon My French Bakery's Snickerdoodles—made from heaping portions of butter, sugar, and flour rolled in cinnamon sugar and baked to chewy perfection—are total crowd-pleasers this harvest season. The Grover Beach bakery knows how to marry sophisticated French techniques with classic recipes, so you can rest assured these are not your average desserts (also ask about their seasonal sugar cookies emblazoned with cute fall images). Soft, sugary and oh-so-aromatic, pair with a glass of local mulled zinfandel for a full-body hug.
Having a bad day? Not on our watch! Wrap your lips around a double scoop of pumpkin or maple pecan ice cream, made right here in SLO CAL. Also available in sandwich form, the pumpkin and gingersnap package will fill you up like the sweet treats you used to sneak from grandmas kitchen. Negranti Creamery, located in Templeton's Tin City (and coming soon to San Luis Obispo Public Market), is a wonderland of dairy delights. Made from local sheep's milk and mixed with local ingredients, every pint is a love letter to SLO CAL's robust flavors.
Swap boring old muffins for a more pleasurable pastry filled with candied pecan goodness and you just might become the "go-to" house for Thanksgiving from here on out. Back Porch Bakery takes its eclairs very seriously, so you can have the fun of devouring them in about ten seconds flat. These beautiful Atascadero-made pastries are always baked until crisp, then filled to perfection with the most heavenly substances known to mankind. Flaky. Warm. Gooey. Pecans. More pecans. Need we say another word?
How sweet it is to enjoy the little things in life this fall. Sweet Offerings in Cambria doesn't sell supermarket candy—at least not the kind seen at today's grocery stores. Described by one guest as "what Willy Wonka's house might look like," the store's crisp black-and-white striped interior houses a large selection of retro childhood confections including Mallo Cups, Sky Bar and Fizzies. You'll also find decadent fudge, which (gasp) is absolutely free to sample. Not finished reliving your childhood fantasies? We get it. Check out the large display case brimming with gourmet handmade chocolates and truffles. The best part about being a grown-up? You can choose to take home as many pieces of fudge as you please.
Can SloDoCo in San Luis Obispo get any more wonderful? Try their Pumpkin Spice Cake, to celebrate the Fall season. Of course their maple buttermilk, maple old fashioned, maple bacon and maple chocolate chip are still on the shelf as part of over 100 donut selections! If pumpkin is your ingredient of choice, try the pumpkin pie pillow. You won't regret diving in to indulge your sweetest desires. Next stop: the pumpkin patch!
While you're deep in the valley of See Canyon, visit the Gopher Glenn organic farm for the best rotation of seasonal apples, including the selections of ones they pressed and turned into apple cider. Also on the shelf is their cider ice pops, pumpkin butter, California made pumpkin pie taffy, and coffee grounds flavors like their "Sweetie Pie" pumpkin pie flavor and "Fall In Love."
When visiting the rock at Morro Bay, stop in to Skipper's Brew on the Embarcadero for a sampling of their iced apple chai cider, made with Masala chai and their house made apple cider. Grab a cup and browse the bevy of surrounding antique and vintage shops Morro Bay has to offer. Whether the weather, you can choose between having the cider served hot or cold.
When visiting your favorite elephant seal or spying for zebras and lighthouses off of scenic Highway 1, stop by Fidel's San Simeon Beach Bar & Grill, where they are celebrating fall in a big way. Need a warm drink? Try a latte with your apple compote pancakes, topped with a dollop of cream and powder sugar. Work off the carbs afterwards at their zombie scarecrow maze, available through the end of October as part of the Cambria Scarecrow Festival. What's that, you ask? It's where "whimsy runs rampant." You have five displays to vote between Cambria, San Simeon and Harmony: Cambria Strong (4005 Burton Dr, near Oliver's Twist store), Fantasy by the Sea (1174 Main St. In front of the Santa Rosa Catholic Church), Fanciful Cambria Fair (940 Main St, Cambria, Pinedorado Grounds), Día de los Muertos (589 Main St, Cambria Shell Station) and—don't forget who brought you out there to begin with—Zombie scarecrow maze.
Always a sure-bet in San Luis Obispo, Scout Coffee not only offers an assortment of latte syrup and sauces from scratch but has added pumpkin milkshakes to their fall menu. With the heat still in full swing, stop in to cool off and treat your tastebuds to this decadent delight. While you slurp—or spoon, whatever your preference—enjoy their scratch-made bakery selections like pumpkin shortbread cookies, pumpkin bread with streusel topping or apple hand pies with salty caramel.