Summer in San Luis Obispo!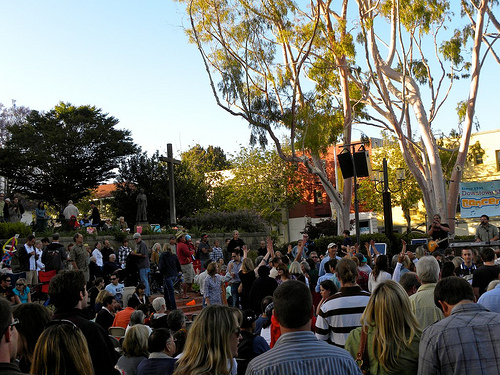 Summer in San Luis Obispo evokes a joy and zest unlike any other season. Each year, San Luis Obispo's Mission Plaza comes alive with the sounds of a summer concert series featuring a variety of local San Luis Obispo bands and regional favorites.
Concerts in the Plaza is a premier concert series on the Central Coast, and this free, two-hour show is right in the heart of downtown at Mission Plaza. The first show begins in at the first Friday of June and the series continues every Friday evening until the end of August.
Now in its 16th year, Concerts in the Plaza has blossomed into what some call the best free party in town. So whether you are here visiting for a few days or a few hours, we hope you will plan to stay awhile and listen to the sounds of summer in San Luis Obispo. Concerts in the Plaza is a family-friendly event, so bring the kids every Friday night beginning in June and running through to August from 5:30 to 7:30 p.m. in the Mission Plaza.
2011 Bands & Dates

June 10 - NADA RASTA
June 17-TRUTH ABOUT SEAFOOD
June 24 - TROPO
July 1 - CUESTA RIDGE
July 8 - ZONGO ALL-STARS
July 15 - DAMON CASTILLO BAND
July 22 - RESINATION
July 29 - CRITICNUE
August 5 - GUY BUDD BAND with special guest Ingra
August 12 - MONTE MILLS and the LUCKY HORSESHOE BAND
August 19 - BURNING JAMES and the FUNKY FLAMES
August 26 - THE JD PROJECT
Sept 2 - BIG DADDY'S BLUES BAND
More information can be found at www.downtownslo.com. Stop by the San Luis Obispo Visitors Center and pick up the Visitors Guide and "It's Happening in SLO" guide to all events in San Luis Obispo.