Spring and summer art shows to inspire the senses
You can only hang in the sun for so long. When you start to get a little crispy from too much vitamin D, head to downtown San Luis Obispo's Museum of Art, where the art dazzles just as brilliantly as SLO CAL's glorious coastline. Culture abounds at this sophisticated modern art museum, which features a slew of riveting exhibits for your viewing pleasure spring-summer 2019. Plunge into a vibrant world of color, texture, and mood. You'll emerge stimulated and refreshed with a new view on the world around you.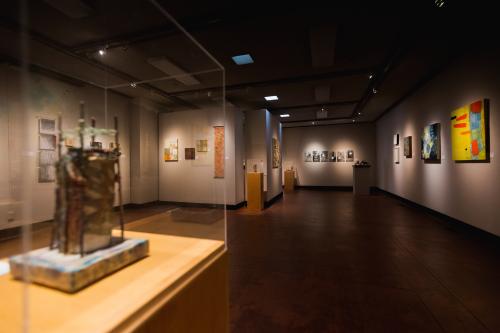 1. Enjoy a Change of Scenery
Now through May 12 at SLOMA
That's why you're in SLO CAL, right? Well, A Change of Scenery reflects just that—artist Bruce Everette's journey from bustling Southern California to his new home of Templeton, nestled in oak studded northern SLO CAL. The exhibit provides a unique opportunity to experience Everett's artistic journey through years of work. Although this exhibition is not a retrospective per se, it includes over forty years of incredible landscapes. Ever since Everett and his wife made that big move to SLO CAL in 2007, the artist has produced both plein air studies and studio paintings of local sea, land, and sky (and yes, he captures the magic beautifully). You may look at one of his paintings and wonder, "How did he capture the SLO CAL light so perfectly?" It's not a dream. The artist uses several transparent layers over the top of his work, a technique he cleverly calls "liquid sunshine."
2. Straddle Two Worlds
Now through June 16
Some stories are woven without words. SLOMA's Man of Two Worlds, an exhibition by master weaver Porfirio Gutiérrez, proves this fact. Gutiérrez's woven artwork is keeping alive his descendants' Zapotec traditions and designs—representing a culture that has been weaving textiles in the Valley of Oaxaca, Mexico for over 2,000 years. It is Gutiérrez's passionate goal to preserve his inherited weaving techniques by using only handspun yarns that are dyed with his homeland's plants, minerals, and insects. It is also true that Porfirio Gutiérrez lives in two worlds, the Zapotec village of Teotitlán del Valle, known for its pre-Columbian hand-woven textile traditions that go back to about 500 B.C, and Ventura, California, where he gives educational lectures, natural dye demonstrations and hands-on weaving workshops. What a story, right?
3. Spring Into This Exhibit
May 3 - June 2
The Central Coast Craftmakers specialize in fine crafts including clay, glass, fiber, metal, paper and wood. This group recently challenged its members to create fine art inspired by the theme of a Wellspring. Here at this exhibit, you'll have the chance to view selected artwork from co-jurors, Carissa Hewitt and Elsie Dietz. You'll also have the opportunity to meet the artists at the opening reception at Art After Dark on Friday, May 3rd. 
4. Go Digital
Ongoing at the SLOMA Pop Up Gallery
No, we don't think you should spend more time on the internet (there are just too many amazing sights to see in SLO CAL, and your phone isn't one of them). This mind-bending exhibit, Bryn Forbes: Digital Art is a three-dimensional experience that you'll carry with you on your travels. The artist lives life to the fullest, whether peering into the eyes of a curious baby humpback whale or hanging out the door of an airplane so he can get a good shot of a pilot in a jet fighter cockpit 50 feet away. Not content with still photography, he works with subtle moving pictures shown on video monitors, mosaics, digital paintings and mathematically generated art to create a wholly immersive world that could only live in 2019. The artist is perpetually overworking his cameras, his computers and his CNC routers as tools in search of deep artistic exploration. A SLO CAL native and former Bay Area tech pro, he prefers more abstract artwork, "which enables viewers to bring their own interior landscape to the image, leaving room for interpretation." Bryn said he hopes that you will find, along with him, that art challenges you to open your eyes to the beauty, complexities and simplicities of life...in all its dimensions. Ok, we're sold!
Visit SLOMA's Pop Up Gallery at the corner of Osos Street and Monterey Street in downtown San Luis Obispo. Open for Art After Dark. Private appointments are available upon request.
5. Soak in the Classics
Ongoing at SLOMA
Well, they're SLOMA's very own classics. The museum's astounding Permanent Collection is a dazzling array of art, any way you slice it. These time-honored works are significant to SLO CAL culture, and define the role of artists important to the county and region, with equal emphasis on contemporary and historical art. You'll find etchings, prints, pencil drawings, sculpture, paintings and even photo montages. Don't blink, or you might miss Ruth Fash's "Feminist Fan: Frida Kahlo," a true-to-life fan honoring the late great visionary. Check out the visceral, heart-wrenching works of "Fire Breather" (watercolor and collage) by Gladys Gray, the lush, tropical intensity of "Birds of Paradise" (watercolor) and dozens more on your visit.