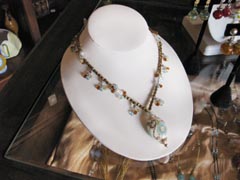 When it comes to shopping in SLO County there is something for everyone!
In the quaint little village of Cambria you'll find Main St. filled with unique antique stores and beautiful art galleries. Oh, and while in Cambria make sure to stop by Allocco's Italian Bakery for a sweet treat... that is one on my favorite places!
In downtown Paso Robles you will find dozens of specialty shops and boutiques featuring everything from olive oil and wine tasting to local artisans to surf gear.
San Luis Obispo offers quite the shopping experience as well, where intimate designer boutiques set the mood, and corporate chains are merely background fixtures. Higuera St. in San Luis Obispo is also lined with gourmet restaurants and deli's. So when all that shopping wears you out, you will have plenty of resting spots to choose from.
The Village of Arroyo Grande is another important shopping destination... where you'll find a unique array of antiques, furniture, apparel, decor, gifts & specialty shops, all nestled within the scenic atmosphere of historic buildings, natural beauty, and timeless treasures. For something extra special make sure to stop by Willis and Bennett and Siena Home Boutique while in the Village of Arroyo Grande.
And of course, there is Pismo Beach, home of the Prime Outlets! With everything from Nike, Carter's, Nine West, Ralph Lauren and Calvin Klein to name a few.  
See, I told you... something for everyone.