Spectacular Tours to Take in SLO County
Whether you're a first time visitor or a seasoned local, these five tours are a must hit in SLO County. Wine, Dine, ATV, or Zipline and explore your inner playfulness!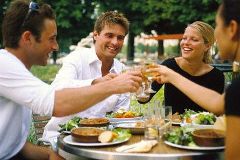 Wine Wrangler Tours
The Wine Wrangler is a Paso Robles original, now serving the entire Central Coast.  The Wine Wrangler will pick you up for a wonderful day touring the most diverse wine regions in California!  If wine is not your cup of tea, perhaps history is!  The Hearst Castle experience provides for a full day of touring along the Central Coast and of course the Historic La Casa Grande - Hearst Castle!
(805) 238-5700
Central Coast Food Tours - SLO
Join Central Coast Food Tours in a step by step, bite by bite exploration of our beautiful and delicious Downtown of San Luis Obispo! You'll enjoy tastings from several 'off the beaten path' San Luis Obispo restaurants as we stroll our way through some of the most historic, picturesque and interesting neighborhoods. We'll wind our way to our 6 specially pre-arranged food and beverage tasting destinations that tantalize you with some of the most delightful foods San Luis Obispo has to offer.
(805) 460-9214
Hummers on the Dunes with Pacific Adventure Tours
Calling all adrenaline-seekers! This is a "hold onto your seat" thrill, packed adventure from start to finish. Your tour will take you from Pismo Beach to the famous Oceano Dunes. Experience the ride of your life as our expert drivers show you the capabilities of our military-inspired Hummer, AKA "Hum-Vee." Climb dunes that most 4-wheel vehicles would never make. Experience going sideways around a Pismo "dune Bowl" and blasting steep inclines in forward or reverse.
(805) 481-9330
Margarita Adventures Zip Line Tours
Embark on four distinct zip lines spanning more than 3,000 total feet, starting with an epic 1,300-foot valley crossing and finishing with forested vineyard views. Along the way, you will learn about the ranch's remarkable natural features and role as part of California's famed Mission Trail. Continue your tour with wine sampling from the ranch.
The Renegade- Departing from a looming hillcrest, you will soar 1,300 feet across a grassy valley into an awaiting oak foresta along a rugged flank of the Santa Lucia Mountains.
The Woodlander- Next, you will travel 800 feet over the canopies of native blue and white oak trees before touching down on a steeply pitched mountainside.
The Archway- Finally, you will descend 800 feet back into the forest and under a natural archway of companion oaks before emerging to a wide-open panorama of vineyards and mountains.
The Hilltopper- For the next 500 feet, you emerge from the oaks and digger pines and glide down onto a bare hill, where you can take a breather before your final descent.
(805) 438-3120
Breakaway Tours
If you're new to wine tasting our goal is to dispel the myths, mystery and intimidation that can follow. If you've been at it awhile and are thirsty for more, Breakaway Tours' got you covered. Breakaway Tour Guides are some of the best in the business; no wine snobs here; a few sommeliers, quite a number of wine educators and rest just looking to support their habit; can you blame them?
With a number of different tour options, Breakaway Tour packages include:
Unique and varied itineraries personalized for you
Delicious picnic lunch
Seriously fun wine education
Enhanced wine tasting experience
Eason on-line booking
Experienced, friendly, creative, and trusted guides
(805) 783-2929