Spring is in the air...seasonal favorites are rolling in.
North County Farmers' Market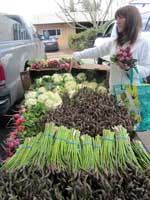 Asparagus
A sure sign of spring is the arrival of asparagus in the markets. Like corn and tomatoes, the out of season, imported supermarket asparagus just doesn't have the flavor or texture of the locally grown spears you'll find in season at farmers market. When buying asparagus, always look for firm, crisp stalks with tight, fully closed tips. Choose thin or fat spears depending on your intended use (the size has nothing to do with the age of the spears, it's determined by the age of the root crown from which they grow).
How to choose, prepare and store asparagus, plus recipes; click here.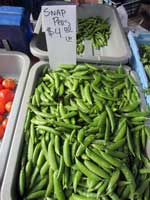 Snap Peas
California is the leading producer of Snap peas, and they are plentiful in the markets this month. Sugar snap peas, which are plump with fully developed peas and edible pods, are a cross between English peas and snow peas. Pods are soft, tender, and edible. Snap peas are so crisp, sweet, and succulent that they may be snapped into pieces and mixed into salads or eaten whole as an appetizer. Like snow peas, they also may be stir-fried or steamed. Snap peas have a distinctive appearance and flavor. They have edible pods (in France they're often called mange tout - eat everything) so they're perfect for snacking or including in salads.
Read more about snap peas and a recipe to enjoy; click here.