@StellathePrettyFrenchie's Guide to SLO County
By: Maria Soles & Stella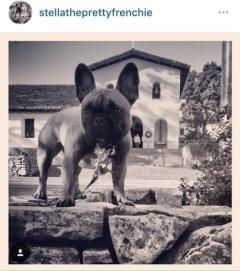 Hi, my name is Stella! I am a 4-year old French bulldog and I live in San Luis Obispo. My Instagram name is @stellatheprettyfrenchie, and I guess you can say I am a SLOcialite of sorts. I visit various places throughout the County and share my adventures on my page. My goal is to make people aware of the many dog friendly places we as canines can visit here!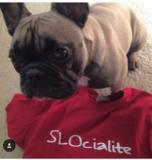 My owners are lucky to live in San Luis Obispo, a place many call the "Happiest City in America", but I am really the lucky one. San Luis Obispo County is by far one of the most pet friendly places to live. April is Pet-Friendly month, and as your canine Ambassador, I am going to give you a look at my top pet-friendly places to explore while you are visiting San Luis Obispo County with your pup.
Restaurants with Patio Dining
Marisol - The Cliffs Resort | Pismo Beach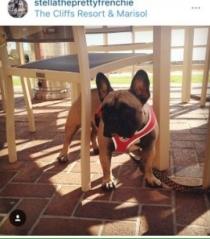 If you ever need an escape, Marisol at the Cliffs is your spot. Dog friendly, has one of the best happy hours by the ocean, and a gorgeous view. After we eat, we usually head down the steps and take a walk along the path overlooking the cliffs. Truly a perfect day in paradise.
SplashCafe Seafood and Grill | San Luis Obispo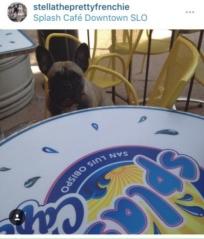 This pet friendly restaurant is located in the heart of downtown San Luis Obispo next to the Barnes and Noble Bookstore, and is another location to the Splash Family. Since I am so nosey and love people watching, I like to come here, sit at the dog-friendly patio with my humans, and people watch. This is the heart of downtown, so there is a lot of foot traffic. There's always someone who comes by to tell me how pretty I am. Can't beat that! An afternoon downtown, followed by a meal at Splash, equals the perfect day for me!
Old Custom House | Avila Beach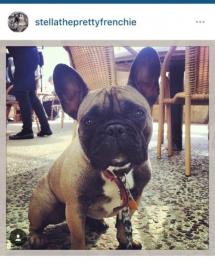 Beach days are best when I get to come eat at the Old Custom House in Avila Beach. This place is true outdoor dining by the sea! It's so beautiful and so relaxing for me. As soon as we are seated, I get a bowl of water brought to me. It's the perfect ending to a fun day at the dog beach just down the road, or after a walk at the nearby Bob Jones Trail. I love that we can do breakfast, lunch, or dinner here, and what's even more awesome, is that I get my very own doggie menu, because of course, I'm hungry too, after a day of playing!
Wineries and Specialty
Bristols Cider House | Atascadero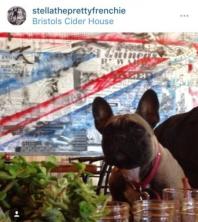 Feeling cider? Bristols Cider House is a fun spot to head to after work or on the weekends after visiting the Jim Green Trail in Atascadero. My humans and I enjoy the British decor. I especially enjoy the comfy couches and cool rugs to lie on. Bristols is an indoor spot but dog friendly. Try their flights or just have some cider by the glass. You know what they say, "An apple a day keeps the doctor away!"
Niven Family Wine Estates | San Luis Obispo Wine Country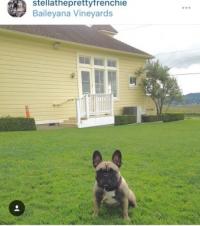 For those days when I need to be out wine tasting in Edna Valley, Baileyana Winery has the best green grass that I can roll around in for days! While I am busy doing that, everyone else is sipping on wine while playing bocce balls, picnicking at the tables under the trees, or listening to a band. I love this place! The historic Independence Schoolhouse tasting room is pretty cool, too! Don't I look great in front of it?
Bang the Drum Brewery | San Luis Obispo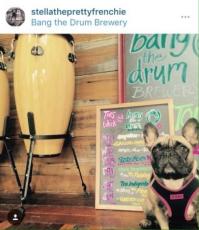 An after work beer you say? Here's a fun place I like to go to for either Trivia Night (when it's on the schedule), listening to a local band, or just hanging out with my humans while they catch up with a beer. It's very eclectic and I like to lie down and look up at the sky. We like to sit out on the large, outdoor patio and chat with friends, and often I run into my other local canine buddies here, as well. It would be awesome to meet some "Out-of-Towners" here too! Come join me sometime.
Wolff Vineyards | San Luis Obispo Wine Country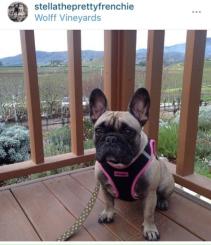 Wolff Vineyards is true to my heart. This was the first winery that greeted us with a big welcome to the county, and welcomed me with dog treats! Score! You will always feel at home here. There's the dog friendly tasting room and a super cute outdoor patio to sit and sip on wine. I make sure I go by here often, just to say hi, and get my treats of course, while my humans wine taste.
Zenaida Cellars | Paso Robles Wine Country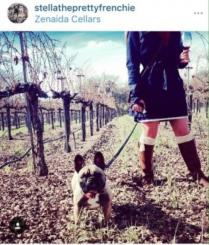 How I love taking day trips! Especially when we set out to for some wine tasting in Paso Robles. It's so much fun heading up the 46 West to do a day outing at all the fabulous wineries along the way. I love the pretty picture opportunities too, to add to my modeling portfolio! Just kidding! In all seriousness, there are way too many great picture taking opportunities up here in Paso Robles. And what's even better is we are welcome inside most tasting rooms, (more pictures!) and when not, we make the best of it and pretty it up for pictures in the vineyards! On this day I got to do both!
Parks and Beaches
Fishermans Beach aka Avila Dog Beach | Avila Beach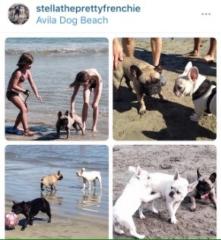 Fisherman's Beach is the smallest of the beaches in Avila & Port San Luis Harbor. We locals call it "Dog Beach". In my opinion, it is by far the best dog beach in Southern California. It is usually always warm and the waves are small. I can easily get my paws wet and not worry about getting caught in a huge scary wave! We always find parking along the road and as soon as I look out the window and realize where we are, I can't wait to get out and bolt straight to the water. No matter what time of day it is, I will always find someone to play with here. The best part is, the Port San Luis Harbor District currently allows well behaved dogs to be off the leash anytime on this beach.
Dinosaur Caves Park | Pismo Beach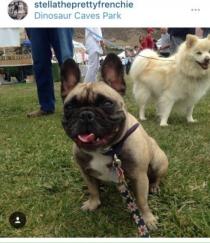 You know those days when it's just gorgeous at the ocean and you really want to be there? Set out for an afternoon at Dinosaur Caves Park in Pismo Beach and get your fix, but without getting sand in your paws! This means NO bath so I'm in! Beautiful ocean views from the park bluffs. This is one of my favorite places to be with my family. I usually go on a walk along the ocean front bluff top park trail, go to a summer concert, or check out a seasonal arts and craft show. There's always something fun for me to do here. If you have human brothers or sisters, they'll love playing on the great play structure, while you lie down and take a nap. Best part is there's lot of grass to roll around in, and lots of other canine friends to greet. They even have a drinking fountain just for dogs! I know because I'm ALWAYS thirsty!
Froom Creek Trail | San Luis Obispo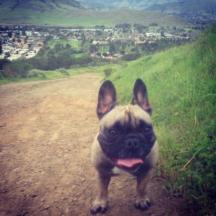 My humans love to hike, but with this squishy nose of mine, I need to limit where I can go and how far I can hike. Irish Hills is a trail perfect for a frenchie like me. Lots of shade and a short but varied 3-mile loop. Look how high I am in this pic? If I can do it, you can, too! I think you can see Costco in the background?!! OK, I think I'm hungry now!
Islay Hill | San Luis Obispo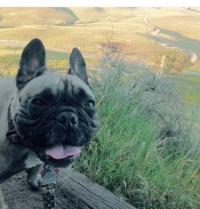 This one is a great cold weather hike for me since there isn't much shade. I guess the locals here consider it one of the easiest hikes. It's only 1.8 miles round trip from the top and back, and they say it's more of a mound than a mountain, but it's a tough one for me when it's hot out! If you're one of those big athletic dogs that doesn't even pant on a hot day, this one will be a breeze for you. Islay Hill offers the closest perspective of the Santa Lucia Mountains and a panoramic overview of Edna Valley. It's so pretty up here! By the way, if you are that big, (or even small), athletic dog that never tires out, try out Bishop's Peak located in San Luis Obispo. You can do it!
Laguna Lake Dog Park | San Luis Obispo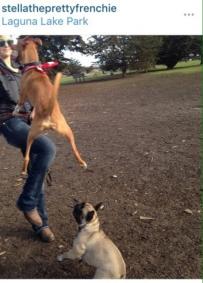 This is a fun local off-leash dog park! It is not enclosed so if you like to run off, this probably isn't the place for you! Also, it is an all-sizes dog park, no segregation here, so if you are a little dog like me, and not scared of big dogs, come join us for the fun. There's a huge area for us to play in and it is always fun for our humans to chat it up while we play! If you are able to drive a few more miles to the northern point of San Luis Obispo, you will find the only enclosed dog park in the city, El Chorro Dog Park.
To see more of my adventures in SLO County, follow me on Instagram @StellathePrettyFrenchie