Here in SLO CAL, we have an array of people and businesses that bring flavor and fun to the region. As we kick off Hispanic and Latin American Heritage Month, we want to highlight the thriving businesses taking SLO CAL by storm. While Hispanic and Latin American Heritage Month is celebrated from Sept. 15 - Oct. 15, we prefer to eat, sip and shop from these businesses all year round! From soothing self-care products to instagrammable craft cocktails, you'll surely find something to enjoy while visiting these SLO CAL businesses. 

THE ALCHEMISTS' GARDEN
If alchemy is the Medieval science that aims to turn base metals into gold, The Alchemists' Garden in Paso Robles is chef and mixologist Alexandra Pellot's dream to transform her passion into flavor. Adventurous, skilled and quick on her feet, you could say that the restaurant owner knows a thing or two about conjuring magic, whether in the glass or on the plate. Before Pellot brought innovative botanical libations and globally focused food to SLO CAL in 2020, she had a whole other life planned.
From medicine to the kitchen
Pellot's colorful story begins in her stomping grounds of Puerto Rico, known for its sizzling street food, pristine beaches and can-do spirit. Although it still surprises her to say it, Pellot might have become a doctor in another life. An exceptional student, Pellot was invited to enter medical school early. But just six months after getting her first restaurant job, the student knew what she really wanted to do, and it wasn't medicine. It was food and drink. Much to the chagrin of her parents, Pellot transferred to a college that specialized in food hospitality and administration, remaining at her first restaurant job for about three years. Ironically, cutting her teeth in a fast-paced Puerto Rican kitchen is not unlike working in an emergency room—albeit with far different stakes hanging in the balance.
Shaken and stirred
Aiming to grow her blossoming culinary skills, Pellot pulled up her sleeves and got to work. She dove head first into her new career, eventually moving to San Juan, Puerto Rico, where tourism and food are inextricably linked. The young chef worked to open a handful of restaurants and bars, a skill that would come in handy when opening Alchemists' Garden (still a glimmer in her eye at this point). The chef's last job in Puerto Rico was working as a bar manager for the Vanderbilt Hotel, where she ran six of the hotel's own bars as well as two offsite locations. Nearly finished with school (she took on two majors: hotel admin and food and beverage admin), Pellot's skills were about to be put to the ultimate test.
Said the chef, "At the same time I was finishing school, I was also competing for World Class Bartender. It's like the Miss Universe but for bartenders. They rate you on speed, flavor, of course, knowledge, creativity and they judge you for performance, technique." More than a simple cocktail competition, the year-long showdown starts with a vast group of hopefuls and culminates in the ten best mixologists in the world. Eventually, those ten best then go head-to-head in an intense battle for the winning title of World Class Bartender.
Pellot came out on top: the only woman selected for the last ten competitors. Of the last ten, she holds the title of number four in the world. No doubt, her many supporters were thrilled. But she was far from finished proving her prowess behind the bar. Luckily for those of us who love to drink and eat, Pellot knew she was destined for more. And in 2016, the universe delivered a chance to really shake things up.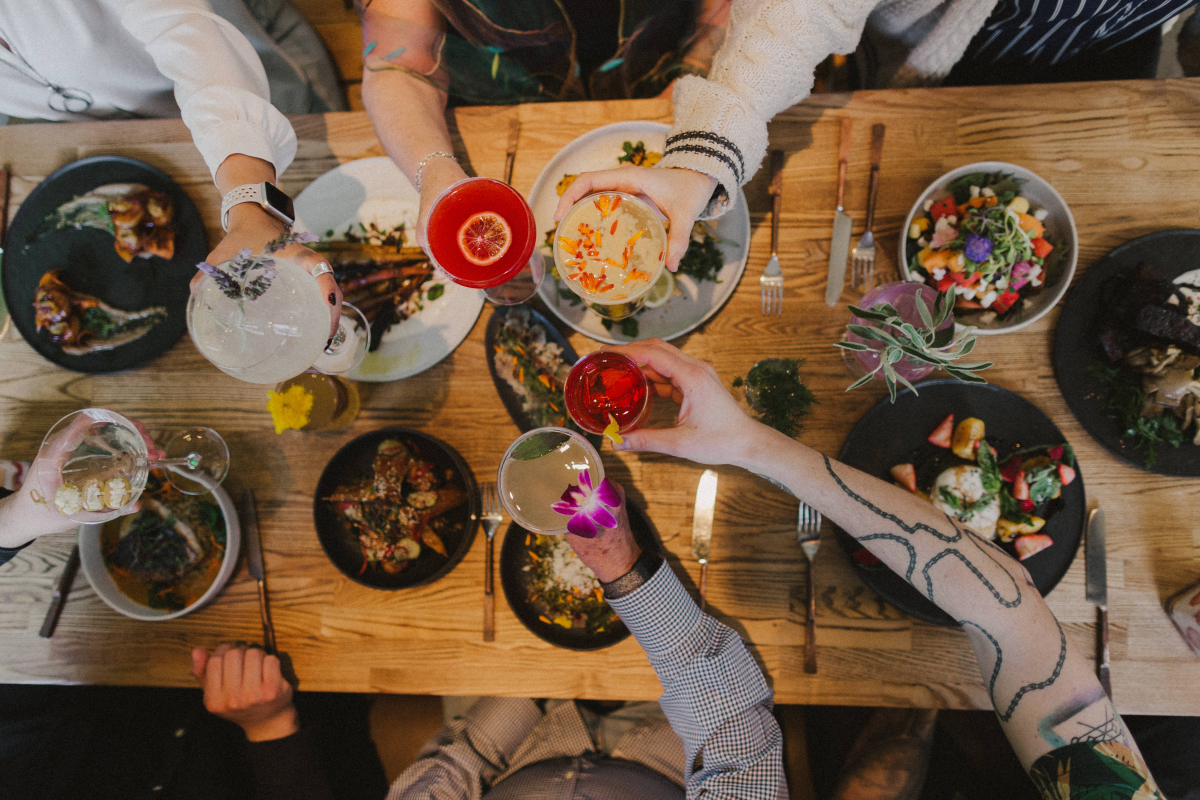 Packing bags for Paso
Opportunity knocked in the form of an outrageously enticing offer: Pellot was presented with the chance to move to California and assist in opening the Allegretto Vineyard and Resort in Paso Robles. At first, the chef and bartender admits she was unsure about taking such a massive leap of faith. Puerto Rico had always been her beloved home. What was this Paso Robles all about the place anyway? She had only passed through wine country briefly on vacation. "I thought, 'What have I gotten myself into?' I was stressed because I was leaving an awesome job. I worried if it was a mistake or not," she said of grappling with such a big decision. "I wasn't married, no kids, so I said, 'What the hell.' I moved and came to Paso."
At Allegretto, Pellot worked as the bar manager, crafting the entire program from scratch. Not surprisingly, she quickly moved up the ladder from bar manager to restaurant manager to food and beverage manager. Pellot said she was working as a food and beverage manager, feeling frazzled and overworked when she finally got the itch to do her own thing.
"Working for corporations for so long can be super draining. You have to go through ten thousand hoops just to buy a broom. It wears you out," she said. "We were dreaming about our own place." When the chef says "we," she means her industry friends (who we would be remiss not to mention). A trip to Puerto Rico with these pals—Tony Bennett, Andrew Brune, and Quin Cody—solidified in her mind the next steps (as she tells it, they all had the same dream to open their own restaurant). Around 2018, she and her fiancé were strolling around downtown Paso, yearning for a sign. They'd just bought a house and had bills to pay.
"I didn't want to go back to a server or bartender. I love that, I went to school for it. But it's not what I am supposed to be doing," Pellot said. "Then, my fiancé points behind me and I turn around and see the 'for sale' sign. I looked at it and started laughing. I said 'We cannot do this, we don't have the money. And he said 'No, we are going to do this.' He called the number and four hours after that, we had the keys for the spot."
Dreams nearly dashed
So, what kind of eatery would someone like Pellot and her friends dream up? Working with seasonal and local ingredients at Allegretto's onsite restaurant, Cello Ristorante & Bar, she knew what she could do with her own plant-forward menu. The chef also knew that a late-night hangout could fill an-ever growing need downtown. "When I came here I knew that Paso was this 'wine country,' and 'fresh.' I didn't know the other side: that everything closes at 8 pm.," she said with a laugh. "That was definitely a culture shock. "The concept for the Alchemists' Garden quickly took shape: It would be a friendly, eclectic, late-night spot that served seasonal, globally-influenced food and cutting-edge cocktails late into the evening. "We wanted people to feel like they are dining inside outside. We added a bunch of greenery and plants around, We didn't want the restaurant to feel pretentious, but instead very welcoming, hip, clean and new," Pellot added.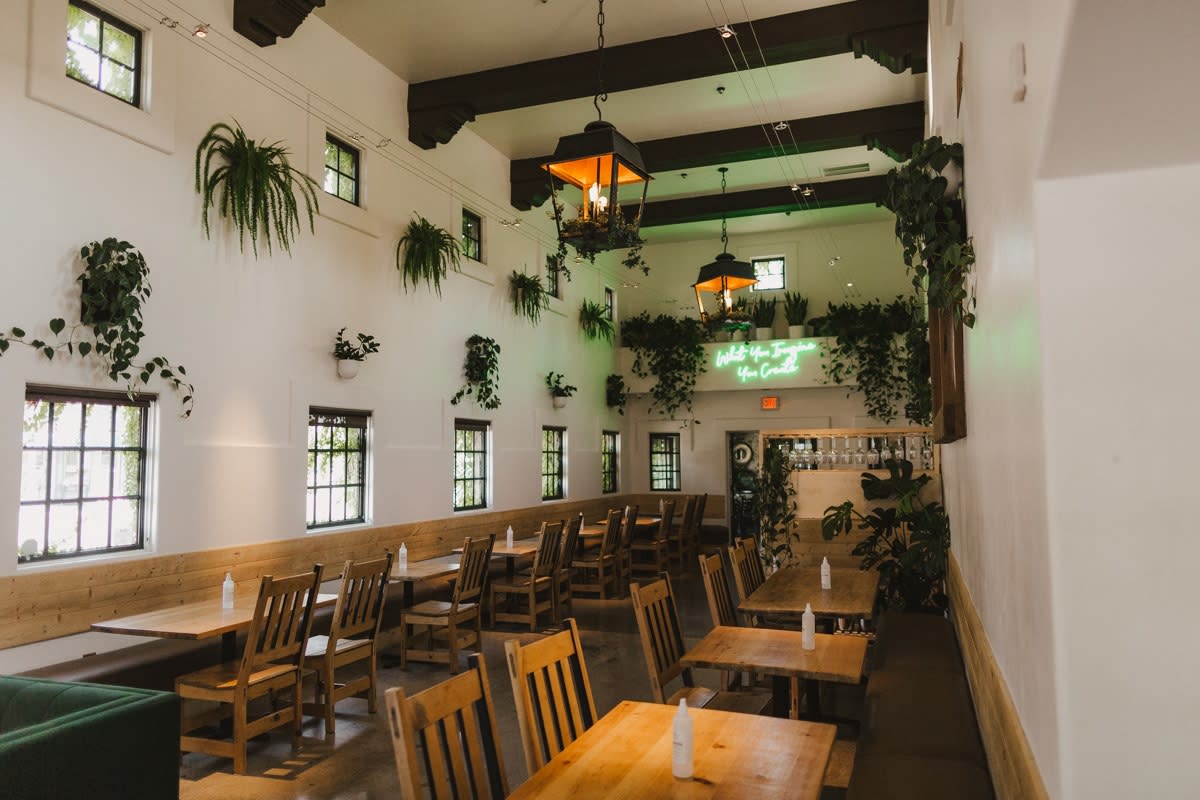 A delicious rush
It's a good thing Pellot kept her eyes on the prize. The public reaction to The Alchemists' Garden has been incredible, to say the least. The restaurant, featuring indoor and outdoor seating and an ample bar, continues to stay open till midnight or later—something not many downtown eateries can boast. The craziest part? People can actually be seen laughing and enjoining themselves far after 8 p.m. "We do the last call for food at 11:45 pm., but people still stay later, till 1 a.m. or so," Pellot said, adding that her sharable plates are a far cry from basic "bar food" or greasy burgers.
"We have deep-fried stuff like fries, but you can also order a salad or vegetarian plate and feel better the next day," she said. "Same thing with our cocktails: We squeeze our own juices; make our own cordials and simple syrups. We have five different types of ice. It makes things more complicated, but it also bumps us up to another level—something that was missing here in Paso Robles."
With cocktails like "Euphoria Transfixed," an inspired mix of gin, strawberry cordial, ginger syrup, lime juice and a lovely-to-look-at "pea flower ice cube" and sharable menu items ranging from roasted, peppery corn "ribs" drizzled in queso and Parmesan to rosemary-brined bone marrow with cherry onion jam, there's something for everyone to savor.
Note: You can also grab a double-cut grilled pork chop or Wagyu steak and potatoes (shout out to the old timers). On any given night, you'll find winemakers and beer makers rubbing elbows with ranchers, wine tourists and longtime locals. Not bad for a newcomer, eh?
The Alchemists' Garden is located at 1144 Pine Street in Paso Robles and is open from 4 p.m. to 10:30 p.m. seven days a week. You can find out more about the restaurant at alchemistsgarden.com.
By: Hayley Thomas-Cain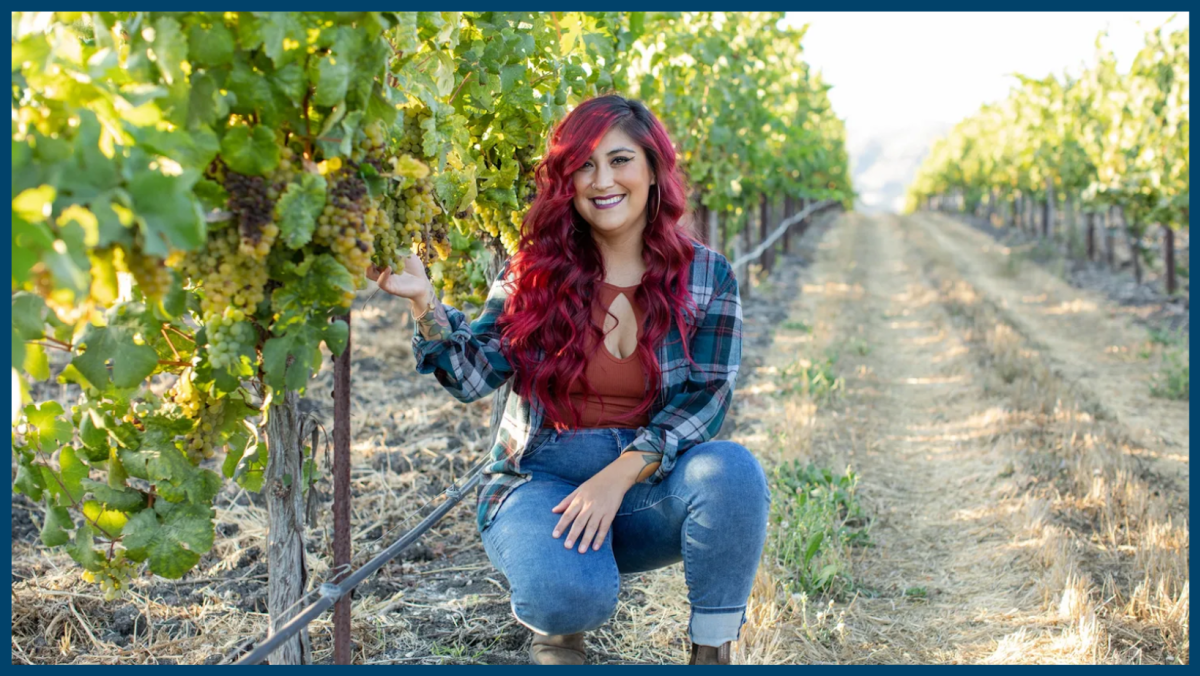 Ulloa Cellars
Overcoming struggles to see her dream come true, winemaker and boss-lady, Nancy Gonzalez Ulloa of Ulloa Cellars, created a wine brand to represent herself and empower the community that she is part of. She grew up cooking with her mother in Mexico and always had a passion for complex flavors and ingredients.
"When I make wine, I always look at packing it with complexity and flavors, so I love to be able to play around with different ingredients, and by ingredients, I mean different types of barrels and using different kinds of yeasts and methods."
Nancy was born and raised in Guadalajara, Jalisco, Mexico, until the age of 12. After 12 years, she moved to Salinas, California, and spent most of her teenage years in the Bay Area. She lived in San Jose for about 13 years before deciding to pursue winemaking. Though Nancy received her degree in sociology, she always knew she was drawn to wine and the hospitality industry.
 
Arriving to SLO CAL
In 2017, Nancy decided to move to San Luis Obispo County to pursue her career in winemaking. "I was looking to completely submerge myself into the wine industry to be able to learn from the source." Nancy was initially planning on moving to Sonoma until her boss encouraged her to move to Paso Robles. Nancy initially thought it was a crazy idea, but she decided to visit the town and ended up falling in love. 
"Paso is definitely a place like no other. It has its own little charm to it." Nancy feels that though Paso Robles is known for its unique wineries, the welcoming feel of the community outweighs the fine wine. Nancy is grateful for all the connections she has made in the area and the responsiveness of her peers willing to help her through challenges. "That is something that I don't think I would have received if I had moved anywhere else."
When Nancy first moved to Paso Robles, she started out working at Thomas Hill Organics as the wine director. After two years, she joined Seven Oxen Estate Wines where she currently works as director of sales and hospitality. Her work experience allowed her to make relationships that eventually helped her start her own brand.
When creating her own wine brand in 2019, Nancy knew she wanted it to be both meaningful and unique, while representing herself and her beliefs. The name Ulloa Cellars comes from her mother's maiden name, Ulloa.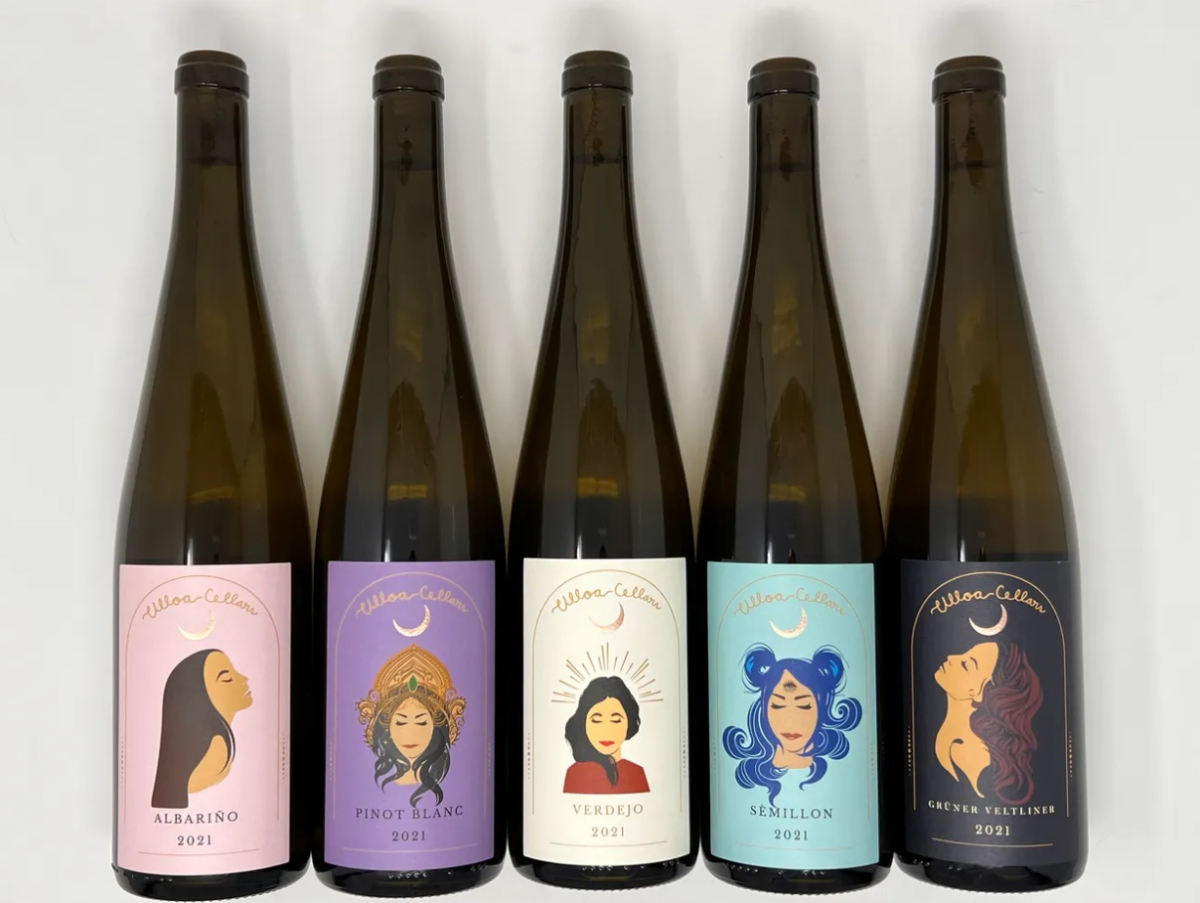 Family heritage
"For us, in Mexico, we also carry our mom's maiden name, so that is part of who I am."  Her wine labels contain feminine images of women to represent herself and her journey. She also includes affirmations on the back of every bottle to reflect her interest in manifestation and the law of attraction. "The affirmations are in Spanish, which to me was a no-brainer, to add something in Spanish and to be able to appeal to the Hispanic community so that they feel like they are being understood."
Nancy focuses her marketing on the Hispanic community. "I feel the Latino community has been underrepresented when it comes to the wine experience and so it is very important to me to provide education to people who may not necessarily be inclined to buy a bottle of wine."
Nancy began creating Instagram live streams for her followers to learn about different wines and the wine community. She has also hosted winemaker dinners to pair her wines with traditional Mexican meals to help share her culture. In the future, Nancy is considering creating informational videos in Spanish to educate the Hispanic community on wine terms so that they are more inclined to reach for wine.  

An inspiration to others
Nancy hopes to inspire other Latina winemakers to pursue their dreams. She also hopes to be a mentor for other Latinas getting started in the Paso Robles wine industry. Nancy appreciates the help she's gotten from other Hispanic winemakers in the area such as Enrique Torres with Diablo Paso Wines, Edgar Torres with Bodega de Edgar, and Stanley Barrios and Elena Martinez with Top Winery.
Each year Ulloa Cellars' production volume has grown as her supporters grow. In her first year making wine, she created one variety, in the second year, she created three varietals, and her most recent harvest will include five varietals that are expected to go fast. Nancy specializes in white varietals because that's what she prefers to drink most. So far, she has produced albariño, grüner veltliner, verdejo, sémillon, and pinot blanc.
You can try Ulloa Cellars wine while in town visiting the area. Local spots like Thomas Hill Organics and Paso Robles Wine Merchant are just the perfect place to try the latest of Nancy's releases. Nancy is excited to see how her business grows in the future. The best place to keep up with Ulloa Cellars regarding new releases and events is through their website, ulloacellars.com. You won't want to miss out on this whimsical wine experience.
By: Camille Silvera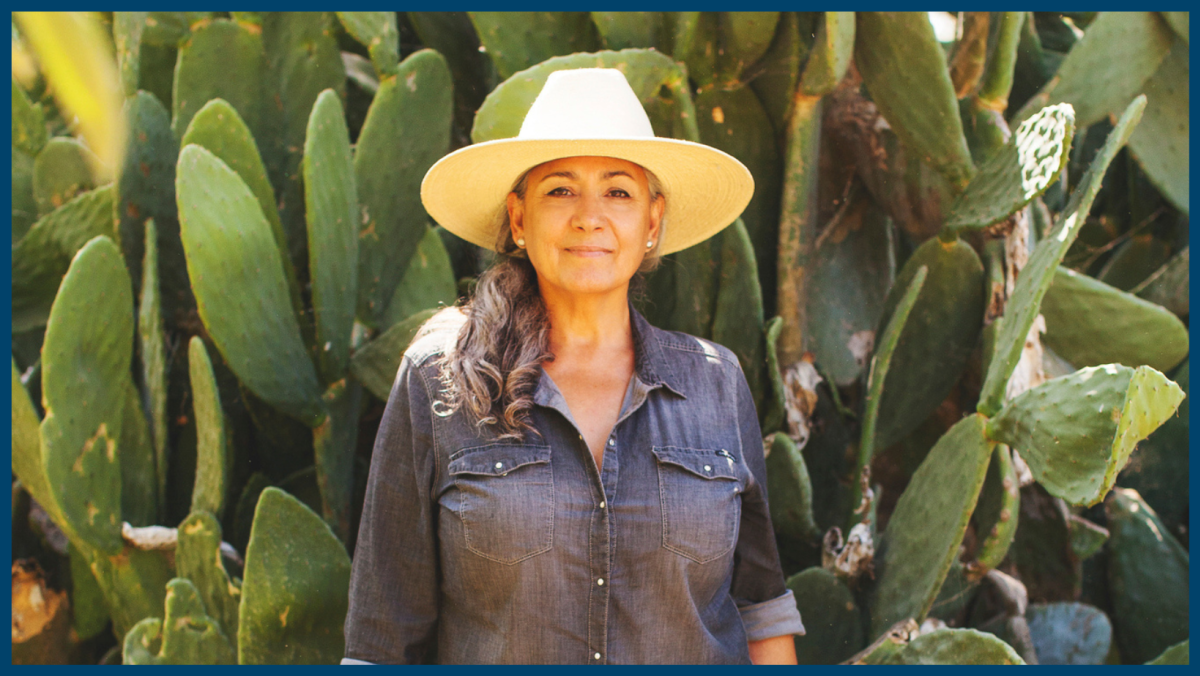 Life Elements
Owner, formulator, and product alchemist, Martha Van Inwegen of Life Elements in Atascadero shows her roots through her thriving body and skincare business. Life Elements is a nature-based body and skincare company operated by husband-and-wife duo Martha and Curt Van Inwegen. The pair started in 2005 and have been creating high-quality body and skincare products to relieve pain and stress. Handcrafted with natural ingredients, bath bombs, lotions, and pain relief sticks are made to soothe the body while touching the soul.
Born and raised in San Pedro, Jalisco, Mexico, Martha grew up seeing her grandmother use natural plants and ingredients from their garden to create herbal salves and tinctures. Homeopathic remedies were often relied on in a small town where pharmacies and hospitals were unavailable.
Martha moved to Vallejo, California, at the age of six. While there, she completed first and second grade while learning to speak English. After finishing second grade, Martha moved to San Diego, where she met her husband, Curt, years later. Between 2004-2005, Martha and Curt decided to get married, move to San Luis Obispo County, and start Life Elements.

Inspired by SLO CAL
"The SLO CAL Community is why I'm doing what I'm doing." When Martha and Curt first arrived in SLO County, they didn't know anyone. "We just loved the area at the time. We figured we could work from anywhere." Martha and Curt were both working in technology and had the flexibility to work from anywhere.
They had gotten invited to a fourth of July barbeque by one of their neighbors working at Castoro Cellars at the time. The barbeque consisted of many local friends and artisans who brought their own products- from homemade cheese and bread to grass-fed beef and homemade wine. 
"Everybody made something, and here we showed up with paper plates and cups. We weren't artisans, and we didn't make anything." After they left that day, Martha told Curt she wanted to do something she was passionate about. "I was always passionate about skincare and just creating stuff. I used to do that throughout high school. I would buy cheap shampoo from Thrifty, and then I would start mixing plants from my mom's flower garden, and that just stayed with me forever and ever."
 
The start of something new
About a year later, Martha was on a trip traveling for work when she got fed up. She called Curt and said, "I'm quitting tomorrow." She didn't know exactly what she would do, but she immediately dove into learning how to create a business. She eventually learned how to formulate, incorporate aromatherapy, and received incredible mentorship and guidance from local sources such as the Economic Vitality Corp and the Cal Poly Hot House to perfect her craft. 
It was important to Martha to create natural products because that's what she grew up with. "My grandmother would always make everything for us. Whether it was her soaps, shampoos, vinegar- everything came from the backyard or the community." This stayed with Martha throughout her life, and she wanted to bring it to other people.

Prioritizing sustainability 
After being in business for 15 years, Life Elements has stayed consistent in creating natural products focusing on sustainability. Martha and Curt strive to incorporate a multitude of sustainable business practices from working on mushroom-based packaging to switching to compostable or reusable components. They created body wipes for times when you can't shower, a healing stick made with natural honey for aches and pains, and more recently started incorporating CBD into their products.
When Martha is not working in the lab on new products, she enjoys going hiking and thrifting around the county. "I don't like it that we're putting so much stuff into the landfill. I know I'm out of fashion and everything else, but it's like, why? This piece of material is still good, it's still wearable, it might be out of style, but it fits me and it's perfect, and it's not going into the landfill."
Life Elements' high-quality body and skin care products get shipped all over the world for people to enjoy. Gather some for yourself next time you are in SLO CAL or check out their website, lifeelements.com, to learn more.
Life Elements products can be found at the following locations in SLO CAL:
The Hive, Arroyo Grande
Len Collective, San Luis Obispo
By: Camille Silvera