Paddle In for the 11th Surf Nite at SLO International Film Fest Friday, March 18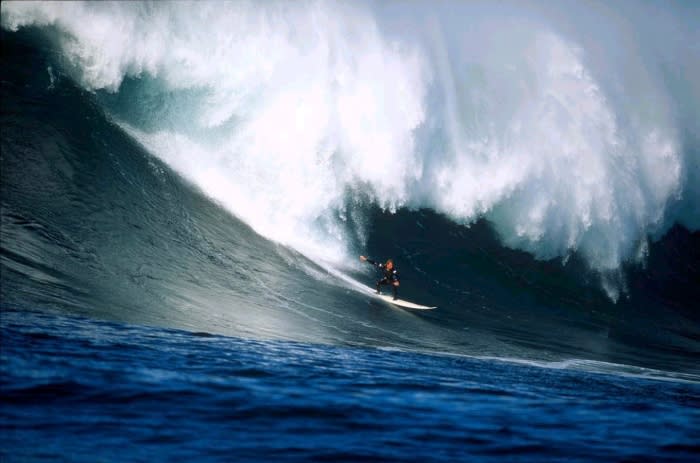 Internationally renowned "Surf Nite in SLO" is back in a BIG way. This year's Friday night event will be host to two pioneers of Maverick's surfing, Chris Bertish and Jeff Clark.
Chris Bertish will be traveling from his home in South Africa to screen a documentary chronicling his development as a big wave surfer titled "Ocean Driven." This harrowing story follows his attempts at the 2010 Mavericks surfing competition where Bertish, after nearly drowning, took the world by storm in the largest waves ever seen in a competition. Chris Bertish is also a Standup Surfboard champion, and hold the South African Open Ocean SUP 24-Hour distance world record and hopes to paddle across the Atlantic Ocean, alone, on a custom build SUP. Bertish now travels the world as a motivational keynote and Ted-X guest speaker, and author of "Stoked!"
The night will start out with local legend, Pismo the surfing goat. A short film illustrating Pismo's talents will be shown and Pismo himself will be in attendance to take photos and "sign" autographs.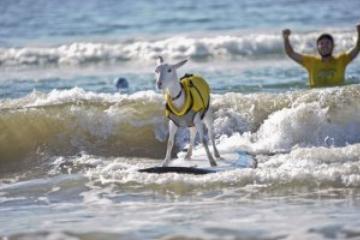 Also in attendance will be Greg Linden, VP of the Big Wave World Tour. Linden recently gained attention for surfing the daunting waves of Hawaii's "Jaws" at 65 years old. Living proof that "old guys rule," Linden is looking forward to joining the festivities, which include a happy hour and after-party in the festival's HOLLYWOOD & VINES Tent, sponsored by the City of San Luis Obispo. Beer and wine will also be available in the Fremont Theatre lobby beginning at 7pm.
Surf Nite in SLO is presented by Visit San Luis Obispo County & Film Commission, and also sponsored by the Boutique Hotel Collection, the City of Pismo Beach, Q1045, Quality Suites of San Luis Obispo, Saint Archer Beer, Creeky Tiki and Mother's Tavern.
Surf Nite in SLO is Friday, March 18 at the Fremont Theatre, 7:30 pm
$20 General/$15 Student & SLOIFF Film Society
Only Movie Mogul Passes will be accepted for Red Carpet Event.
Surf Nite After-Party – Hollywood & Vines Festival Tent (behind Fremont Theatre.) Featuring live music by Denny and the Wrinkled Teenagers (Denny Aaberg's band.) Food provided by Creeky Tiki and Mother's Tavern. Beer sponsored by Saint Archer Brewery.
Movie Mogul Passes accepted at door. Show your Surf Nite ticket and pay $10 for food, wine, beer and music!