While you're here to watch the excitement of the SLO CAL Open at Pismo Beach or Morro Bay, you might as well get in the water yourself! Whether you're here for surf and sun, or sand and sandos, SLO CAL has you covered. So grab your board, kick off your shoes and put on your wetsuit, because a weekend of SLO CAL surf is all you need.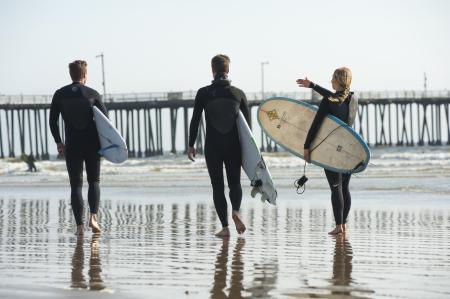 If you're looking to catch some waves for yourself while you're here, Cayucos, Morro Bay and Pismo Beach are the places to go. Cayucos is on the northern side of the county and is a great spot for beginners. The town itself is sheltered from the wind, making it warmer than other coastal towns and the Cayucos pier provides for a nice break off the pilings. A couple of miles south is Morro Bay, known for the 576 feet of volcanic remnants that is called "Morro Rock." The surf is the best on the north side of the rock because it offers a cleaner and more powerful break. Pismo Beach offers a variety of spots, but the pier is the most popular. The pier is also fully lit, in case you want to get a night-time ride in. The south side of the pier is usually better for surfing than the north side, and the further south from the pier you get, the more secluded the surf will be.
Forget your board? No problem. Good Clean Fun Surf & Sport in Cayucos offers hourly, daily and weekly rental options for boards and wetsuits. Wavelengths Surf Shop in Morro Bay is located right by the water and offers rentals for boards and wetsuits or find yourself at Pismo Beach Surf Shop in Pismo Beach and rent wetsuit and board rentals for either a half or full-day.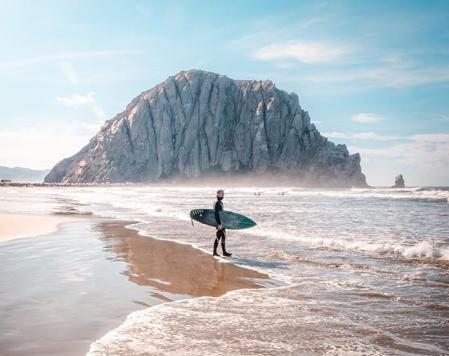 Now that you've got an appetite after all that surfing, be sure to grab some grub. Looking for something to refuel you up after being in the water all day? Look to Splash Café in Pismo Beach for their award-winning clam chowder. Or just down the street, Guiseppe's Cucina Italiana for farm to fork Italian food. In Morro Bay, you can take in the sunset and at Window's on the Water for dinner or enjoy lunch on the patio at Blue Sky Bistro.
Ready for another day of surf and sun? Be sure to book a room and rest up. Don't miss a minute of the action at the SLO CAL Open at Pismo Beach, the Dolphin Cove Motel is just a few steps away from the pier! Or, just down the road, the SeaCrest Oceanfront Hotel offers panoramic views and deluxe oceanfront rooms. In Morro Bay, the Inn at Morro Bay offers bay view rooms just a couple of miles away from the Open.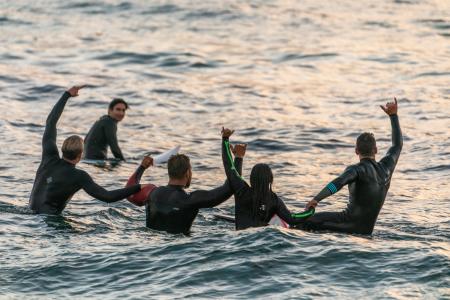 However you decide to spend your days along the coast, SLO CAL has all you need to surf the weekend away.