Fresh air and a delicious snack? SLO CAL apple season checks all boxes
How many activities can your whole family do together, outside in the fresh air? How many of those activities can you all actually agree on? How many of these outings culminate in a delicious, nutritious snack? In SLO CAL, there are many activities like this, especially in the fall harvest season. September means apple picking and tasting in SLO CAL, sending families to the orchards and apple tasting rooms where heirloom varieties are sliced and savored now through November. Nestled between coastal Avila Beach and vibrant San Luis Obispo lies scenic See Canyon, known for world-class apple growing conditions and natural beauty. When you set your sights for SLO CAL apples, you'll get out under the sunny blue sky, spend some quality time with loved ones and nosh on the sweetest apple varieties imaginable—not to mention apple cider for the kids and hard cider for the grown-ups. The time is now, so grab a basket and get out there. See why, in SLO CAL, apples are truly nature's candy.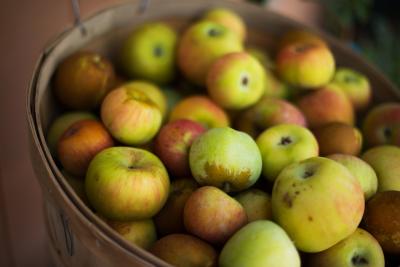 1. A family tradition at See Canyon Fruit Ranch
From one family to another, these apples are passed down through the generations for a reason. Since 1984, See Canyon Fruit Ranch has served as a beacon of apple-growing goodness in Avila Valley. This family-owned and operated ranch is not only gorgeous (and rented out for weddings, events and photoshoots), it's also bustling with commotion come September-November, when the apples are ripe and ready to eat. Stop by anytime between 10 a.m. and 5 p.m. and marvel at the bounty before you: Golden Delicious, Red Gold, Fuji, Pippin and Gala apples; fresh-pressed apple cider with no sugar added; hard cider; pears; veggies of all kinds; jams and jellies; honey made onsite and farm-fresh eggs. Yes, bring your reusable grocery bags because you may want to fill up and bring that haul back to your vacation rental. There are just too many amazing flavors to share with your loved ones. Also, feel free to picnic on-site if the mood strikes!
2. Organic apple goodness at Gopher Glen
Nosh on natural apples cultivated for a modern world. Certified organic apples are grown by the bushel at Gopher Glen, located in temperate See Canyon. Aside from these gleaming juicy orbs, you'll also find fresh apple cider for the kiddos and hard cider for you (and boy, is it refreshing on a hot day). The apple stand is now open and will remain so until the fruit runs out. Hours are 9 a.m. to 6 p.m. Monday through Saturday and 10 a.m. to 6 p.m. on Sundays, and you're encouraged to hang around and chat up the growers for as long as you'd like. There's much to talk about, as the growers are always experimenting with new seeds and rootstocks. Enjoy old-fashioned varieties such as Rhode Island Greening, Skinner, Missouri Pippins, three Limbertwigs as well as other uncommon varieties—including some totally new and never-before-tasted. You never know. One of your own children may be the first to bite into a brand new apple unleashed on the world for the very first time. How's that for bragging rights?
3. Pick your pleasure at SLO Creek Farms
Reach out and grab one! Apple picking, one of SLO CAL's most glorious old fashioned joys, is happening now through late fall at SLO Creek Farms, known for its friendly U-pick apple stand. This 44-acre organic apple orchard features 40 acres of organic apple trees, three acres of organic vegetables and plots bursting with sweet-smelling organic herbs and flowers (yes—find onsite honey and even yoga classes, too). There are countless apples you and your kids can pick together, so check ahead of time to see what's ripe before heading out. Set your sights on dark red Empires (pick between August to October); Fujis (pick between September and late November); Granny Smith (pick between late October and December); Gold (pick between September and November) and many more. This family-owned paradise is located off of San Luis Bay Dr and Highway 101 in San Luis Obispo with its U-pick garden area located off Monte Road. Feeling a bit peckish? Feel free to pluck an apple and enjoy its sweet flesh straight from the tree. If you ask local folks, that's the best way to enjoy.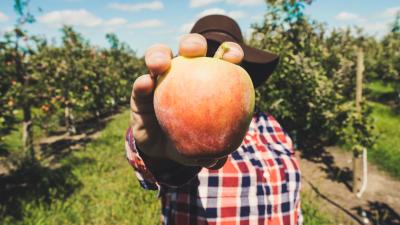 4. An awesome afternoon at Avila Valley Barn
This barn is big on bringing families together. With farm animals like chickens and goats, pies in cherry, apple and berry flavors and made-to-order lunches, Avila Valley Barn, located in the middle of SLO CAL's apple-growing region, is a great place to stop and recharge with a roasted ear of corn or an ice cream cone. It's easy to get distracted by the hundreds of produce options inside this big old barn (not to mention jams, jellies and other delights), but keep your eyes on the prize: Avila Valley Barn apples! Whether you pick up a few loose apples for the car ride home or grab an apple pie, bear claw or jug of fresh apple cider, you really can't go wrong at this time-honored establishment, open 9 a.m. to 6 p.m. daily. Their U-pick stand offers seasonal picking of berries, pumpkins, peaches and—yes—apples, through the month of September. Whether you decide to grab lunch, shop the barn or get out into the orchard, one thing's for certain: your kids will need to have a photo opp with one of the resident cows!