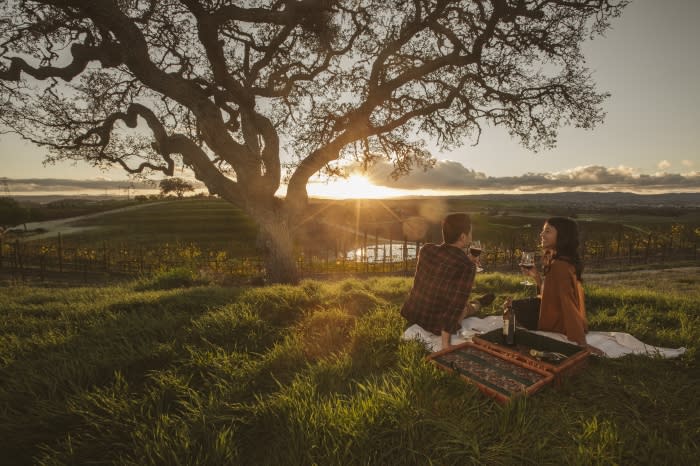 Purple mountain majesty, indeed! Roll out the barrels, pop the corks, and clink the glasses! It's September Wine Month across California, and SLO CAL is offering up a slew of golden opportunities to enjoy. All this month, savor foodie fun, intimate events, and unique pairings. Which September Wine Month traveler are you? Find out, then plan your trip with these knowledgeable tour guides. Happy swirling!
WEST PASO ROBLES
1.
Your mantra: "A stranger is just a friend I haven't met yet!"
You're going to: Westside Paso Robles
Get ready for: Down Home Fun
Bring: Cowboy boots and a smile
Howdy, neighbor! A blend of rustic cowboy hospitality and wine country sophistication, West Paso Robles is known for its temperate climate, cooled by coastal breezes. A hot spot for Rhône and Bordeaux varietals, West Paso Robles is ground zero for innovative wines and an array of cheery tasting rooms.
What to Taste During Wine Month:
Highway 46 West Wineries Block Party—The Highway 46 West Wine Trail is composed of a cluster of tasting rooms that lead from Highway 101 in Paso and leads all the way west to Cambria. This fun-loving group will host a block party of epic proportions this Sept. 2. Taste dozens of wines and partake in live music, dancing, and an amazing dinner spread. Yearning for more West Paso wine happenings? Gear up for a weekend winery and cave tour at Halter Ranch or enjoy a Greek Barbecue Dinner in the vineyard at Niner Wine Estates this Sept. 22.
Other great Westside Paso Robles area stops include the modern tasting room of Hope Family Wines, Pinot Noir house Windward Vineyard, Croad Vineyards and Inn, eco-friendly Tablas Creek Vineyard, Donati Family Vineyard (a fantastic place to enjoy a round of bocce ball), Lone Madrone, (known for their epic burger nights) and Opolo Vineyards where wood-fired pizza beckons).
EAST PASO
2.
Your mantra: "I'll try anything once!"
You're going to: Eastside Paso
Get ready for: Backroad Discoveries
Bring: A good map (in case you lose reception) and a picnic basket of provisions
Yeehaw! Eastside Paso Robles is very much "rugged old west meets Mediterranean cool." Thanks to a warmer climate and adventurous backroads, you'll be privvy to big, bold reds and tasty, unexpected discoveries at every turn.
What to Taste During Wine Month:
Take in a seasonal-fresh Stargazing Dinner experience unlike anything you've ever seen (or tasted) in this galaxy at JUSTIN Winery this Sept. 9, or shake it to latin rock grooves and nosh on barbecue during a Picture Perfect Sunday at Still Waters Vineyards this Sept. 10. If world class wineries in a social setting get your engine revving, stop by Pomar Junction Winery, where winemaker dinners and regular Train Wreck Fridays collide (this Sept. 15 catch live music as the sun sets over rolling hills and the winery's signature antique train car).
Other incredible Eastside Paso Robles area wineries include J. Lohr (one of the area's original Cabernet Sauvignon producers), Vina Robles Vineyards and Winery (home to an epic outdoor amphitheater where national acts perform), and scenic hangouts like Robert Hall Winery, Hearst Ranch Winery, and Broken Earth Winery.
EDNA VALLEY
3.
Your mantra: "No worries!"
You're going to: Edna Valley
Get ready for: Coastal Cool
Bring: Sunglasses, sweater, and a thirst for adventure
Chill out and sip on! Located just a few miles from the Pacific Ocean, this uniquely located coastal wine region is known for its award-winning cool climate Chardonnay and Pinot Noir as well as its close proximity to downtown SLO's cultural hot spots. When the winemakers here aren't busy winemaking, they're probably hiking, mountain biking, or catching some sweet waves.
What to Taste During Wine Month:
At the gateway of the Edna Valley, Tolosa Winery offers up a lush vineyard view and plenty of fun events, like their Music on the Patio series continuing this Sept. 8, and an educational Winemaker for a Day event Sept. 16, where guests are invited to walk the vineyards during harvest with winemaker Fred Delivert. Farm-to-table aficionados will want to celebrate Labor Day weekend with tastes of legendary chardonnay and perhaps a Farm Tour at Talley Vineyards (located a stone's throw away in Arroyo Grande) this Sept. 2-3. Claiborne and Churchill Winery will host a Wine and Yoga series with Lulu Lemon this Sept. 14 with complimentary food and wine tasting. Finally, Edna Valley Vineyard, a mainstay in the region, offers up a relaxed, elegant atmosphere that encompasses sweeping vineyard vistas viewable from the tasting bar.
Other great Edna Valley area wineries: Grab a flight on the patio at Chamisal Vineyards any day of the week or sip a glass while enjoying the sunset in the Wolff Vineyards garden every Friday. The old yellow schoolhouse at Baileyana is a pastoral pit-stop worth visiting and Silver Horse Winery is located in See Canyon, where nearby apple tasting opportunities are rife this season. Take that coastal cool feeling all the way to the beach and stop at Croma Vera, nestled on the waterfront in dreamy Avila Beach.