Firestone DBA & Cheddar Soup
All of this rainy weather calls for a warm winter soup and we have just the fix. This creamy, fragrant blend of Firestone Double Barrel Ale and sharp cheddar cheese is sure to warm you up on these cold and damp Central Coast days. Try this recipe at home, or try it at Enoteca's Restaurant  Enjoy!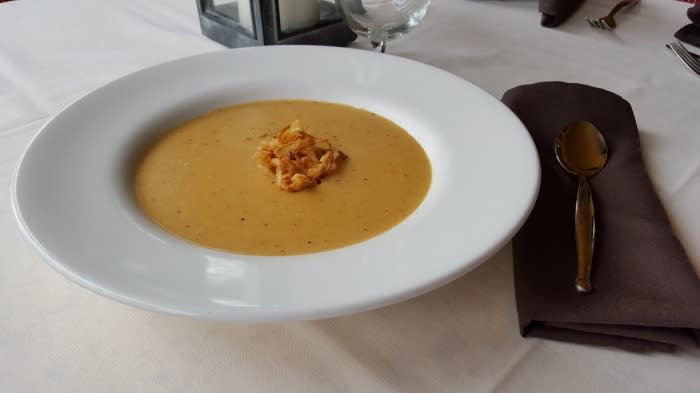 Ingredients
4 tablespoons butter
1 small onion, chopped
1 small leek, chopped
1 carrot, peeled and chopped
1 rib celery, chopped
2 tablespoons minced garlic
2 12-ounce bottles Firestone Double Barrel Ale
4 cups quality chicken or vegetable stock
1 bay leaf
2 sprigs fresh thyme
8 ounces sharp cheddar, shredded
2 tablespoons grated Parmesan
2 cups heavy cream
2 tablespoons Dijon mustard
1/2 teaspoon Tabasco
1/2 teaspoon Worcestershire
Salt and freshly ground black pepper
Instructions
1) In a heavy pot over medium heat, melt butter and cook onion, leek, carrot, celery, and garlic, stirring occasionally, until onions are translucent.
2) Add beer, then chicken stock to cover vegetables evenly by half an inch.
3) Add bay leaf and thyme and bring soup to a simmer. Cook, stirring occasionally, until vegetables are very soft, about 30 minutes.
4) Turn off heat and remove bay leaf and thyme sprigs; whisk in cheeses, heavy cream, and mustard.
5) Using an immersion blender (or working in batches using a blender or food processor), puree the soup.
6) Add Tabasco and Worcestershire, then season to taste with salt and pepper. Reheat gently on low if necessary.
Chef Brady's Secret to Making This Dish a Success:
Cook with your eyes and taste, taste, taste! You'll notice you don't need a specific amount of salt or pepper. Have an unnatural obsession with Dijon mustard? Add more! To get more technical, be sure to sweat the vegetables until the onions are translucent. Onions are "fat soluble" which means you'll extract more flavor when sauteing them in fat.