Seared Scallops and Pork Belly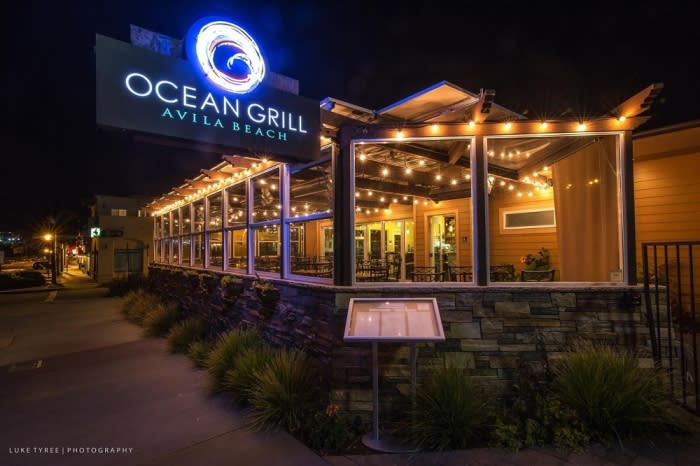 It's #TastyTuesday and we're bringing you a recipe that marries the ocean and dry land. Just steps from the sand in Avila Beach you'll find Ocean Grill serving up delicious coastal inspired, farm-to-table fare that highlight the bounty of what the Central Coast can offer a restaurant and it's diners. Chef Bryan Mathers brings together surf and turf in this inspired Restaurant Month dish.
Seared scallops and pork belly on a bed of miso quinoa, shaved apple, fennel, jicama, and topped with an apple cider balsamic reduction / apple ginger vinaigrette.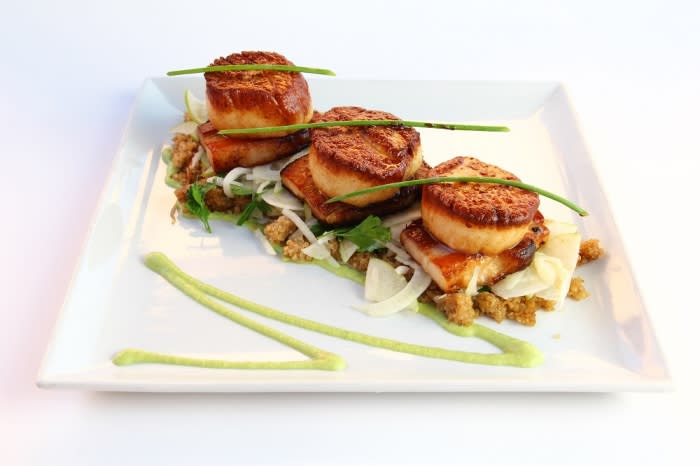 Ingredients:
3 Scallops
4 oz. Pork Belly (can substitute with thick cut bacon)
2 cubes of butter
1 Tbsp Oil
Salt
1 Tbsp Shaved Fennel
8 Slices Shaved Apple
8 Slices Shaved Jicama
1 Tbsp Citrus Vinaigrette
1 Tbsp Chive/Parsley Mix
3 Tbsp Quinoa
1 Tbsp Balsamic Reduction
Instructions:
It is probably easiest to break this dish into 3 separate dishes and merge them at the end.
1) Cook the quinoa. Once it is cooked and warmed through set aside.
2) Begin shaving and chopping the apple/jicama/fennel/parsley and chives. Once all of those things are chopped place them all together in a small bowl and toss them in the citrus vinaigrette.
3) At Ocean Grill, Chef Bryan Mathers spends a large part of time brining and sous-viding the belly to get it tender and moist but most people don't have the means or time to do that at home. You can either skip those steps and go straight to searing it, or substitute with thick cut bacon.
4) Lastly onto the scallops. First sprinkle the side facing up on the scallops with a pinch of salt.
5) Next you're going to want to heat the pan with oil until the oil is just about at the smoking point.
6) Place the scallops salted side down and turn the heat down to medium high. Make sure the scallops aren't sticking to the pan and then add butter.
7) Continue cooking until a golden brown crust forms on the bottom edge. Flip scallops and lightly cook for just under a minute before pulling them off the heat.
8) Take the quinoa as a base layer on the plate then add the mixing bowl of shaved/chopped ingredients.
9) Place the pork belly on top of those and finally place the scallops on top.
10) Lightly drizzle with balsamic reduction and enjoy!
Chef Bryan's Secret to Making This Dish a Success:
Don't overcook the scallops. There is a very fine line between perfect and overcooked. Once you pass the point of no return, it's all over with.
Happy Cooking!