Note: This show was just CANCELLED for 2010, due to event organizer illness. She promises its return on June 18, 2011!
The Templeton Quilt Show is a great fun event for the whole family. When I was a kid, we slept under antique quilts, which were at that time were considered something very old-fashioned. Needless to say, those poor quilts didn't survive to present day.

But even before you start looking a the quilts, your first stop in Templeton on Saturday morning should be their wonderful Farmer's Market, held on the streets surrounding their charming tree-filled City Park. This is actually the largest Famer's Market in SLO County, measured by number of farmers participating. I think eveybody in the small town of Templeton goes to it. It ends just past noon, so try to arrive by 11 PM at the latest.
You might then walk the one-block over tho the main street of Templeton, and start admiring the beautiful new quilts. These hang on the outside of almost all the local buildings. A few are for sale; many are family pieces that they would never sell in a million years. I don't know how many quilts there are in total, but there must be about 200.

Usually after doing this for a while, I then take a break and have lunch at McPhee's Grill in downtown Templeton - one of the top restaurants in SLO County, and that is saying something. If they don't appeal, there are several small restaurants and deli's to chose from (and some vendors at the Farmers Market.)

After a nice lunch (with wine of course) it's back to looking at quilts. There are also two buildings downtown that host vendors for fabric, sewing machines, books etc. Town stretches for several blocks (wear comfortable shoes) and of course they are on both sides of the road.

Among the vendors, go over and look up California quilting celebrity "Rob Appell", known as the "Surfing Quilter" of Morro Bay. (Ask him to autograph a copy of his book "The Adventure of a Surfing Quilter".) Rob and his mother own a quilting store in Morro Bay. (Factoid, there are about 8 quilting-supply stores in SLO county alone.)  Rob also offers quilting kits, and has a large line of ecology-oriented designs, with part of the proceeds going to a conservation charity. Rob's wife and young kids often accompany on trips to the various quilting shows he attends.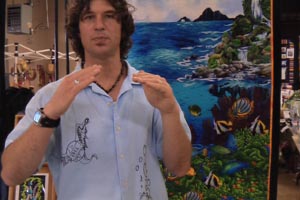 Be prepared to spend several hours. Go ahead and take photos of the quilts. They are indeed works of art, and if the bug hits you, the Templeotn Quilts will give you lots of ideas as to new designs.
(Photo of Rob Appell and one of his quilt designs above.)