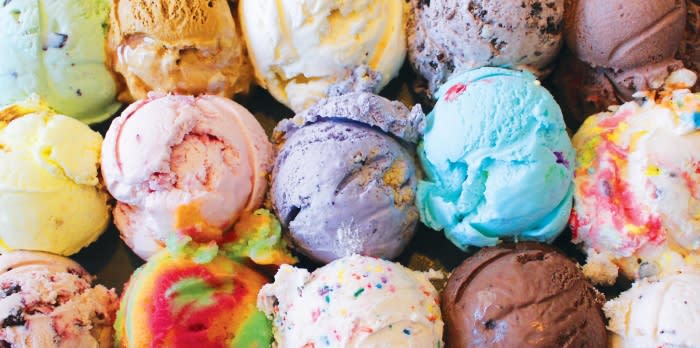 Don't limit yourself to deliciously flavorful ice cream on special occasions, especially when you're treating yourself to Doc Burnstein's Ice Cream Lab. Whether you're a fan of the classics like Cookie D'Oh or go for one of Doc's Signature flavors like Motor Oil, everyone in the family can pick and choose their concoction of scoopable joy. Take a journey with us as we discover the inside scoop behind ice cream and the SLO CAL staple, Doc Burnstein's.
History of Ice Cream
- Ice cream can date back all the way to Alexander the Great who enjoyed snow and ice flavored with honey and nectar
- Nero Claudius Caesar (A.D. 54-86) frequently sent runners into the mountains for snow, which was then flavored with fruits and juices
- Marco Polo returned to Italy from ancient China with a recipe that closely resembled what is now modern sherbet
- Charles I had the first dairy ice cream, or "cream ice," in the 17th century
- 1660 ice cream was made available to the general public
- George Washington was a big fan of ice cream, spending approximately $200 during the summer of 1790
- 1851 George Fussell pioneered the ice cream manufacturing industry in America
- 1984 Ronald Reagan declared July, National Ice Cream Month and the third Sunday of the month National Ice Cream Day
- The United States has the highest per capita ice cream consumption at 1 pint per week.
Doc Burnstein's Ice Cream LaB Facts
- Where does the name Burnstein come from?
Greg Steinberger founded Doc Burnstein's in Arroyo Grande in 2003 when he took over Chuck Burns' shop, Burnardo'z. Burns and Stenberger came together to create hand-crafted, super premium ice cream alive and thus Doc Burnstein's was born.
- How many gallons does Doc Burnstein's produce per year?
75,000 gallons which equates to about 1.4 million scoops!
- Where can you find Doc Burnstein's?
Doc Burnstein's has three parlours, Arroyo Grande, San Luis Obispo and Orcutt, and six scoop shops, Avila Beach, Pismo Beach, Cambria, Solvang, Kettleman City and Fresno.
- How many flavors can someone choose from when they visit one of the three ice cream labs?
There are 32 flavors to choose from at any given time with five rotating flavors and 60 on the rotation list.
- What are the most popular flavors?
Birthday Cake, Motor Oil and Rocky Road
- Are there store specific flavors?
Yes! Each parlour has their own signature flavor only found at that location.
Arroyo Grande - Rooster Tracks
San Luis Obispo - Jack & Coke
Orcutt - Orcutt Crunch
- Can you take a tour of the Ice Cream Lab?
Absolutely! The production facility is located in Grover Beach and open to private groups, school field trip, non-profits... anyone who LOVES ice cream! During your lab tour you'll:
Learn the History of Ice Cream
Discuss the Ingredients in Ice Cream
Explain the Science of Making Ice Cream
Demonstrate Making Ice Cream in the Lab (our manufacturing room)
Sampling Ice Cream Right Out of the Machine
Participate in Making Waffle Cones
Everyone gets a Scoop of their Favorite Flavor
Enjoy Ice Cream and ask Questions of the Doc
Just click here to book your trip!
What's next for Doc Burnstein's?
Lovers of ice cream rejoice! Doc Burnstein's will soon be offering a brand new lab experience at their Arroyo Grande location where you'll be able to create your own unique flavor to take home.
What's Mr. Doc Burnstein's favorite flavor?
While it may be hard to choose, Greg's favorite frosty creation is German Chocolate Cake.
Now that we're all craving ice cream, be sure to incorporate a pit stop at Doc Burnstein's in Arroyo Grande or San Luis Obispo the next time you visit SLO CAL. And don't forget that every Tuesday in Arroyo Grande choose from five featured flavors for an all-you-can-eat extravaganza!