SeaCrest Hotel, Pismo Beach
Celebrates 50 Years of Memorable Moments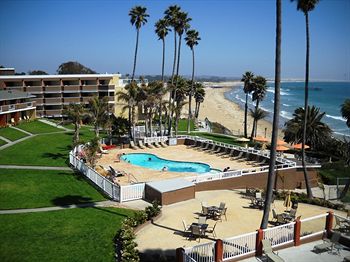 The Original Jewel of Pismo Beach
2012 marks a monumental year for this iconic Pismo Beach hotel as they are celebrating 50 years of creating memorable moments for their guests. All those years ago, the SeaCrest Motel was known as "A bit of Hawaii on the California Coast," and the tagline stuck. Resting on a sun-kissed crescent on the bluffs facing the Pacific Ocean, the property and its hotel have been a cherished part of Pismo Beach for more than half century. Through name changes, new buildings and renovations, what has become today's Pismo Beach SeaCrest OceanFront Hotel has maintained its elemental beauty and charm, captured since the beginning.
Now the coolest oceanfront hotel in Pismo Beach and San Luis Obispo, the SeaCrest has 158 retro-chic rooms and suites. The hotel is situated on a 5 acre bluff top with an ocean view heated pool, 3 hot tubs and direct beach access down to the beautiful strand of Pismo Beach. The hotel is just a short walk from downtown, either by street or sand, offering many local shops, restaurants and family friendly beach activities.
OceanFront Gatherings
Whether you are traveling for a romantic getaway, family vacation or just a stopover in your coastal California trip, this hotel has just what you need to fully enjoy your time in Pismo Beach.
The breathtaking RoofTop Terrace is a truly hidden gem, located on the 4th floor with views for miles up and down the coast. The glass enclosed terrace offers comfy lounge furniture, glass pebble fire pit, and space heaters creating the ultimate spot to savor your morning coffee or glass of wine at sunset.
The spacious OceanFront Terrace is the perfect location for large groups to gather and appreciate the phenomenal views of the Pacific Ocean, or have that dream beach wedding just off the sand. The SeaMist Terrace offers grills for guest to use at their own leisure, and is close enough to the pool so that the kids can play happily nearby. The picturesque Lobby Terrace is the perfect spot to enjoy the complimentary continental breakfast with lovely views of the ocean and heated pool.
Everything You Need for Work and Play
They don't just offer super friendly service at the SeaCrest. They have fresh baked Otis Spunkmeyer cookies at check-in, complimentary continental breakfast, free WiFi, HDTVs with DirecTV, beach cruiser bike rentals, complimentary Wednesday wine receptions throughout the summer and fall, local wine and beer through the ThirstAid in-room beverage delivery service, Marie Callender's room service, Family Suites with Wiis, and pet friendly accommodations too!
Along with these awesome amenities, you can make your stay even more special by booking one of their unique packages. A favorite among couples is the Build-Your-Own Honeymoon Package where you can build your ideal romantic Pismo Beach vacation with enhancements including adventure activities, romantic activities, room enhancements, and dinner options to make your stay memorable. If you are celebrating a birthday at the SeaCrest, the Happiest Birthday Package which comes with a birthday cake, a bottle of Laetitia Wine and 2 birthday balloons is the perfect way to celebrate. And if you want to experience classic Pismo Beach, book the Surfin' Safari package where you get surf lessons for 2 with wetsuits and surfboards included.
At the SeaCrest there is something for everyone, any season, any reason. Visit their website at http://www.seacrestpismo.com/ or call 805-773-4608.