The SeaCrest OceanFront Hotel, Pismo Beach Celebrates 50 years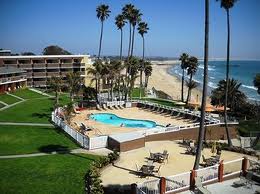 The Pismo Beach SeaCrest OceanFront Hotel is now "Celebrating 50 Years" of continuous service to its guests and the local community. First constructed in the early 1960's, it became the original oceanfront motel situated along the Pismo Bluffs. Since then the hotel has experienced several expansions and restorations, plus numerous name modifications, but always open for business, providing its guests superior comfort and service and of course that spectacular Pacific Ocean view.
The hotel's current owners hold its history in high regard and have researched its past through photo archives, press articles, and meetings with the original hotel owners. The Pismo Beach SeaCrest OceanFront Hotel Story, in text and pictures, will now become a key part of the hotel's 2012 series of "Celebrating 50 Years" special events and ceremonies.
The month of March will kick off a year-long series of such events and theme parties, some commemorating the 50th anniversary of significant occurrences in American news or culture, others simply remembering the spirit of those times. There will also be special rewards for guests who wish to renew their vows as part of their 50th Wedding Anniversary plans, others celebrating their 50th birthdays and those who first stayed at the hotel those 50 long years ago.
The hotel will also collaborate with numerous tourist industry partners and vendors in the local community, restaurants, sports activity centers, stores and wineries, creating attractive package deals for its guests, encouraging them to stay longer, and play more often! "$50", "50% off" and celebrating the 1960's will be cornerstone features of numerous offers, discounts and promotions covering guest accommodations, dining, shopping and local activities.
"What a wonderful reason to honor the past and celebrate the present of Pismo Beach and its premier hotel", says Jamie Wallace, General Manager of the Pismo Beach SeaCrest OceanFront Hotel. "We look forward to a unique opportunity to provide all our guests a special reason to visit, enjoy our hospitality and the many attractions and activities Pismo Beach and the surrounding area offer."
The Pismo Beach SeaCrest OceanFront Hotel will extensively promote and advertise its "Celebrating 50 Years" marketing program through its website, prominent social media channels, newspaper articles, TV spots, plus the Chambers of Commerce and Visitor & Conference Bureaus in San Luis Obispo County and its feeder markets throughout California.

About the Pismo Beach SeaCrest OceanFront Hotel
The SeaCrest OceanFront Hotel has 158 rooms and suites and is managed by Central Coast of California Hospitality, LLC, a premier hotel management company offering its clients a superior level of expertise and service.