Top Nine Reasons to Shop at Farmers' Markets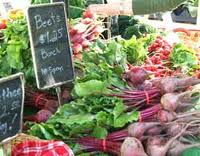 1. Freshness With few exceptions, produce is brought to market the same day or within a day of picking. That's fresh! Fresh products are crisp, have good texture, and taste better.
2. Flavor Fruits like peaches, and produce like strawberries and tomatoes are picked when ripe, not before. Ripened on the tree or vine adds significantly to flavor.
3. Variety Farmers bring many different varieties of just about every product. Several examples of the variety found the farmers' market are: Spitzenberg and Braeburn are among the 70 plus apple varieties, Tuscan and Russian are a couple of the different kinds of kale, and lemon and Thai are two of two of the basil types. Variety provides a great healthy way to enrich ones life.
4. Flowers You simply can not compare the volume, variety, quality, and freshness of flowers at the farmers' markets with what grocery stores offer. With the exception of greenhouse roses, the types of flowers at the market vary with the season. For example, in February-March there are fantastic tulips, and during the summer there are tuberose, sunflowers, zinnias, and many more.
5. Can talk to the farmer This is really an advantage. Since the person you buy the product from is the farmer, or his/her employee, you can ask anything about the product, for example, where it was grown, what variety it is, if the product was sprayed, and cooking suggestions.
6. Enjoy visiting with others At farmers' markets you always see people talking to one another. They are having a good time.
7. Supporting family operated small farms Each stall space is used by a different farm. By shopping at farmers' markets you are supporting these family operated small farms.
8. Reducing the carbon footprint Distance produce travels from farm to you via a grocery store is often greater than 1000 miles. Transport to and storage at the store often requires refrigeration, and these result in carbon dioxide emissions. At our farmers' markets average distance traveled is less than 50 miles and there is no refrigeration or storage. Buying at a farmers' market results in less carbon dioxide emissions.
9. California Grown At the farmers' market you know that all produce sold at our farmers' markets is grown in California, not Mexico, not China, nor anywhere else in the world.

Visit http://slocountyfarmers.org/ for more details.