VIENI VAI in downtown San Luis Obispo is now offering full service catering!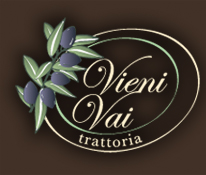 Born and raised in Modena, Italy, Chef Giovanni Grillenzoni has been creating culinary masterpieces for over 30 years. After completing his studies at the Streza Culinary Institute, Chef Giovanni began running one, of what would eventually be many, award winning restaurants in Modena. He began receiving widespread acclaim when the legendary opera singer Luciano Pavarotti became a regular client. Greatness followed Chef Giovanni to the United States, as his regular client list became a regular "Who's Who" of A-List Celebrities. Everyone from "Seinfeld" creator Larry David to future hall of fame basketball player Kobe Bryant to cooking great Julia Child (she loved his Capelleni Pomodoro) have been his regular patrons. Master of Classical, Modern and Fusion cooking techniques, Chef Giovanni is able to offer a unique approach to menu preparation. No matter a wedding on the beach or a corporate retreat, Chef Giovanni will work to create an authentic experience customized just for you.

For addtional information on Restaurants in San Luis Obispo County.