Where to picnic and pig out in SLO CAL on Pi Day.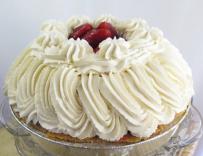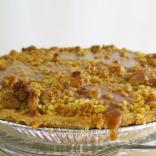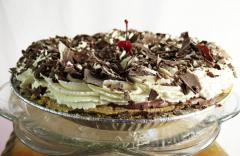 Not sure just how to adequately celebrate World Pi Day, this 3.14?Welll, it's actually quite a simple equation. You could grab a pencil and contemplate Pi, (the Greek symbol "π"), which expresses the circumference of a circle to its diameter with the repeating number 3.14159. But let's be honest...that could take a while. On the other hand, you could grab a fork and contemplate pie, a baked, flaky-crusted desert filled with fruit or creamy goodness. When served with a plop of vanilla ice cream, you've got the solution to life's most challenging problems sitting right in front of you.
Here in SLO CAL, the only way to truly nail #PiDay with mathematical (and flavorful) precision is to stop by one of these incredible local eateries and pick up a freshly made dessert to go. Next: head for an outrageously scenic picnic spot perfect for pigging out. All you need are some forks and a few friends. First, find out your personalized Pie Personality and Picnic Paradise below:
Pie Personality: Over-the-top taste - Your motto is "go big or go home."
Pick: Madonna Inn
From famously pink frosted cakes to buttery bear claws, there's no doubt about it: Madonna Inn's Copper Cafe bakery has been churning out over-the-top treats for decades. When it comes to pie, you've got plenty to choose from, including banana, Dutch apple, pumpkin, chocolate, and strawberry topped with billowy whipped cream (that last one's seasonal to spring only, so get it before it's gobbled up!).
Picnic Paradise: Head to Laguna Lake, located just skip and a jump away from the Pink Palace. Clear blue waters, happy geese, a dog park, and play area for the kiddos make this green escape perfect for the whole family.
Pie Personality: Locavore love – You're always in search of the most authentic local flavor.
Pick: Linn's of Cambria
Fact: You really can't be a true SLO CAL local unless you've savored Linn's iconic Olallieberry pie, which features the dark and luscious fruit Central Coasters go wild for. This regional delicacy is always divine, but you may also want to diversify with pecan, blueberry-peach, or even a steaming hot pot pie filled withs savory chicken or country beef. Who says all pies have to be sweet? On Pi Day, the rules are meant to be broken.
Picnic Paradise: Cruise along Highway 1 to the Piedras Blancas Elephant Seal Rookery. This time of year, pups and their moms and visible from a convenient pull-off point. Of course, the scene is backdropped by a world famous ocean view, too!
Pie Personality: Grandma's Favorite – You still adore the old fashioned way.
Pick: Apple Farm
If old school hospitality and classic, warm and fuzzy flavor is what you seek, Apple Farm has a booth with your name on it. Cozy up to this restaurant's epic farm fresh pies, always baked fresh daily. Here, you'll find lemon meringue, cherry, rhubarb and—of course—apple pies that remind you of how grandma used to bake (and then some).
Picnic Paradise: Downtown SLO is unique for many reasons (its walkability, Mission style architecture and cool boutiques, among them). It's also known for the babbling brook that runs through its center. Cozy up to the San Luis Obispo River bank, where benches dot lush greenery.
Pie Personality: Beach Combing for Yum – Surf, sand, and grub? You're there, brah.
Pick: A Deli & Pieman Pies
I mean, c'mon! "Pie" is right there in the name, so you know it's got to be good. These killer baked rounds—which include all the fruit fillings you adore plus crave-worthy flavors like peanut butter and salty-sweet Reese's Pieces—are always covered in a signature cloud of whipped cream. You may even forget to check the surf.
Picnic Paradise: Located in chill Cayucos near the shore, you're just steps away from a gorgeous seaside sunset. Tubular.
Pie Personality: Down Home Yum – You prefer to munch it country style.
Pick: Avila Valley Barn
Yes, you've died and gone to baked goods heaven. Inside this beautiful rustic barn, you'll find home-style jams, fresh produce, and more pies than you can shake a stick at. Also purveyor of fudge, crumbles, turnovers cobblers, crisps, and muffins, Avila Valley Barn is known for its iconic apple pie, crafted from apples grown onsite. Plus, did we mention that the perimeter of the place is nothing short of a full-on petting zoo? Mingle with mini ponies, turkeys, and goats like the true cowboy/cowgirl you are.
Picnic Paradise: Take a soak at Avila Hot Springs or stop at the Port San Luis Lighthouse for a romantic break from the everyday grind.
Pie Personality: The Passionate Palate – You'd always like to see the tasting notes.
Pick: Cider Creek Bakery & Deli
Located smack dab in the middle of Paso Robles Wine Country's Highway 46 East trail, this casual deli is the perfect pitstop for your next wine tasting adventure. Try the peach raspberry, caramel apple, or tart boysenberry (trust us, it goes great with a fruit forward Cabernet Sauvignon).
Picnic Paradise: With so many scenic tasting rooms nearby, you can't go wrong. However, you'd be remiss to miss the sprawling vineyards of Cass Winery, where friendly staff will bring a selection of bottles to your own patio table. Wine pairing has never been so sweet!
Pie Personality: Hungry and Quirky – An eclectic, cutting-edge taste sets you apart from the pack.
Pick: Eclair Bakery
It's always a new day at cute and modern Eclair Bakery, located in the quaint Village of Arroyo Grande. See what's on their ever-changing and innovative menu, and pick up a loaf of artisanal sourdough bread while you're at it! Perhaps you'll stumble upon a picture-perfect pie confection topped with a brightly colored kiwi, strawberry, and blueberry or a earthy-looking pecan pie adorned with flaky pastry "leaves." Either way you'd better #piday.
Picnic Paradise: Trek across a nearby historic footbridge, then settle into a small community park populated by wild roosters and hens.