Looking for something to do after dark? The fun doesn't stop after the sun goes down. We've got you covered on where to find nightlife activities in SLO CAL. From dancing, to live music, to great art and views, it's time to plan an outrageously fun day that can roll into the late nights.
Note that hours listed are for Friday and Saturday nights. For all visits, call ahead to confirm open hours.

Until 10 pm
Lace-up your dancing shoes
Madonna Inn, SLO 
The Madonna Inn is a fixture on the Central Coast, with its opulent pink furniture and colorful glass goblets, all of which remain the same since its opening in the 1950s. All three dining areas are worth an after-hours visit — the Copper Cafe for dessert, the Gold Rush Steakhouse for a late dinner, or the Silver Bar for cocktails — as is the dance floor. Tango, swing, salsa, and ballroom styles can be heard and seen here some nights, and often couples pack the floor.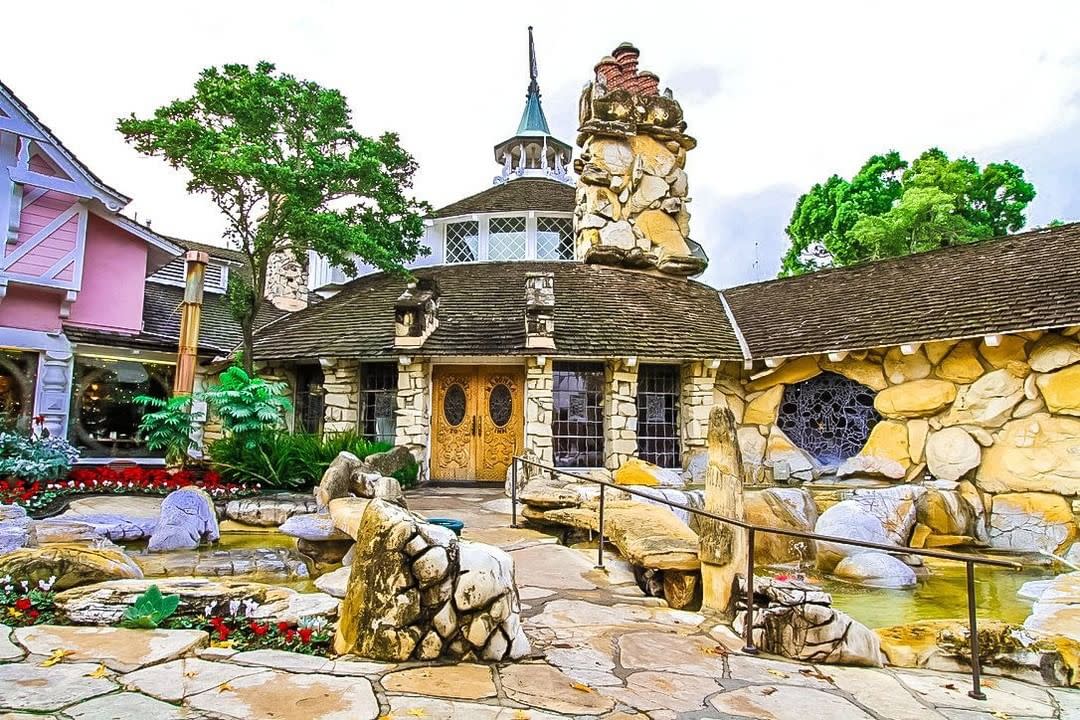 Madonna Inn. Photo by: sanluisobispoguide
 
Immerse in a new art form
Light at Sensorio, Paso Robles 
Recently featured in the New York Times, Sensorio is an installation by artist Bruce Munro featuring 58,800 fiber optic spheres that illuminate across 15 acres of rolling hills at night. Visitors walk through the landscape as it blooms and morphs in undulations of light and color. The park also includes a new work by Munro called "Light Towers" featuring towers made from 17,000 wine bottles that glow and change to a lush soundtrack. Experience the light sculptures, then head back to the Sensorio Cafe for food and drink including locally-made beer and wine. Sensorio is open September through November, Thursday through Sunday, from sundown until 10 pm on most days.
 
Until 11 pm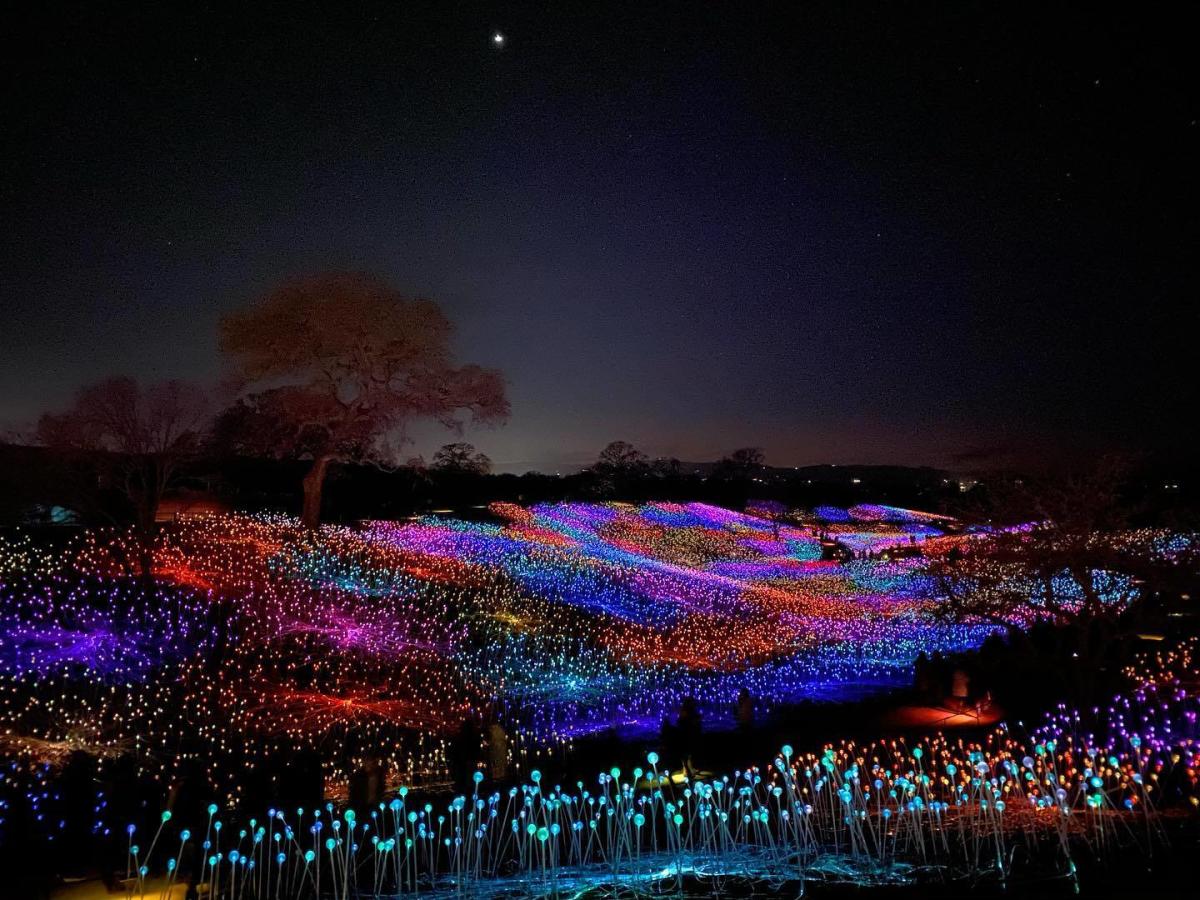 Bruce Munro: Light at Sensorio. Photo by: Monarch Audio
 
Practice your swing
Toptracer Golf, Dairy Creek Golf Course, San Luis Obispo 
Golf after dark? Yes. Toptracer is a digital metric and game that syncs with your swing at the driving range. When your club makes contact with the ball, Toptracer tracks it on a virtual reality course on screen. Get real-time analytics, improve your form, and virtually "play" the world's most famous courses. The course is open late, and each bay accommodates four people, so round up the gang for some late-night swing time. Rent inexpensive clubs at the course or bring your own. Toptracer Golf is open until 11 pm on Friday and Saturday, and until 10 pm Sunday through Thursday.

Until 12 am
See a double feature
Sunset Drive-In, SLO 
Did you know there are only 325 drive-in movie theaters left in the United States? The Sunset Drive-In is one of them and remains mostly untouched since its earliest days. Bring blankets and wear your coziest clothes for a double feature, drive-in style. Between movies, delight in the old school intermission films (Let's all go to the lobby...) and grab nachos, hot dogs, popcorn, and candy at the snack bar.
Hear a headliner
Vina Robles, Paso Robles 
Cal Poly Performing Arts Center, SLO 
Fremont Theater, SLO 
SLO Brew Rock, SLO 
SLO CAL has no shortage of great concert venues, from the sprawling amphitheater at Vina Robles and the historic art deco stylings of the Fremont Theater, to the cutting edge acoustics of the Performing Arts Center and party atmosphere at SLO Brew Rock. Top-shelf artists and bands from all genres of music perform here — and concerts sell out fast. Buy your ticket, bring your energy, and be ready to rock.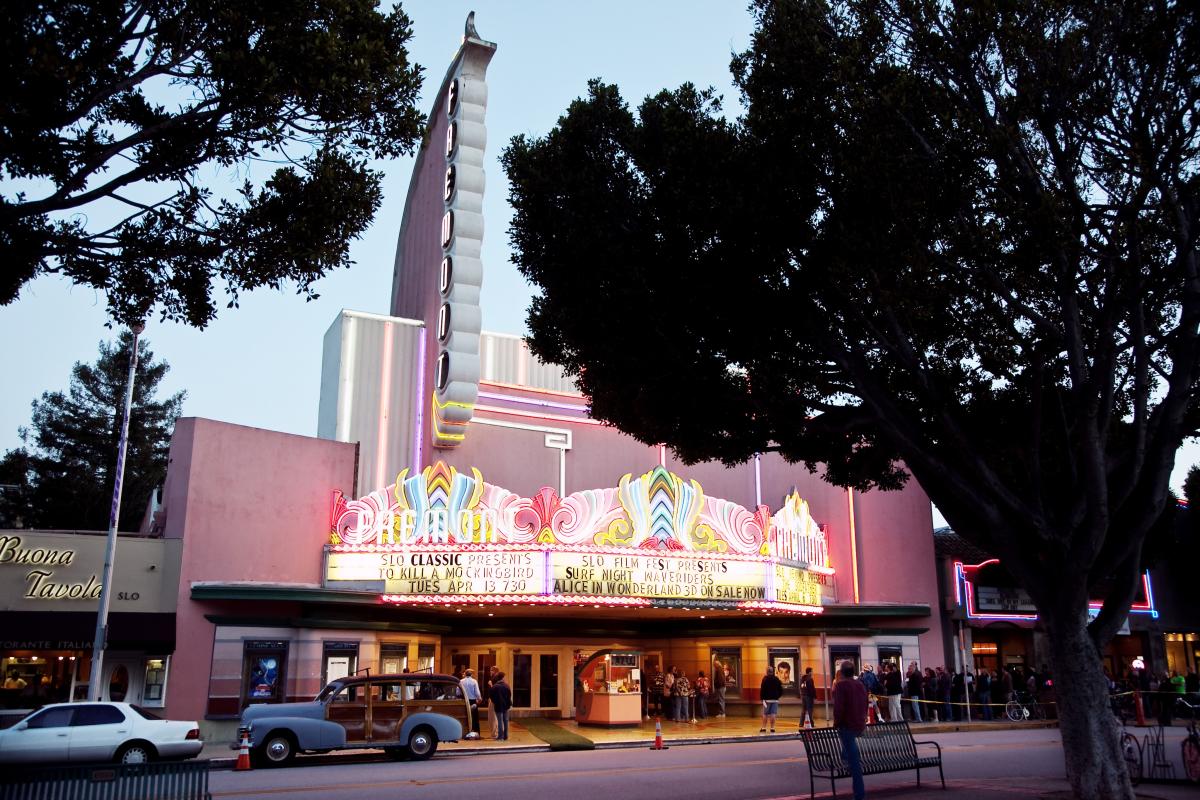 Satisfy your sweet tooth
SLO Donut Company, SLO and Atascadero 
This beloved open-late donut shop has two locations, each of which offers about 100 different kinds of donuts each day. The vibe is young and hip, with graffiti art on the walls and occasional performances from local bands. Regular favorite donuts here include the maple-bacon bar, galaxy donuts, and cereal donuts. Vegan and gluten-free goodies are available here, too.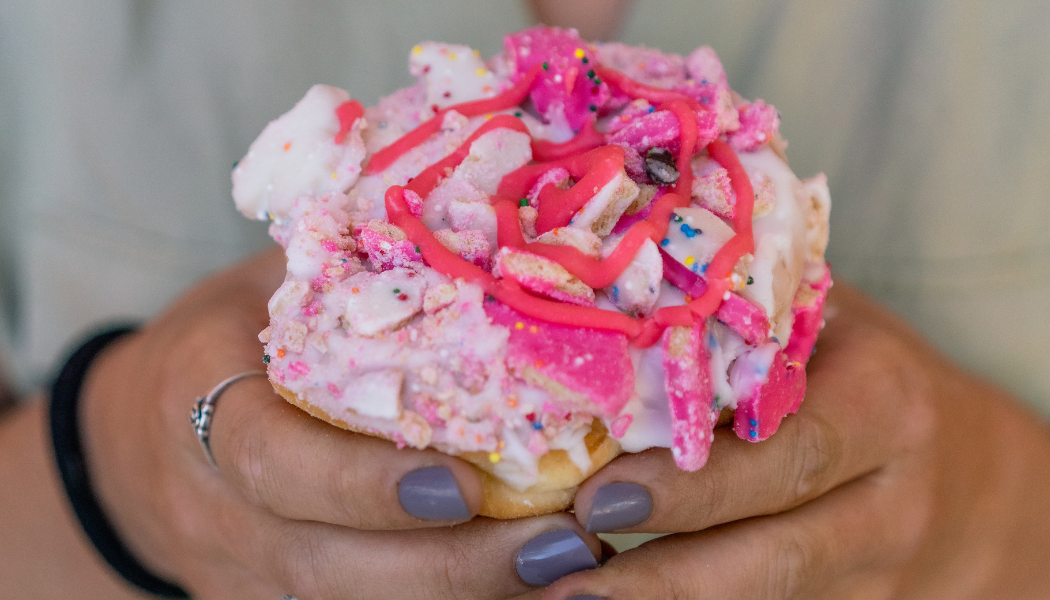 Indulge the munchies
Eureka! Burger, SLO 
This craft restaurant celebrates the all-American palate, from burgers and beer to Kentucky straight bourbon whiskey. Pop in for a late-night burger made with Santa Carota Angus beef and silky brioche buns, or order shareables like truffle fries, mac and cheese balls, and firecracker riblets. Don't miss the extensive offering of microbrews on tap, or the exhaustive whiskey list.
 
Until 1 am
Say the secret word
Eleven Twenty-Two Speakeasy & Cocktail Lounge, Paso Robles 
Shhhhhh...you didn't hear this from us: Eleven Twenty-Two Speakeasy & Cocktail Lounge isn't your typical bar. For starters, it's located in an alley off Downtown City Park in a nondescript building, the only sign a cryptic set of dots and instructions to ring the doorbell once. What lies inside is one of SLO CAL's greatest hidden treasures: a Prohibition-era joint complete with period fixtures, music, and a swingin' cocktail list. Come ready to sink into one of the bar's lush booths and share secrets. 
Grub on late-night bites
Woodstock's Pizza, SLO 
An institution for over 30 years, Woodstock's is the place to go when you want a chill spot to hang with friends or watch the game. Their pizza has fans far and wide (especially anyone who has attended Cal Poly University) and 24 rotating taps pour cold local beer. Order a pie and a pitcher, and relax. Bonus round: Feeling sharp? Woodstock's hosts Trivia Night every Tuesday at 9 pm. Participation is free — just bring your friends and your brain.

Until 2am
Swank it up with cocktails
Sidecar, SLO
Tetto at Hotel Piccolo, Paso Robles 
S. Low Bar and High Bar at Hotel SLO, SLO 
SLO CAL is a pretty laid-back destination, but we take our cocktails very, very seriously. For the best kind of evidence, head to Sidecar and sit at the bar to watch mixologists hustle and flow. Or sit in the luxurious, low-lit surroundings with a craft cocktail at the S.Low Bar at Hotel SLO. For those with higher aspirations, check out the views from two rooftop bars at Hotel SLO's High Bar and Tetto at Hotel Piccolo in Paso Robles.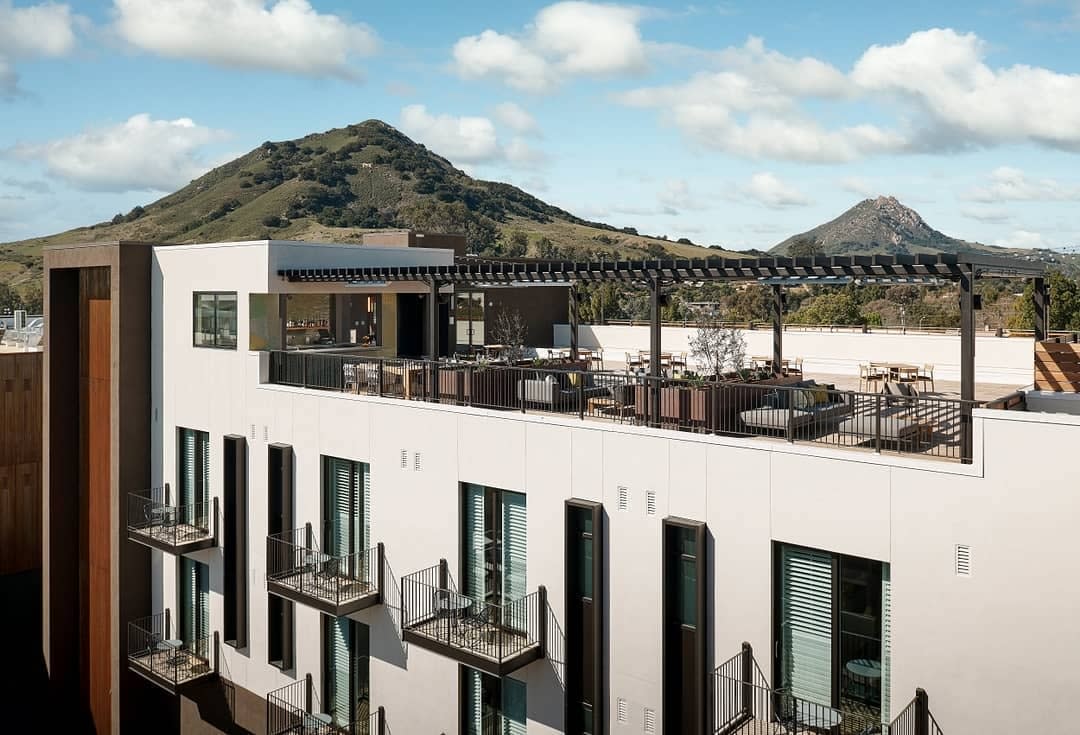 High Bar at Hotel SLO. Photo by: Hotel SLO
Delight in a dive bar
The Merrimaker Tavern, Los Osos
Whiskey & June, Atascadero 
Mozzi's Saloon, Cambria
Search the term "dive bar" on Wikipedia, and you will find a photo of the Merrimaker Tavern in Los Osos Baywood Park. (Yes, really.) This SLO CAL institution serves inexpensive beer, wine, and cocktails in a warm, friendly, and very wood-paneled environment. Order a drink and head to the pool table for a round or two, or listen to the sounds of a local musician playing tunes. Friday and Saturday nights are for karaoke — start planning which song you'll choose to sing now. At Whiskey & June in Atascadero, you can expect to find some of the best cocktails around thanks to the pedigree of its owners, who worked at Eleven Park Madison in New York before settling here. You wouldn't know it from the setting, though, which makes the whole experience that much more delightful. Expect (again, yes) wood-paneled walls, pinups, neon beer signs, worn vinyl stools, a jukebox, shuffleboard, and pool. Over in Cambria, Mozzi's Saloon was voted "Best Dive Bar" in California by Trip Savvy. This dark western-style bar which was originally established in 1866, acts as a unique hangout in the Cambria community.  Equipped with a pool table, taxidermy art, string lights, and live music on Saturdays, this popular dive bar offers a laid-back scene after treading sandy beaches all day.
All night long
Wish upon a star
Northeastern SLO County
Miss the buzz of a metropolis? You won't when you head out for a night of stargazing. SLO CAL boasts some of the clearest night skies around, free of the light pollution found in and around big cities. For stargazers, the areas along San Luis Obispo County's northeastern edge are crazy-good for uninterrupted, unpolluted views into space. Head to Shell Creek Road or Red Hill Road in the La Panza Mountains; Cholame Valley Road on the way to Parkfield; or Soda Lake in the Carrizo Plain National Monument for the clearest skies around. And when the fog cooperates, the North Coast of Highway 1 in Ragged Point, San Simeon, and Cambria mixes stargazing with salty sea air and a soundtrack of waves lapping the shore.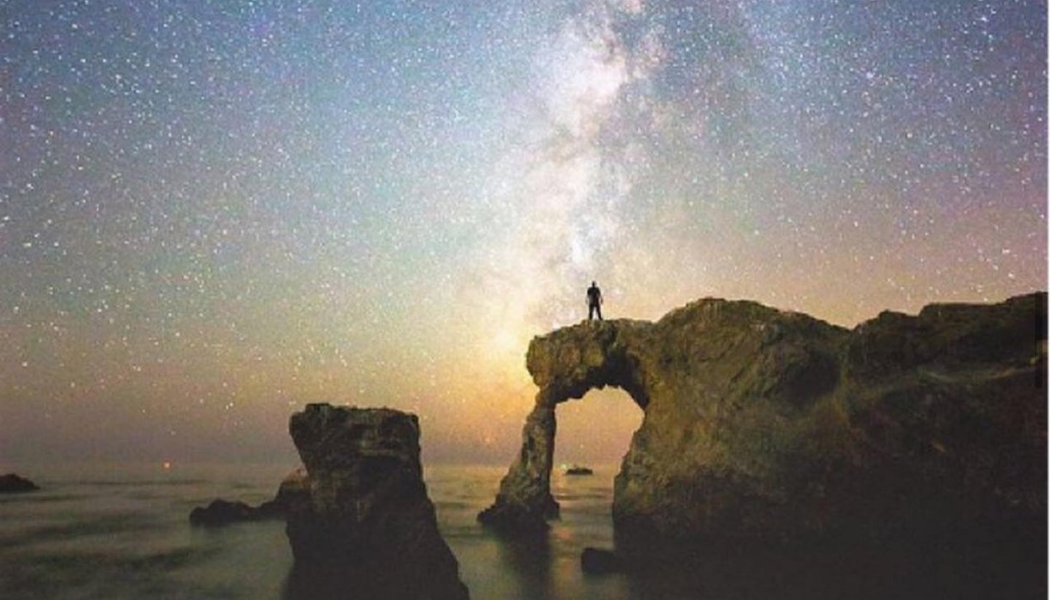 Try a local favorite
DK's Donuts, Paso Robles
Looking for a late-night local favorite? DK's Donuts in Paso Robles has an array of late-night eats. Located on Spring Street, you will find fresh donuts that are available all night long. Stop by after midnight and you will still find warm donuts to indulge in after a night out. However, sweet treats aren't the only thing you'll find here. They also serve ham and cheese pastries and bagels for those looking for something savory.