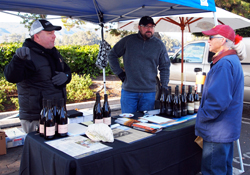 The SLO Farmers' Market Association has joined with the SLO Wine Country Association to sell wine at the SLO Saturday morning farmers' market.
While this farmers' market operates every Saturday morning throughout the year, wine sales will only occur at the market on the 2nd and 3rd Saturdays of the month.
Thirty wineries will participate on a rotational basis with three different wineries making their wines available on those Saturdays when wine is sold.
WHEN & WHERE?
Saturday mornings 8:00-10:45am in the parking lot next to Embassy Suites and World Market