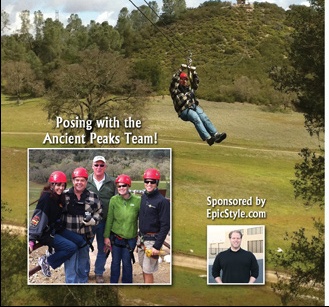 David Wilson starts things off with Chris Taranto at the Paso Robles Zinfandel Festival featuring 170 wineries. David says, "The more people who realize that they don't have to know a lot about wine, they just have to follow their heart and their instinct, the better off everyone is going to be." The two talk about the rich depth of Paso Robles and the Wine Country. "You will be surprised and leave a fan," says Chris.
David then goes to Ancient Peaks Vineyards and is fastened to a zipline 1,300 feet long with a glass of wine. Just kidding, the glass of wine comes later; but this Margarita Adventure's zipline flies you over vineyards, through an oak forest and a lush canyon. David records the entire way down the zipline, which makes for a very entertaining listen that will have you giggling in your seat. After lunch and wine, David talks to wine guru Matt Dubow about some wine traveling misconceptions, and the best way to travel with wine.
Next week, listen in because it's all about oysters in San Luis Obispo County (with wine of course). 
Listen or download the episode here: http://grapeencountersradio.com/index.html