Little ones will love to explore, laugh and play the SLO CAL way
Albert Einstein once said, "Play is the highest form of research." The folks at the SLO Children's Museum totally agree! Located in the heart of downtown San Luis Obispo near the creek, this friendly, nonprofit playground is the perfect place to unleash some wiggles during your next SLO CAL family adventure. Engage young minds and allow imaginations to take flight with several play-scapes and weekly creative workshops. They'll learn cool crafts, put on their own puppet shows and make new friends all in a safe, fun environment. So, what are you waiting for already? Let's play!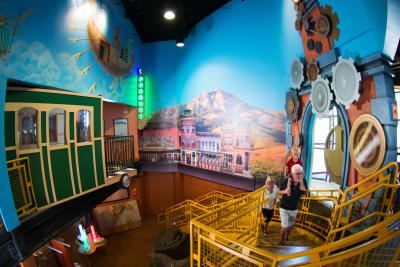 A playful escape
Let the exploration begin. Welcome to the SLO Children's Museum, where three separate floors of hands-on exhibits represent a wonderland for children ages one through ten. Your child can create a new work of art on a giant Light Brite, cook up a fantastic "feast" in the play kitchen, put on a theatrical performance, take the wheel at the "fire truck," or try their strength on a climbing wall. Kids love to congregate on the play tower (and yours will no doubt enjoy exploring the top of Jellybean Junction, offering up a beautiful enclosed view of San Luis Obispo's surrounding hillsides). There's also a sunny, outdoor play area complete with massive flowers, play structures, and plenty of places for your child to tumble, leap, and laugh.
Learn and grow
It's so much more fun to learn by doing. Weekly programs offer up exciting and interesting classes for young minds on the make. Past classes include learning how to braid your own jump rope, creating your own visor that looks like a shark (complete with googly eyes), watching real life quail eggs hatch, making flower petal sun catchers, water coloring, and so much more. Where else can your child explore an augmented reality topography sandbox or adopt a butterfly, then release it into the wild? Plus, "sensory nights" are free after-hours programs for children on the autism spectrum and their families. In SLO CAL, there are interactive adventures for all.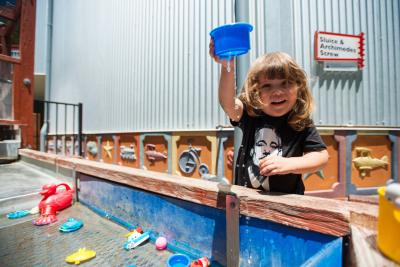 Throw a birthday bash
They'll never forget this birthday. Celebrating your little one's big day while visiting SLO CAL? You can schedule a special one-hour birthday party event or even reserve the entire museum for a private shindig if you want to go big. Your child and fifteen of his or her favorite people are welcome to hang out and have some fun around the museum—plus, enjoy a party table with all the plates and cutlery ready to go and goodie bags for each guest. Looking for something unique for the birthday boy or girl do come nightfall? The museum also offers an overnight package with private museum access from 7 p.m. to 8:30 p.m. for fifteen kiddos. This includes adorable camping theme decorations, pizza from Woodstock's Pizza in downtown San Luis Obispo and a headlamp scavenger hunt!
Benefits for the whole family
We don't have to tell you that technology has infiltrated every part of our lives. Even the smallest among us have begun to see screen time as a normal daily activity. As much as we love the way technology connects and engages, leaders in the child development field agree that it's important that kids get out there and have real-life adventures with hands-on appeal. The SLO Children's Museum was designed to appeal to all learning styles and to encourage the kinesthetic learner to get creative and maybe even become the next Einstein. Parents are encouraged to participate too, and (dare we say it) let loose and get in on the stress-busting benefits of playtime.
Know before you go
Plan your playdate to the SLO Children's Museum and get the most out of your trip. Whether you swing by the museum during regular summer hours (Monday through Wednesday from 10 a.m. to 3 p.m. and Thursday through Saturday from 9 a.m. to 5 p.m.) or want to kick off a unique evening of fun during free moonlight tours (held every third Thursday from 5-8 p.m.), make sure you come ready to explore. Parents are welcome to drop kids off and return back during business hours (there are many volunteer staff available to facilitate all this fun). Admission is $8 for kids aged one to ten, children under two years old are free, $5 for seniors, and $7 for family members. See you around the playground.