January-February along Highway 1 offers up incredible whale watching, kayaking, hiking and so much more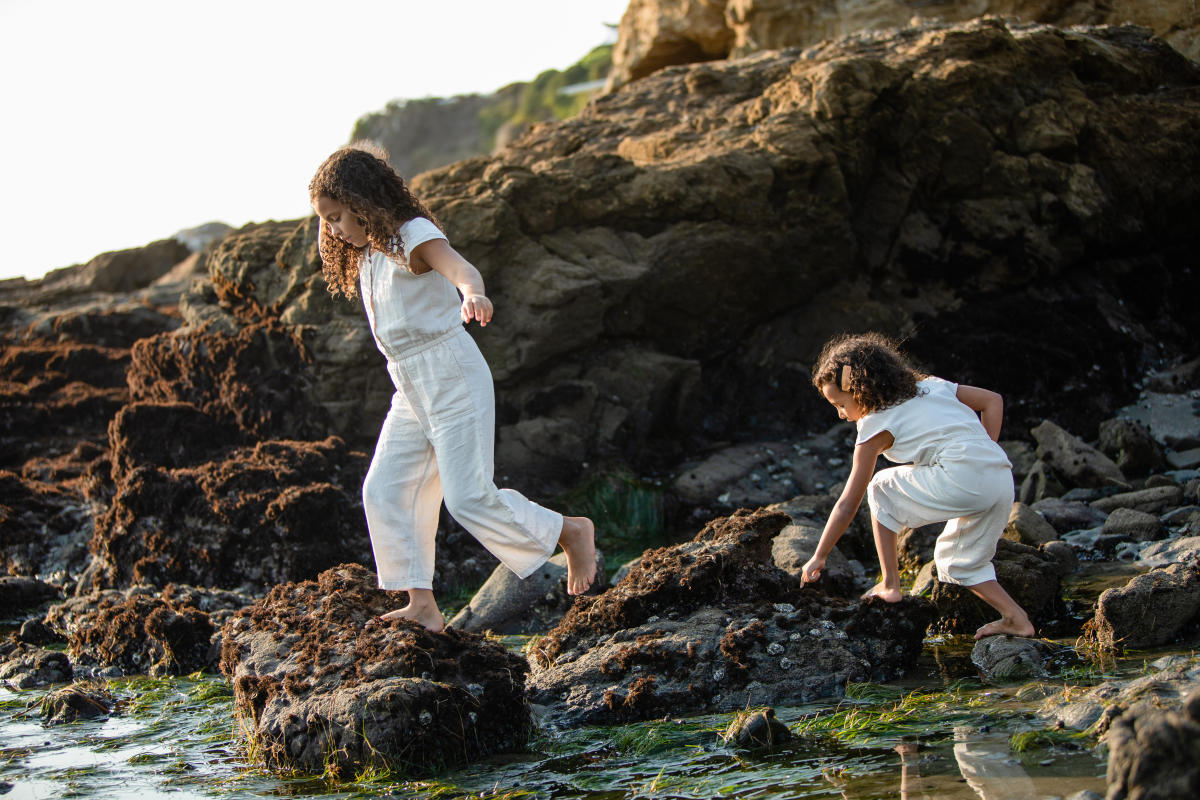 Explore SLO CAL's wide open spaces along the Highway 1 Discovery Route this January-February and experience a season of quiet coastal discovery. Don't let the tranquil beaches, uncrowded trails and cozy coastal communities fool you, however: miraculous wildlife sightings, fascinating historical stops and incredible outdoor adventures await along your journey. Check out our Coastal Discovery Trail North Coast and South Coast itineraries today and prepare for awe-inspiring whale watching, serene kayak excursions, fresh seafood and breathtaking hiking opportunities sure to rival your wildest dreams. Plus, you'll feel great knowing you participated in our Stewardship: Travel for Good, helping to preserve this cherished land for years to come. Sure, some folks might hibernate this time of year. Along Highway 1 on the SLO CAL Coast, life is as vibrant as ever!
Let us be your guide
Downloadable maps, itineraries make your season of Coastal Discovery easy to plan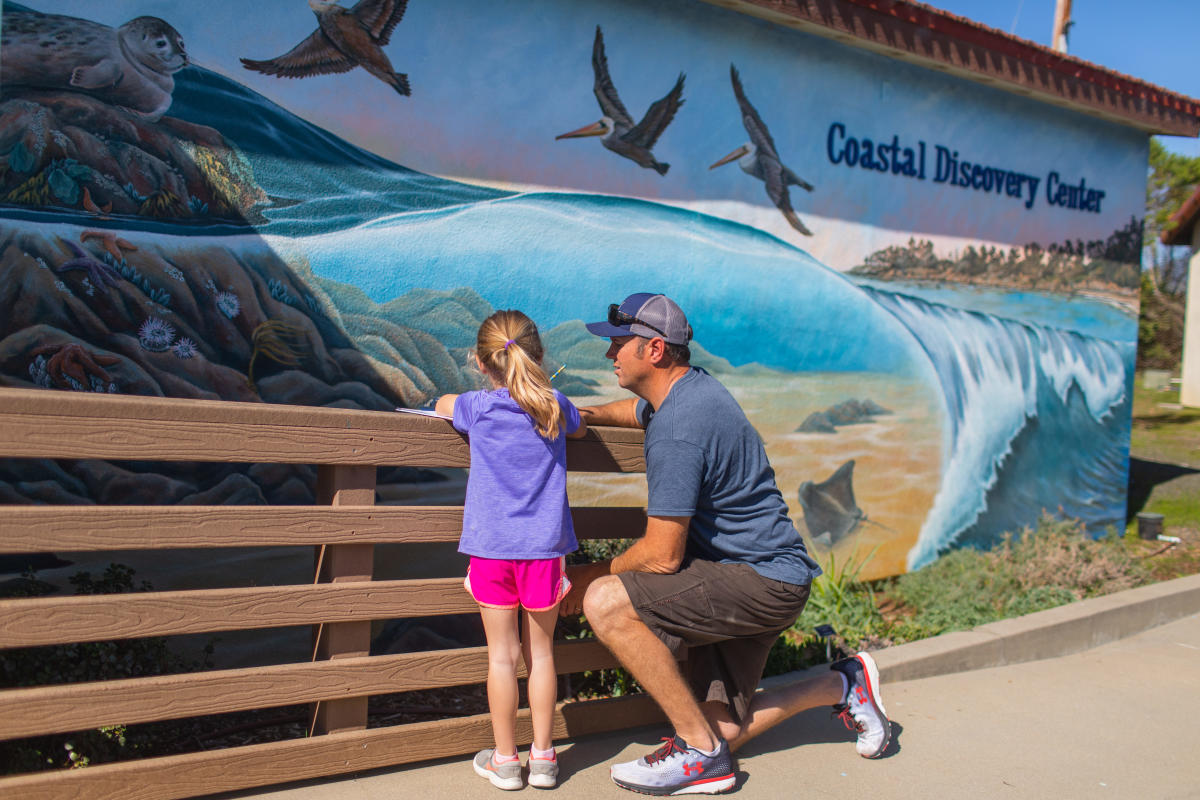 Ever wish you had a multifaceted map leading you to all the best Coastal SLO CAL has to offer? We have you covered! Our Coastal Discovery Trail offers a comprehensive map of coastal hikes, beaches and open spaces with recommendations and itineraries for families, solo travelers, and dog owners, too. Better yet, you can submit your email (you will be prompted on the page) and we will send you a printable PDF of the Coastal Trail map.  Let's get going!
New year, new views!
Vibrant vistas, spectacular sea life in Ragged Point, San Simeon and Cambria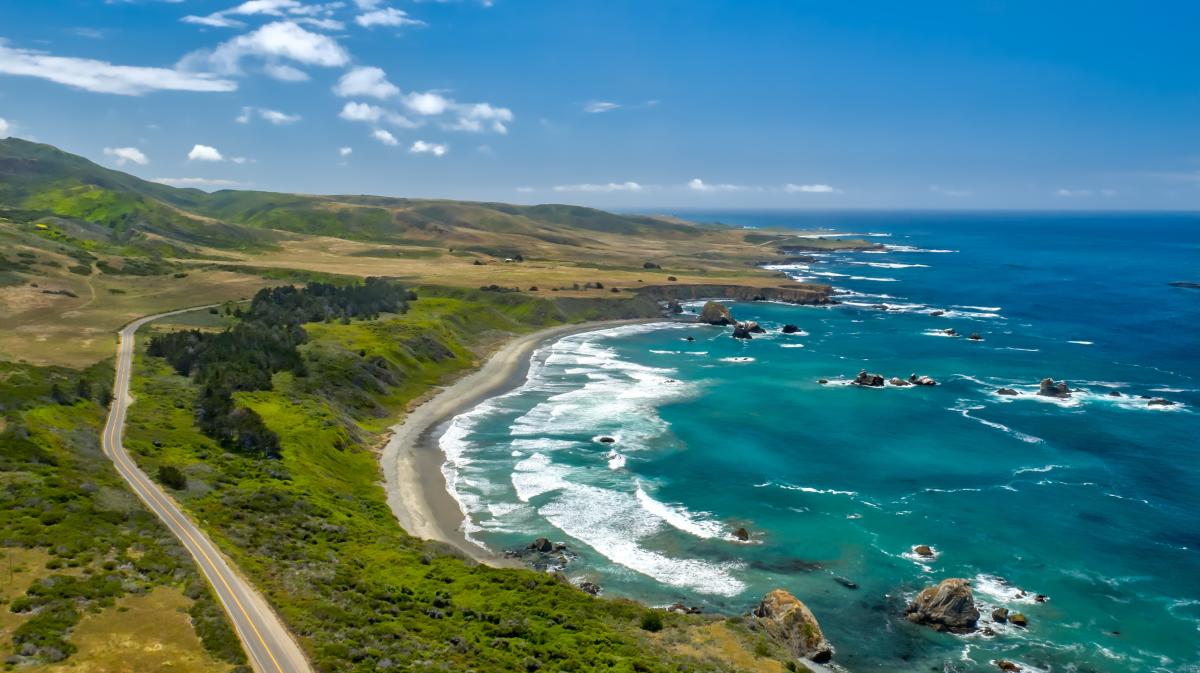 Cruise into 2021
Start your engines: Resolve to take the scenic route this year. Named as a Scenic Byway by the U.S. Department of Transportation, the stretch of Highway 1 between Ragged Point to the north and San Simeon and Cambria to the south boast some of the most photographed (and coveted) coastline in the world. You'll soon see why! Overlooking dramatic craggy cliffs and an endless stretch of azure ocean, you'll ring in the New Year while savoring SLO CAL's most stunning coastal vistas. More than a terrific sunset awaits visitors: Sea life unfolds behind every twist and turn!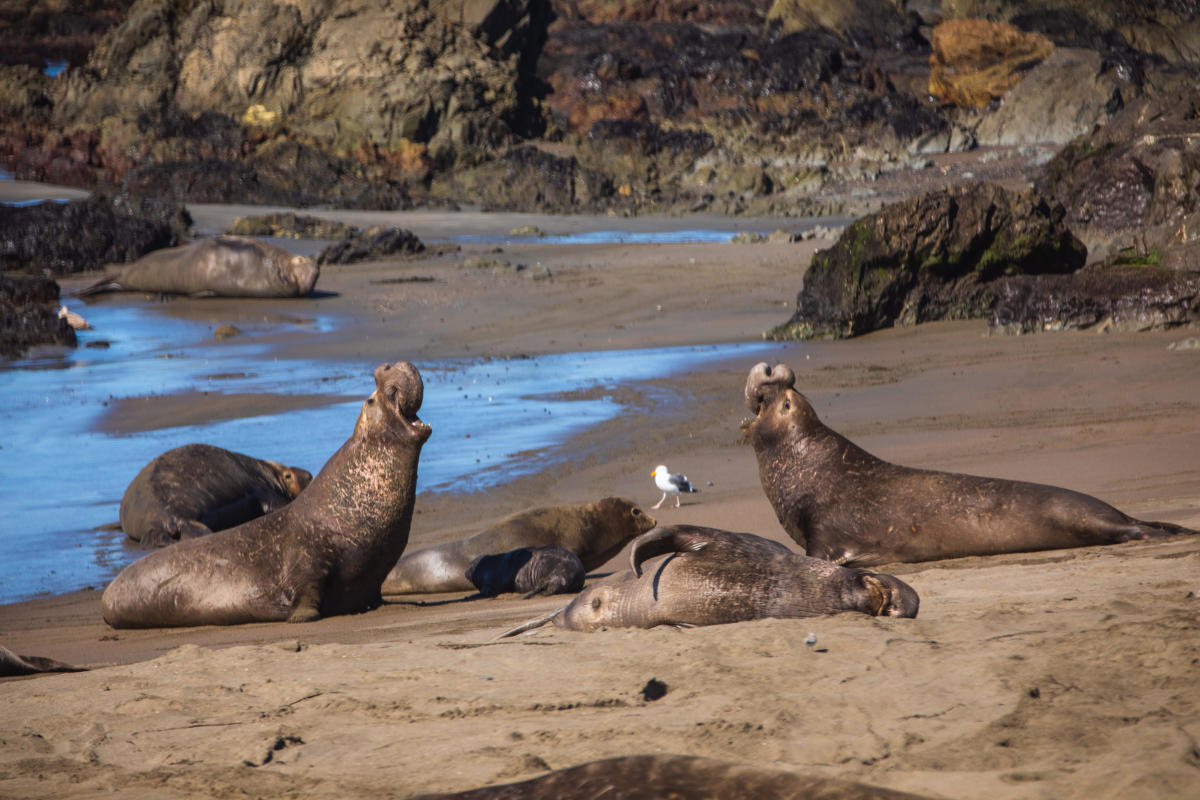 Tune into Elephant Seals
Unlikely celebrities: For most of us, January provides a clean slate and a sense of optimism for the year ahead. Did you know it's also a peak month for San Simeon's famous Elephant Seal population? In fact, more than 1,600 pups were born recently along this gorgeous stretch of coastline, making San Simeon the most accessible viewing point for the creatures in all of California. Along your drive, be sure to stop at the Piedras Blancas Rookery, where travelers of all ages can view these majestic animals birth, nap, and—on occasion—duel in their natural habitat.  Safely observe the compelling scene from a convenient outlook. It's absolutely free for anyone to enjoy the ongoing saga that is "a day in the life of the Elephant Seal."
Light the way: Historic Lighthouses and Piers make fantastic spots for a quiet picnic, whale watching, and—as is often the case—a surprise visit from curious seabirds. Dinner plans? We recommend grabbing food to go from Robin's in Cambria, home to handcrafted comfort cuisine with a fresh, international flair.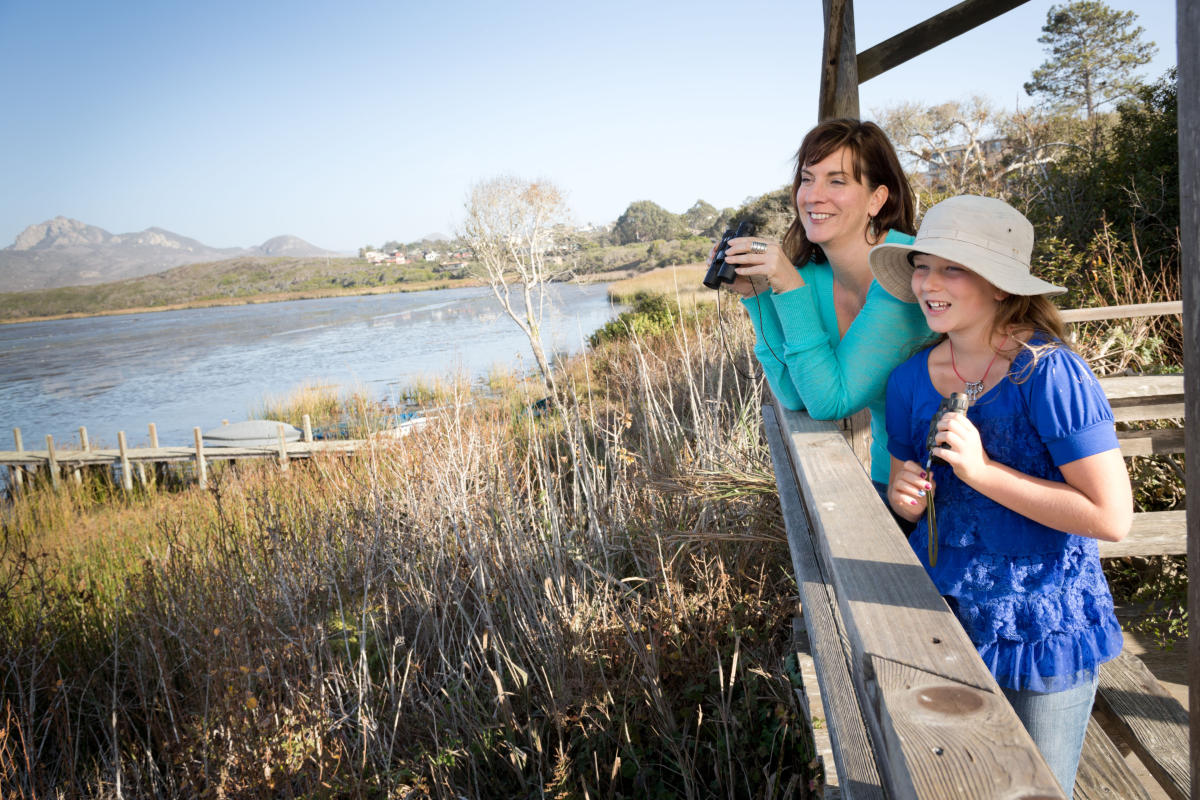 Bring your binoculars
Believe your eyes: You won't want to miss the marine menagerie. This slice of Pacific-hugging Highway 1 is awash in pristine beaches, glittering tide pools and lush kept forests teeming with underwater activity. The Monterey Bay National Marine Sanctuary—which stretches from the Bay Area to Cambria—is one of the nation's most spectacular marine protected areas and home to pacific white-sided dolphins, California sea lions, sea otters and jaw-dropping gray whales, known for putting on unforgettable displays along the water. In fact, a rare Octopus Garden was found off the coast, where a thousand female octopus feed their young!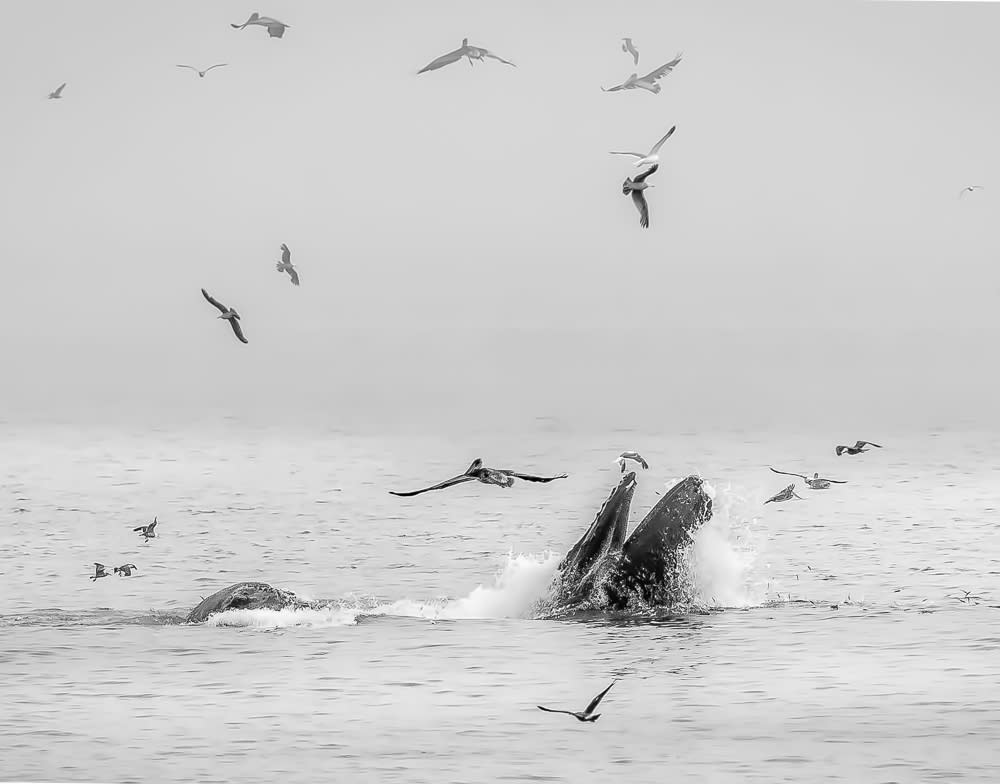 Chase your whale: Itching to spy a massive gray whale fluke as it rises from the water? Stop by the Old San Simeon Bay Pier, overlooking William Randolph Hearst State Beach. Want more great whale watching tips? Check out SLO CAL's helpful Whale Trail, which lists the best whale watching locations along the coast (luckily for you, there's a whopping ten across SLO CAL to explore).
More to explore: Take a self-guided historical tour of Cambria, grab a free beach clean up kit and tote bag and walk the Moonstone Beach Boardwalk or hike Fiscalini Ranch Preserve, grab lunch at Linn's Restaurant (famous for delicious olallieberry pie) and end the day with a sumptuous wine tasting at Hearst Ranch Winery. If this sounds like the perfect weekend trip, we're with you.
Hit pause
Hiking, seaweed foraging and more await in the coastal oasis of Cayucos and Morro Bay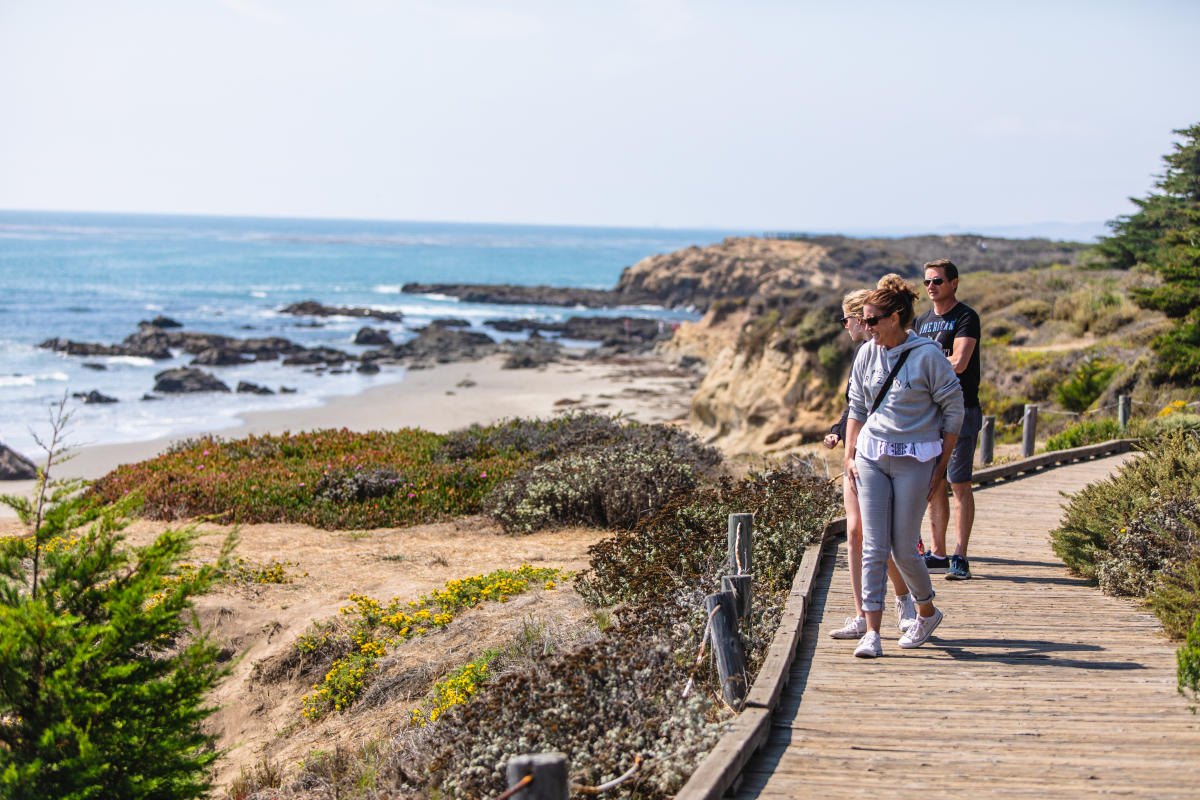 Happy hiking
Hike happier: Discover a serene hidden gem of coastal SLO CAL when you trek to Estero Bluffs State Park, protected by the Cayucos Land Conservancy and local residents. This gentle bluff trail leads to a secret pocket for beaches nestled among wave-carved rocks in Cayucos. Here, you'll enjoy some of the most diverse tide pools of the region, where sea stars, crabs and sea anemone thrive. While you might just see a whale, you most certainly will see seabirds of varied feathers soaring overhead. These quick wildlife viewing tips will guide you on your journey to get up close and personal with creatures of all kinds.
Sea more: Don't miss the short 500-foot walk to a fascinating shipwreck viewing site, not far from the trail. To see the shipwreck, take the rustic southern Estero Bluffs State Park entrance to the parking at the corner of North Ocean Avenue and Highway 1. Gain a deeper appreciation of the area when you learn more about the history and mission of the Cayucos Land Conservancy or make a donation to help protect this beautiful coastline. We thank you!
Forage for lunch
Seaweed, it's what's for dinner: Not everyone has tried their hand at hunting for wild seaweed among the wind-swept beaches of Cayucos! Be the first among your friends to do so, earning bragging rights among discerning home chefs everywhere. If this idea intrigues your foodie sensibilities, you'll want to sign up for a seaweed foraging tour with Marley Family Seaweeds. Spend 90 minutes hunting for greens while surrounded by gorgeous ocean views and marine life galore. Of course, you're guaranteed a full belly of seaweed-topped ramen (trust us, you'll work up a hearty appetite). You'll also leave with the knowledge of how to sustainably harvest nutritious seaweed for yourself for years to come. Win-win.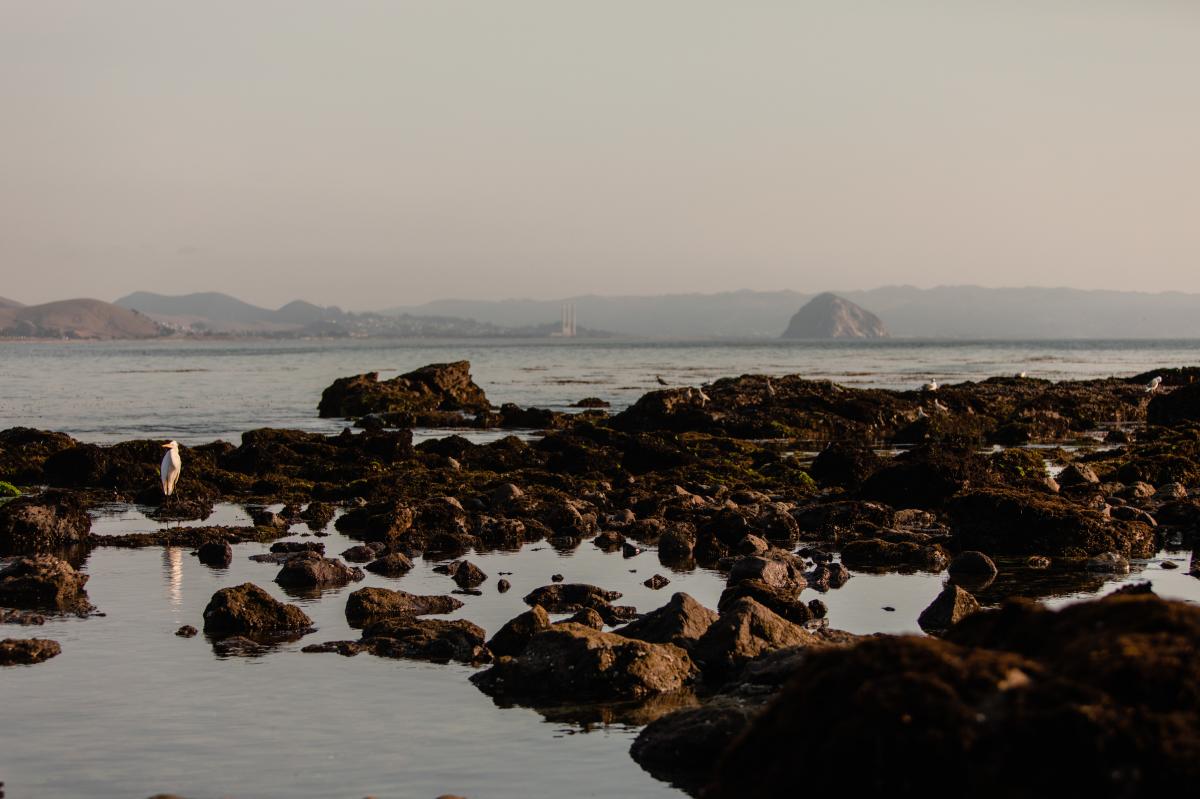 Fish feast
Guppies to-go: Ready for a lunch you don't have to work for? A visit to Cayucos is incomplete without a stop at The Sea Shanty restaurant, a locally owned hangout known for frying up only the freshest catch. That's right: Just-caught seafood is always on the menu, as is a bevy of delectable desserts.
Hunger in the harbor: Nearby Morro Bay is home to a handful of sensational seafood restaurants dotting the scenic Embarcadero and harbor, also a great place for kayaking among the local otters and seals. Catch a glimpse of Morro Rock while you wait for your to-go order of chowder, fish and chips or locally raised oysters.
Watch the water: Want more wildlife viewing tips in Cayucos? Head to the historic Cayucos Pier, where you're likely to see harbor seals, California sea lions, sea otters and even humpback whales each winter! If you're really lucky, you might even spy an orca or gray whale along the horizon (look for the Whale Trail sign for more information on whale sightings). Fingers crossed that today's the day!
Make time for wonder
Magical surprises are everywhere in Los Osos/Baywood Park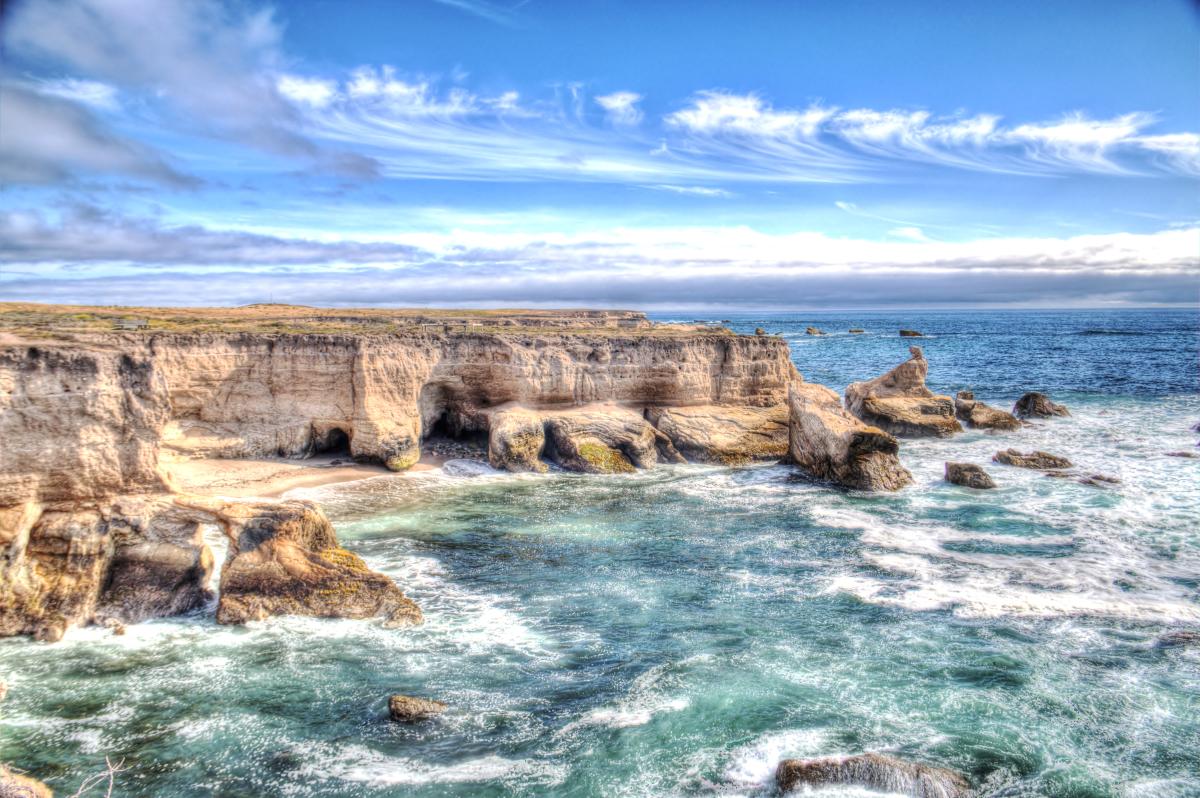 Magic mountain
Natural bounty: We could all make a little more room for the magic of Mother Nature in our lives. Explore the many wondrous nooks and crannies of Montaña de Oro State Park, from towering 1,347-foot Valencia peak to tide pool-dotted beaches favored by horseback riders and beachcombers alike. February sees the lead-up to wildflower season, where tiny gold buds bloom along the majestic slopes of this unique state park located in Los Osos-Baywood Park. Traverse rugged cliffs, secluded sandy beaches, coastal plains, streams, canyons, and hills as the day stretches on toward an epic sunset. Watch birds flit from branch to bloom as you hike this picturesque terrain, breaking for a picnic at iconic Spooner's Cove. 
Give back: Visit the Central Coast Concerned Mountain Bikers (CCCMB) for free online trail maps and Travel for Good opportunities like volunteer trail work days. You can also make a donation towards trail maintenance, which helps the next visitor enjoy the same experience you just did.
Wave to the wildlife
Underwater friends: What wild wonders await in Los Osos-Baywood Park? You might spy a few furry sea otters, who are known to hangout in the protected kelp beds. You can see these adorable critters lounging on their backs and dining on local clams, crabs and oysters. December through April also affords awesome whale watching at Montaña de Oro, as the annual migration of gray whales brings them offshore to spout. While you're enjoying the chill back bay beauty, you'll also likely see playful otters, curious seals, and countless seabirds, too. Plus, dolphins and humpback whales are also regular visitors the area. The more the merrier, right?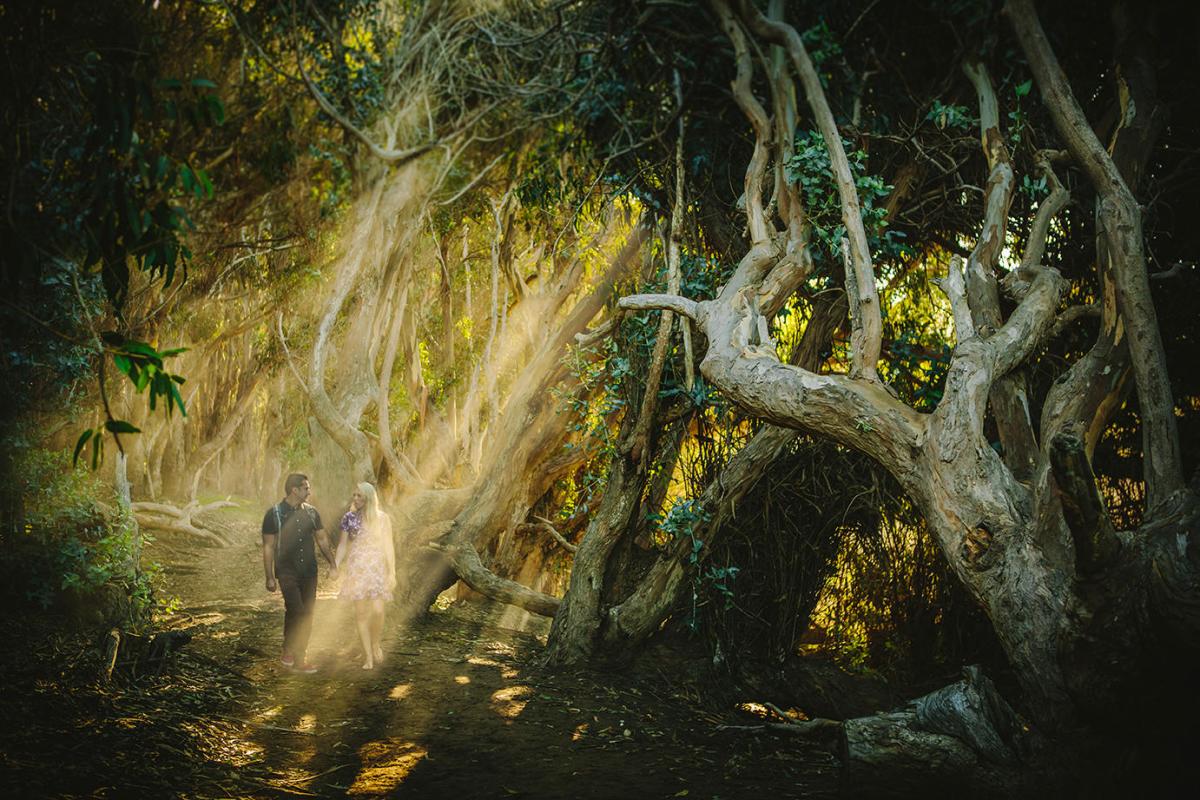 Elves wanted
Say what? Los Osos' enchanting Elfin Forest is the real deal! This singular ecosystem supports more than 200 species of plants, as well as 110 kinds of birds, 22 species of mammals, and 13 species of reptiles and amphibians. You can stroll along a boardwalk erected along the site and try your best to count the rare plants, butterflies, snails and birds all around. Stop on a bench to read a good book, journal a bit or just take in that fresh, salty sea air. Go for it: Want to really get out there and see this swath of SLO CAL coast from a new perspective? Try standup paddle boarding along the calm back bay waters of nearby Baywood Park.
Go forth for fun
Sun, good times and fine wine are always on the roster in Avila and Pismo Beach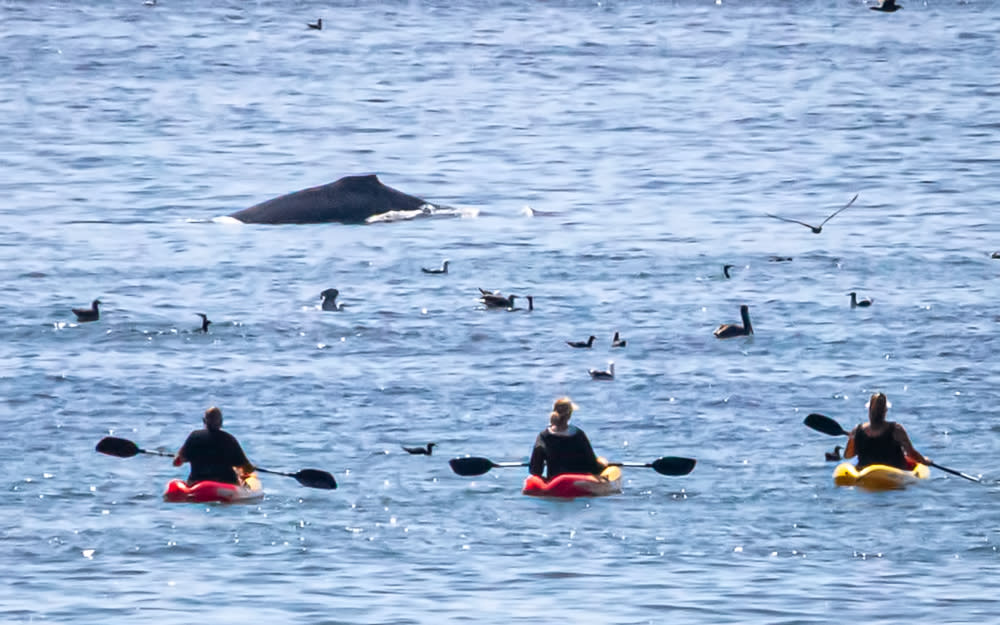 Kayak calling
Paddle out: Hear that? It's the enticing sound of Avila Beach's glassy waters encouraging you to slip into a kayak (or standup paddle board, if you prefer). The sun is always shining in Avila Beach, where you can paddle your way from Harford Pier to the Point San Luis Lighthouse, waving to otters and lounging Sea Lions along the way. Pick up all the gear you need at Avila Beach Paddlesports, where the friendly staff are happy to show beginners the ropes. Whales can also be seen near the pier each winter (look for the Whale Trail sign), so why not enjoy the elevated view before or after your excursion? We also recommend surveying the open ocean once you reach the lighthouse, a sight to behold. Who knows what creatures will pop up for a quick hello!
Feels good to do good: Pick up your free clean-up kit at Avila Beach Golf Resort, a local favorite for lunch. When visitors like you commit to picking up trash (that is if you can find any) along the beach for as little as ten minutes, you make a huge difference in keeping our shoreline looking pristine. Aside from joining the Avila Beach Clean Up, you also donate to the Port San Luis Lighthouse to help preserve this historic gem.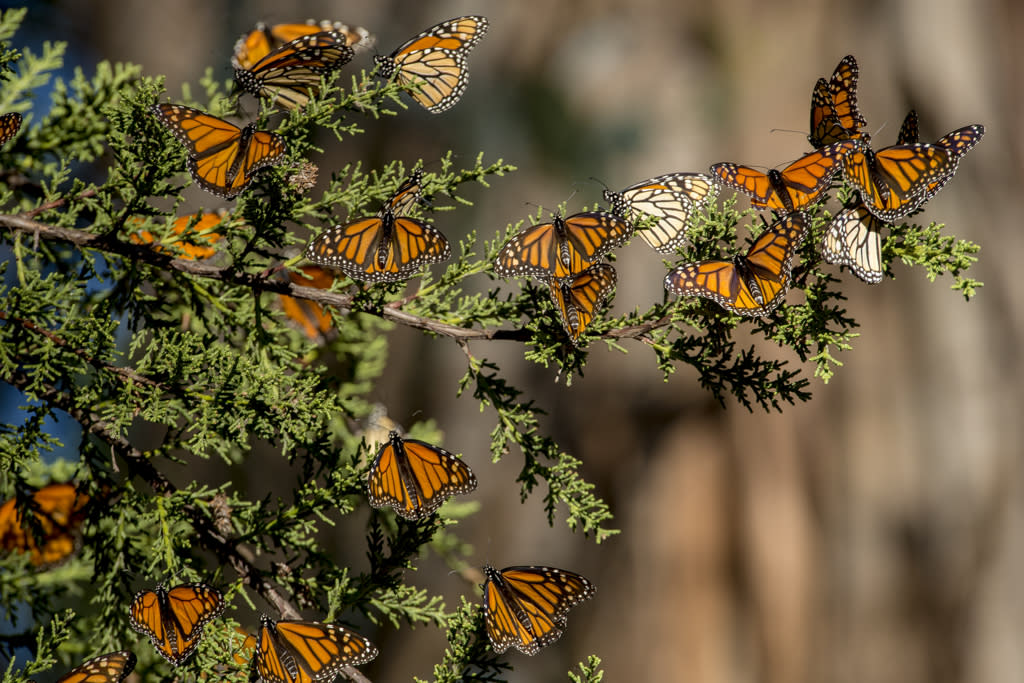 All a flutter
Take flight: Orange you glad you stopped in Pismo Beach? Thousands of orange and black Monarch Butterflies levitate among the eucalyptus branches at the Monarch Butterfly Grove in Pismo Beach each winter. I know, it's hard to believe—but researchers have counted up to 230,000 butterflies at the grove in a single season! A sunny winter day offers ideal conditions to see these photogenic clusters of orange flutter along Highway 1. Appropriately enough, mating season reaches its peak near Valentine's Day, an animated time at Monarch butterfly groves, indeed. Prepare for a spectacular natural show by bringing water, sunscreen, a jacket, binoculars and comfortable shoes. Oh, and prepare to be awed!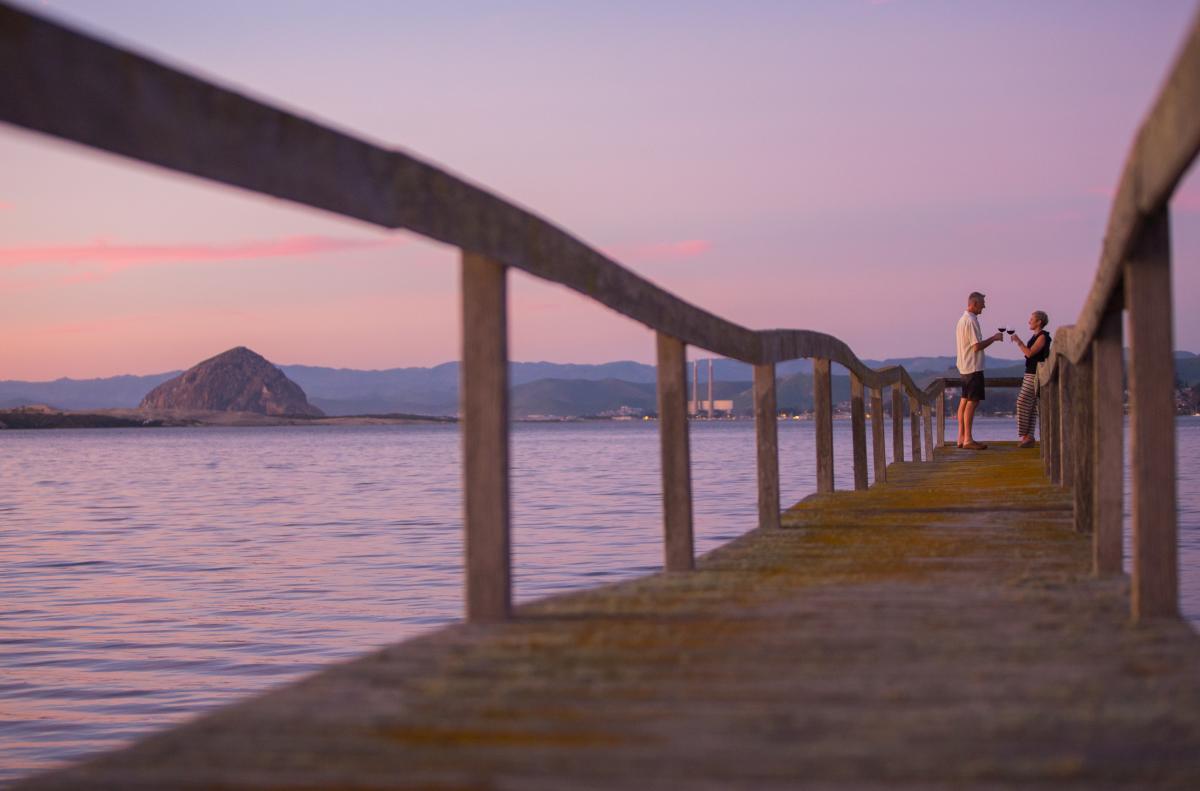 Wine and waves
Sand and vino? This pairing may sound a tad nontraditional, but our unique SLO Coast Wine Country is only a few miles from the beach! After some sun and fun, be sure to stop at A FEW local tasting rooms for a taste of the dynamic terroir: world class Chardonnay and Pinot Noir are the stars of the show in Edna Valley's cool climate growing region. Biddle Ranch Vineyard and Claiborne & Churchill Winery offer contactless curbside wine pickup, so take a bottle or two for the journey. Need a fabulous culinary pairing to boot? Order French fare to go from Blue Moon Over Avila and you'll savor both worlds—culinary and wine—with flavorful results!
Perk up
Spend the morning traversing the dunes in Oceano/Nipomo for a day that gets better step by step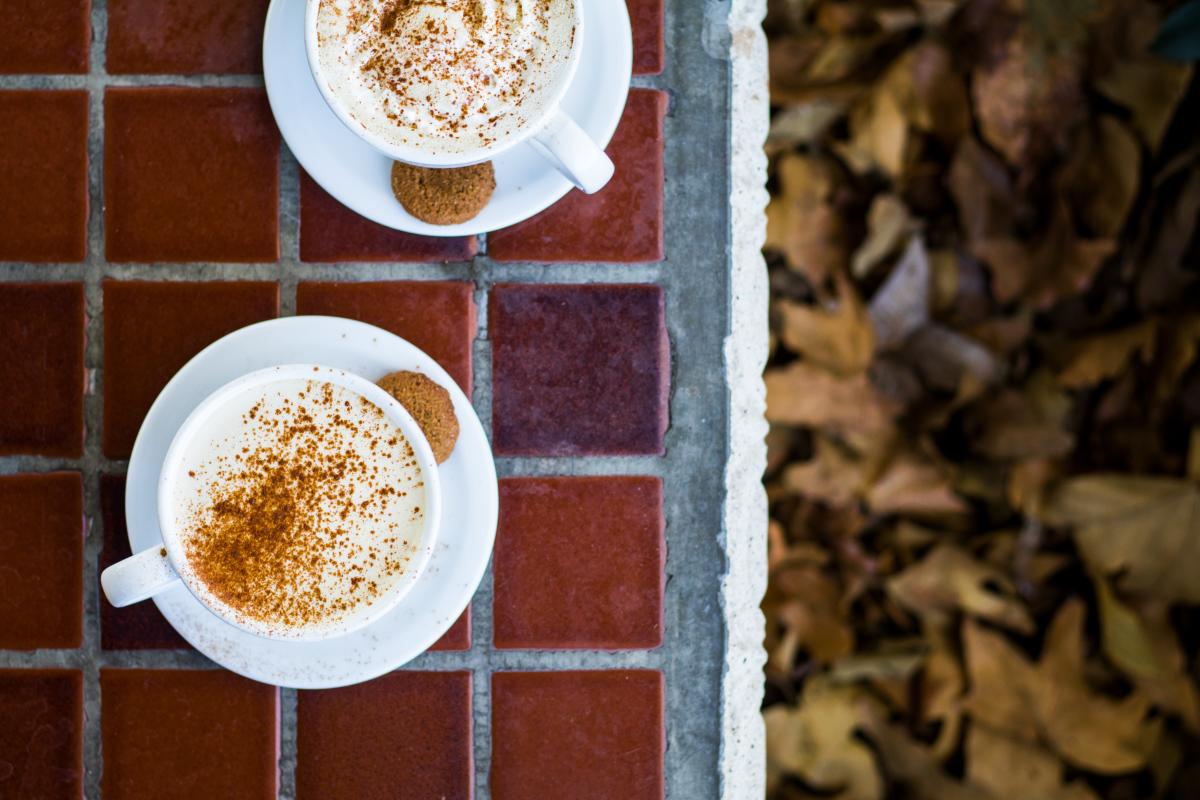 Morning cup
Wakey wakey! Need a pick-me-up? Do what the locals do: Sip on some expertly roasted small batch coffee at family owned Quintessa Coffee Roasters in Oceano. You'll need that jolt of a.m. energy, as there's plenty to explore along the southernmost gateway to SLO CAL. Case in point: The undulating Guadalupe-Nipomo Dunes, which—once mounted on foot—offer up a rare sight of SLO CAL's sweeping coastline.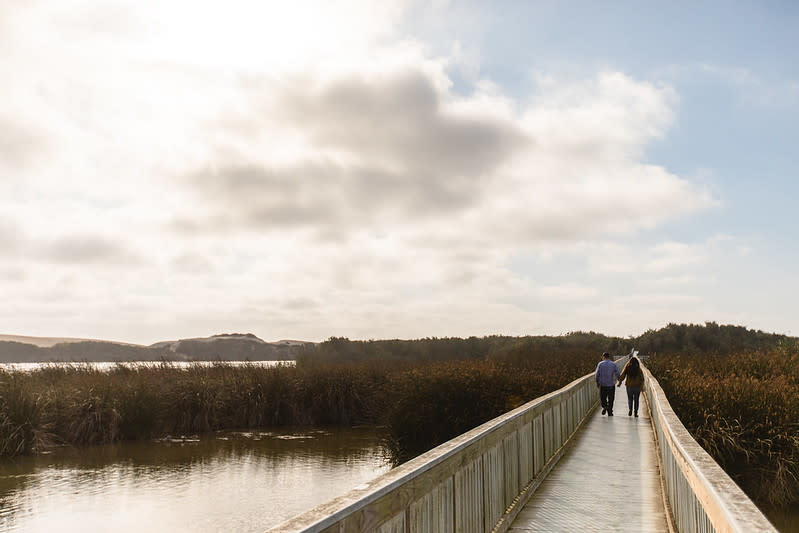 Walk on water
Want to try for yourself? Check out Oso Flaco's meandering trail from the Guadalupe-Nipomo Dunes Preserve to Mussel Rock, which spans about 5.2-miles out and back. The trail leads to a picturesque lake, grasslands, coastal brush, and a wide beach flanked by rolling dunes worthy of an all-day affair. This tucked away Nipomo destination is a favorite hangout for advanced and novice birders alike: You might see a Great Blue Heron, a Red Tailed Hawk or all manner of rare fowl during your adventure. Fuel up: Grab lunch at Willow in Nipomo, a unique specialty market offering up local wine, deli goods and a restaurant. Call ahead and pick up to go!