Cambria magically transforms each year into a frenzy of fall activity. Restaurants, wineries, breweries, purveyors, history and mystery fill this quaint, quiet village year-round, and with the subtle stirring of the autumn breeze, Cambria comes to life. From charming events to spooky secrets, this Halloween-loving town has it all.
Visitors may want to hunt treasures in Historic East Village or embark on the Historic Cambria Walking Tour, which visits places like the Bucket of Blood, a saloon built in 1893.
The Cambria Scarecrow Festival is where whimsy runs rampant. This month-long brigade of lifelike scarecrow displays draws quite the crowd in October. The Twilight Tour of Hearst Castle is hauntingly beautiful, though it may leave you with more than a few goosebumps.
This two-day itinerary has been curated with fall spirit in mind. You'll find elixirs to raise you from the dead of sleep, meals to keep you on your feet and exploration for a soul retreat. Come to Cambria… if you dare.
DAY 1
This October, more than 400 imaginative and lively scarecrows will line the streets of Cambria's East and West Villages, Moonstone Beach and San Simeon. The scarecrows are the perfect manifestation of Cambria's incredibly artistic community. Visit the scarecrows all over town throughout the month of October.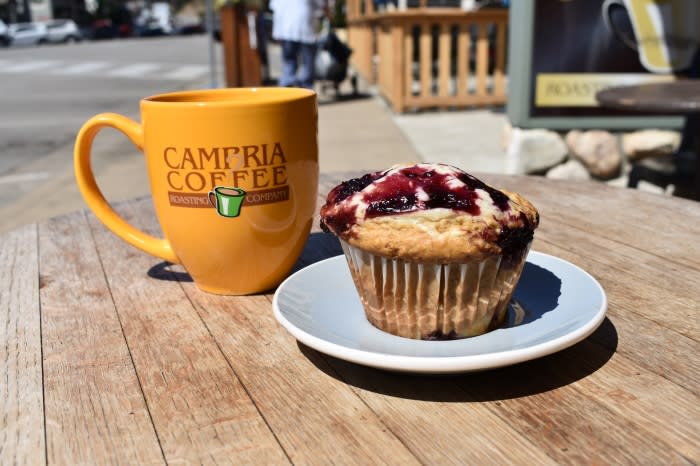 The living have many tales to tell. For the folks at the Cambria Coffee Roasting Company, stories are crafted amidst the fresh aroma of their in-house, roasted coffee beans and told in each cup served. Take home any one of their espresso or single-origin coffees available at the shop located in the West Village. Be sure and satisfy your sweet tooth with their Olallieberry Pie Latte, a concoction to appease pie-ologists and baristas near and far.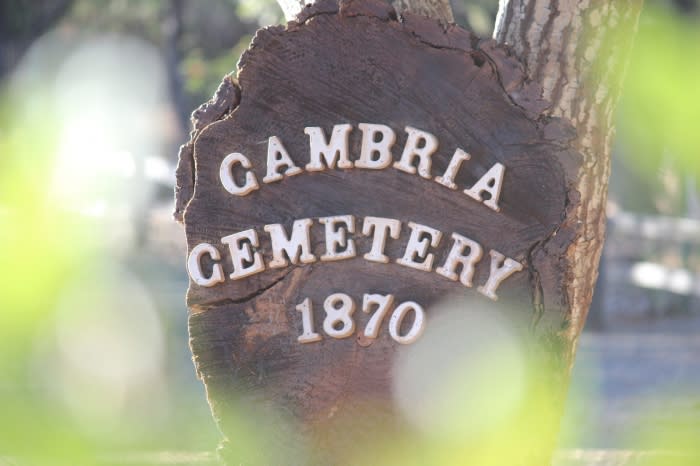 Walk among the final resting place for many Cambria pioneers in their historic cemetery. After its closing in 1963, the chapel, gardens and cemetery fell into a state of disrepair. In 1978, the Santa Rosa Chapel committee was formed, spearheading a seven-year restoration project.
The Santa Rosa Chapel, a National Historic Registry Landmark, is one of the oldest churches in the County. It was built in 1870 and served the community for 91 years. Guests of William Randolph Hearst, including Marion Davies, Gary Cooper, and Bing Crosby, attended Mass there.
Spice things up with a trip to Black Hand Cellars, a speakeasy-themed wine lounge. The tasting room offers outstanding red wines and an even better history to boot. Just make sure when they put you on their "Hit List," it's the one referring to their wine club… you never know when it comes to the Black Hand Mafia.
No need to exhume treasure from a sunken ship. The Sea Chest Restaurant has been serving seafood for the last 30 years. The menu holds a seemingly endless variety of oyster options and appetizers. Devils on Horseback—oysters sautéed in wine and garlic, served with bacon on toast—is a land-lover's favorite. Pull up a seat amongst the chattering clams, and allow them to bend your ear for a few sea tales.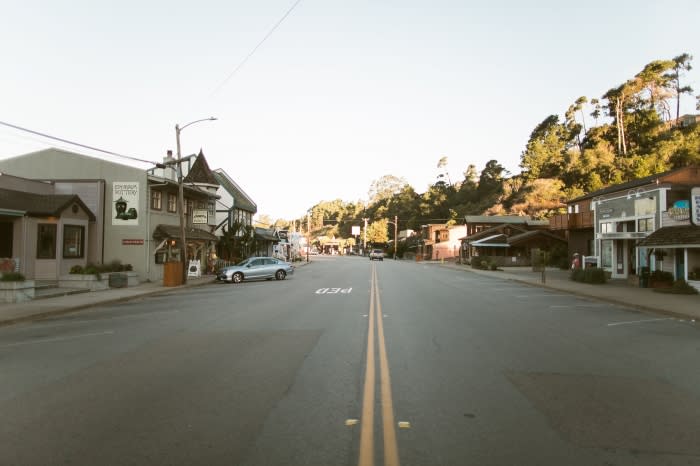 Spy the Scarecrows, Shop the West Village
The Cambria Scarecrow Festival is where whimsy runs rampant. This year also celebrates the 9th Annual showcasing of more than 400 imaginative and lively scarecrows, lining the streets of Cambria's East and West Villages, Moonstone Beach and San Simeon. You can spy the scarecrows in storefronts and walkways as you creep and crawl the shops of the West and East Village.
An intimate eatery in Cambria, sample such unusual appetizers as stuffed fried green olives, or sage and mushroom gnocchi. Tie up the loose ends of your day with a sultry roasted duck breast that's paired with a dried cherry quinoa risotto, or a three-cheese baked polenta with eggplant and red chard. Desserts include mascarpone ice cream over pound cake with basil syrup, and a salted caramel tart. Reservations are highly recommended. Visit blackcatbistro.com.
Beginning on Tuesday, October 3 and continuing through Christmas Eve, Hearst Castle will feature a Living History Program that emphasizes the lush lifestyle of the estate. The castle is fully illuminated on this two-hour-long evening tour, as docents in period dress bring history to life. Hearst Castle is one of many must-see attractions on the Central Coast, and is only six miles north of Cambria.
DAY 2
Cambria is brimming with historic architecture dating back to the 1800s, with an eclectic and charming collection of architectural styles. Victorian architecture, popular when Cambria was becoming a bustling mining town, was the inspirations for many of the buildings still standing today. Interpretations of the historic style are mixed with more modern influences to create a quirky and welcoming atmosphere. (No word on whether there are any lingering ghost hosts waiting to welcome you.)
From the dark side, to the effects of the full moon, mystery and intrigue surround this celestial being—cue werewolf howl. Indigo Moon hosts a variety of platters for all of you fiending fall foodies. You can browse the brunch menu or select a late dinner dish. The lobster bisque is a staple crowd pleaser, perfect for autumn's weather. Dine inside or creep on out to the patio and enjoy the open-air seating, if you dare.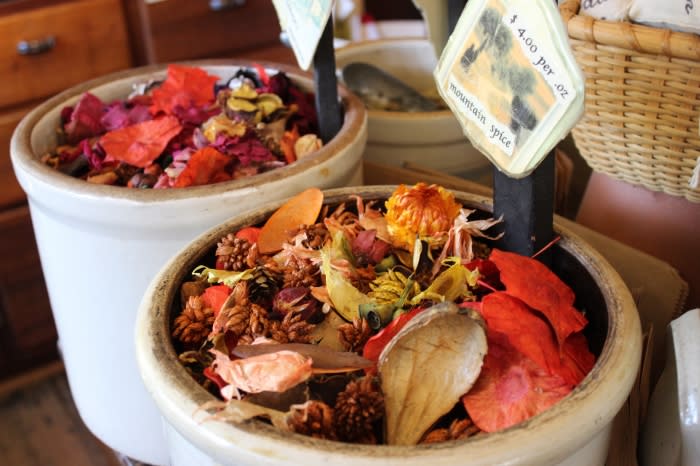 Spellbound Herbs Gift Shop & Garden is located in one of the oldest buildings in Cambria, originally an 1870s homestead. Wander through the shop to see the many pleasures and enchantments these alchemists have to offer, and be certain to also take a stroll through their beautiful gardens filled with sweet smelling herbs, flowers, and a hint of magic.