Where you can discover the archeological remains of movie sets, wander native and historic gardens, and fill up on the best BBQ in the West.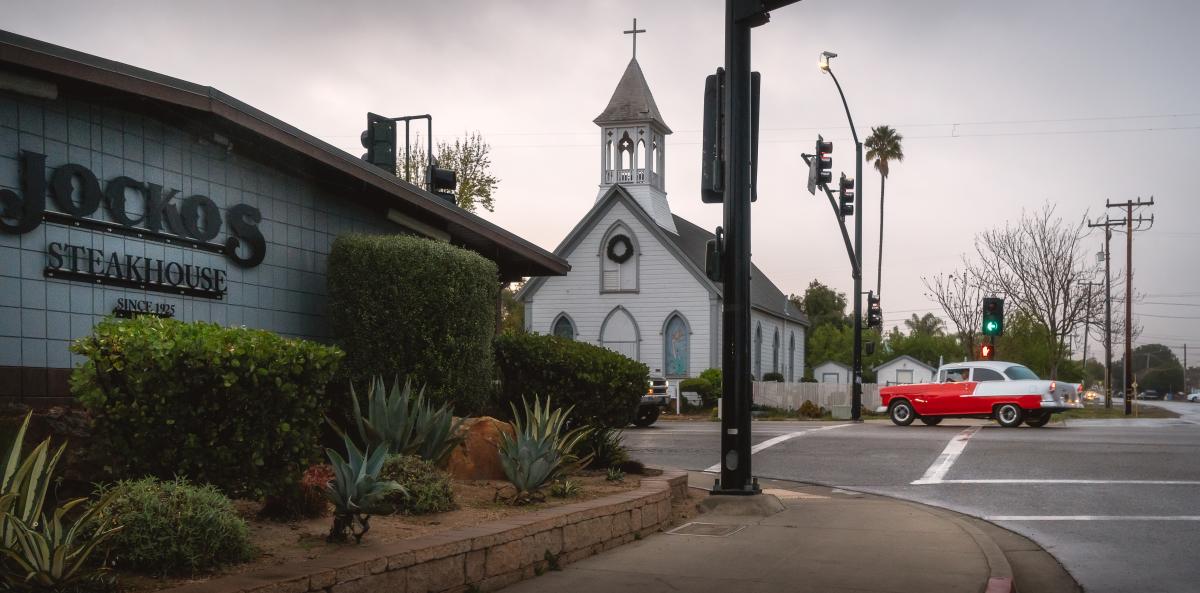 With its natural beauty, long ranching history, and beloved barbecue tradition, Nipomo represents SLO CAL at its authentic best. The town lies at the southernmost end of San Luis Obispo County, flanked by the San Rafael Mountains to the east, and the Pacific coast to the west. It's no wonder the indigenous Chumash people named it Nipomo, translated as the village at "the foot of the hills." 
Even though 17,000 residents call Nipomo home today, in many ways, it remains the little village at the foot of the hills. This is a tight-knit community that knows how to work hard and play hard. Its charms lay in the beauty of the natural landscape and proximity to the ocean, the rich texture of its history, and mouthwatering barbecue, beer and wine.
Spend 24 hours here and you'll soon feel like a SLO CAL local. Use our daylong itinerary to make the most of your time in beautiful, authentic Nipomo.
Breakfast: Cowgirl Cafe
Kitschy breakfast joint where the service is friendly and the coffee is hot
You'll be exploring all day today, so start off with a hearty breakfast. From its position at the corner of Division and Orchard Road, the Cowgirl Cafe is easily accessible from Highway 101. This cozy spot is related to locations in San Luis Obispo and Atascadero, and serves up breakfast and lunch every day of the week, highlighting the best of cowpoke cuisine. Choose from stick-to-your-ribs biscuits and gravy, English muffins, eggs, ham, bacon and hashbrowns, or order a combination plate with all the fixings. The Cowgirl Cafe is famous for its gigantic breakfast burrito, served with fresh scratch-made salsa, as well as its "Cowgirl-size" pancakes. For lunch, check out the list of triple-decker sandwiches, substantial salads, soups, and burgers. Portions are generous across the menu here, so plan to come hungry! Vintage tools and John Wayne memorabilia decorate the walls for a kitschy-fun spot the whole family can enjoy.
Activity: Dana Adobe Cultural Center
Tour the historic site of SLO CAL's oldest home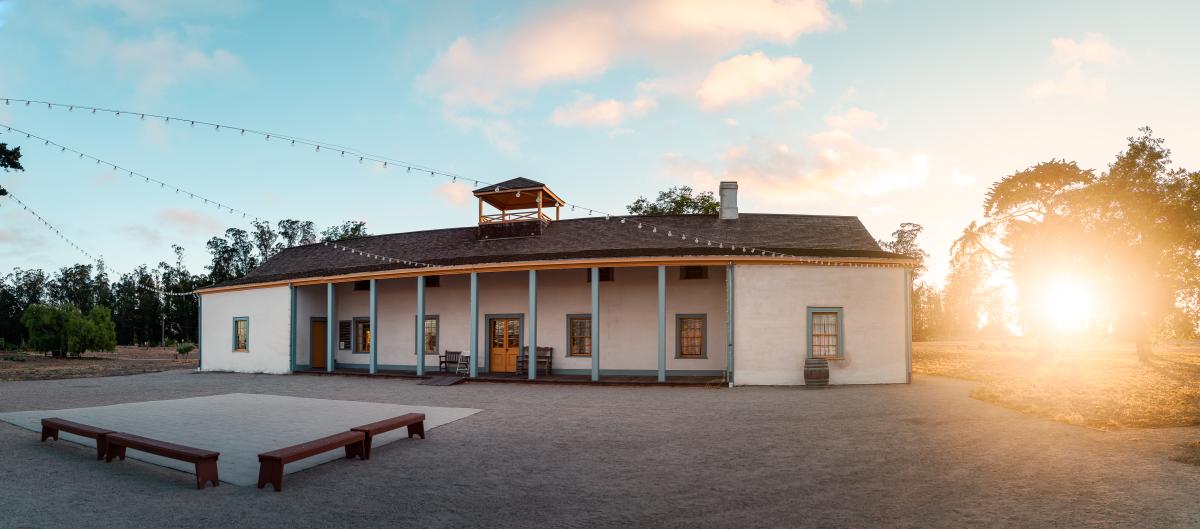 Like so much of SLO CAL, history comes alive in Nipomo. One especially historic spot is the home of Captain William Dana, one of the earliest and most notable settlers in the area. A sea captain from Boston, Dana landed in Alta California and married the daughter of its governor, Maria Josefa Carrillo, in 1828. The two of them took over Rancho Nipomo, a Mexican land grant of 38,000 acres, and built a home for their 16 children. (Today, if you belly up to the bar at Jocko's or walk the Guadalupe-Nipomo Dunes, chances are good you'll meet at least one of their descendants.) The estate became an important stopover between San Francisco and Los Angeles where travelers could trade in livestock, building materials and home goods. Visitors to the Dana Adobe Cultural Center can tour the house (which is the oldest in San Luis Obispo County) by appointment. The grounds can also be explored via a network of trails whose combined length is just over one mile long. Look for birds and other wildlife, learn about Chumash plant traditions in the Chumash Garden, and peruse the gift shop and book store.
Lunch: Willow Nipomo
The mesa's freshest spot for a leisurely lunch
Despite its small-town vibe, Nipomo actually covers quite a bit of ground. Head four miles northwest to what locals call "the mesa" for a satisfying meal at Willow Nipomo. Tucked in among the native oak trees, Willow Nipomo provides a tranquil spot to enjoy lunch or dinner. Dine inside or on the shaded patio, and you might even catch a musician playing live music. On the menu, Willow features lunchtime favorites like burgers and sandwiches, salads, "Nipomo-style tacos" and flatbreads. The style here is casual and flavorful, with plenty of fresh, seasonal produce and just-caught seafood. (Grandma Ellen's Beet Salad with spinach, pepitas, balsamic vinegar and feta cheese is a fan favorite.) Don't miss out on Willow's vast beer, wine and cider selection, both on draft and in their bottle shop. Have a glass of something local on the sunny patio with your lunch, and take a bottle (or more!) back home.
Activity: Nipomo Native Garden & Guadalupe-Nipomo Dunes
Unearth a pharaoh, walk the soft dune sands, and get to know indigenous plant varieties 
From Willow Nipomo, drive just five minutes southeast on Pomeroy Road to reach the Nipomo Native Garden. Featuring plants and plant communities native to the Nipomo area, the garden is a great destination for anyone who loves flora and fauna. Wander the 12 acres of indigenous plant communities, including zones dedicated to oak woodlands, coastal scrub, riparian, wetlands, grasslands, central maritime chaparral, manzanita chaparral, and coastal dunes. The garden provides interpretive signs and trails, as well as a Children's Garden with activities that celebrate the natural history of the area.
From the Nipomo Native Garden, turn west to meet up with Highway 1. This iconic roadway will take you down a large bluff to the hauntingly beautiful Guadalupe-Nipomo Dunes. Part of the largest system of dunes in California, this area is a treasure trove of natural and cultural history. Here is where the Spanish Portola Expedition of 1769 passed through and hunted a skinny bear whose meat made the sailors violently ill. Henceforth, they referred to the place as Oso Flaco or Skinny Bear. It's also where, in 1923, filmmaker Cecil B. DeMille chose to film his saga The Ten Commandments. Today, the dunes are as dramatic as ever, inviting hikers, beach-goers, birders, anglers, and naturalists to explore their treasures. An ideal way to start a visit to the dunes is with a stop at the Dunes Center. Here, you'll find interactive exhibits, including one devoted to DeMille's The Ten Commandments and set pieces big and small that researchers have dug out from the dunes. The story goes that after filming, DeMille buried the entire set right there in the dunes — the largest movie set in the world, at the time. Archeologists are still digging out the set pieces, and you can see their progress at the Dunes Center. You'll also find an art gallery, information about entrance points to the dunes and education opportunities like guided hikes. 
Dinner: Jocko's Steakhouse
Settle in for a steak at this restaurant that time forgot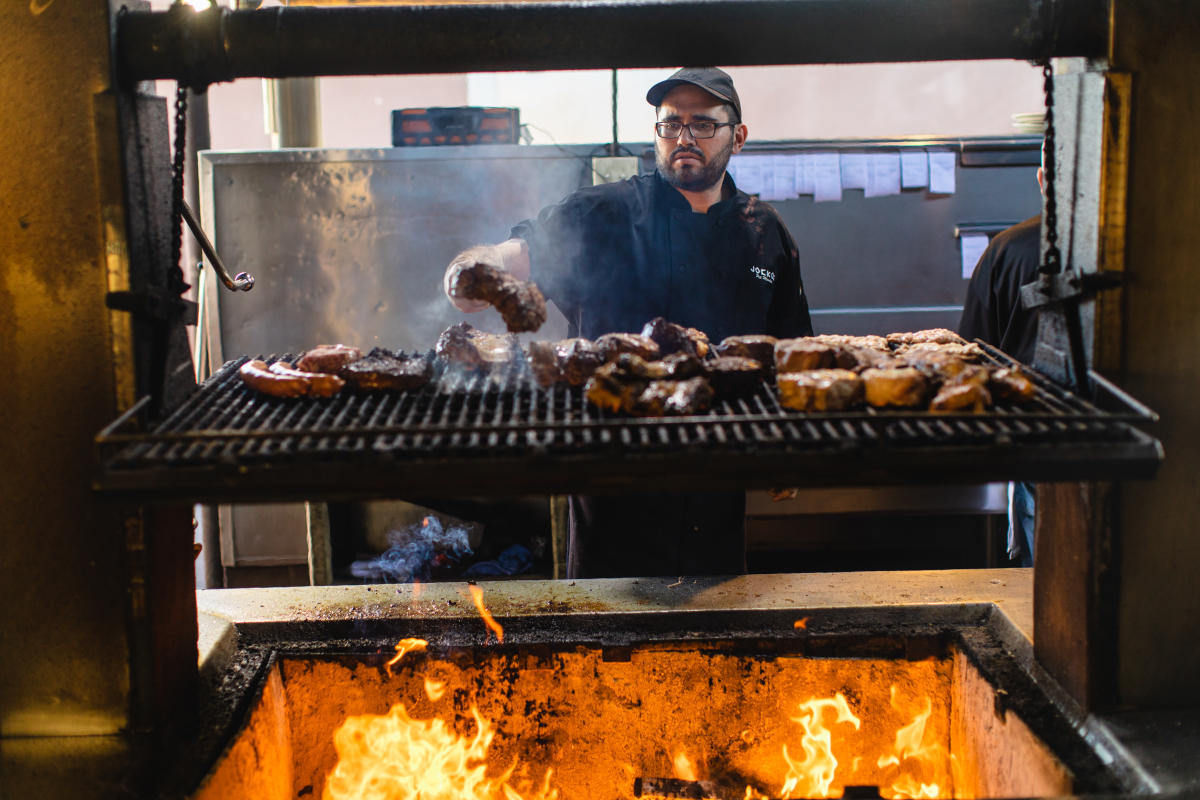 Photo credit: Highway 1 Discovery Route
By now, you've likely worked up an appetite — a brilliant reason to visit one of SLO CAL's most revered restaurants. Jocko's Steakhouse has attracted guests from near and far since 1838 when Emery Knotts founded it as a pre-Gold Rush saloon. Soon, Emery's son Ralph "Jocko" Knotts would take over, followed by his sons Fred and George, who developed Jocko's into a steakhouse. Since 1957, Jocko's has served barbecue-fired Santa Maria-style, over a pit of red oak coals. Come early and be prepared to wait — Jocko's is extremely popular. Take the edge off your hunger with a trip to the low-lit bar, where beer, wine, and stiff cocktails are served with simple bar snacks like fried mushrooms. Once you're seated, enjoy a full plate of steak, Jocko's famous pinto beans, garlic bread, potatoes, a salad, and a relish tray, followed by ice cream and coffee. Not into steak? Jocko's also serves chicken, linguica, seafood, and pasta, but they aren't the reason people visit. Here, it's all about the beef.
Ready to plan your day in Nipomo? Find the right lodging property, make a reservation, and start packing your bags.